What is a dental implant?
A dental implant is a man-made titanium structure that replicates and replaces a natural tooth root. It is retained by the same bone that supports a tooth. Implants do not have the supporting ligament that a natural root possesses and can easily be damaged by excessive or improper forces. On top of an implant, many types of prosthetic structures can be placed as dental needs dictate.
Before and after
Patients of Dr. Prus
Is an implant always the best choice to replace a missing tooth?
An implant is the best choice when it matches the patient's needs, values, and limits. This includes time, cost, durability, and personal feelings, amongst others. These are different for each person and each case. Every patient has their own priorities. The treatment plan the doctor creates has to match the patient's circumstances.
What are the advantages and disadvantages of implants?
The advantages include:

Patients of Dr. Prus
Added strength: an implant adds strength to the mouth. Replacing a missing root reduces stress on the remaining teeth.
Preserve tooth structure: implants replacing one to two teeth eliminate the need to cut down the adjacent teeth.
Build self-confidence: implants can remove the embarrassment, loss of self-confidence, poor chewing function, and discomfort of a removable bridge (full or partial denture).
Teeth in a day: in some cases, implants can support teeth the same day they are placed.
Maintain facial appearance: implants help support and retain bone and maintain a younger facial appearance.
The disadvantages include:
Lengthy treatment time: in most cases, implants take between three (lower arch) to six (upper arch) months before they can be restored. If bone must first be added to the area to permit implant placement, it can add an additional four months.
Cost: implants are not as readily covered by insurance plans. They often require CT Scans and additional surgical procedures. The implants and associated parts are costly. Generally, they are more expensive than an equivalent fixed bridge. Each case is different.
Requires precision: they can be highly technical and exacting to place and restore, but using computer-generated surgical guides minimizes human error.

Courtesy of Pizzi Dental Studio
How "real" can implants look and how long can they last?
Implants can perfectly match the natural teeth they replace. To do this they must be:
Technically correct: in multi-implant cases the margin of error is 5 microns (1µ = 1/1,000 mm).
Life-like ceramics: excellent ceramic design and color make the crown look exactly like a natural tooth.
Design expertise: a complete understanding of tissue-implant interactions will help prevent gum inflammation and recession, which will expose and damage the implant. Careful treatment planning, proper design, balanced interaction with opposing teeth, and excellent home care will allow it to look natural and last for decades, just like natural teeth.
Patients of Dr. Prus​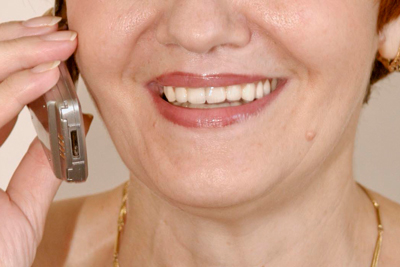 My mouth is a dental mess. Can implants help me?
Impants can help if you have:
loose fitting dentures (full or partial) and struggle with eating.
teeth that suffer from multiple types of dental disease.
teeth that are missing, painful, or getting loose and are badly out of position, destroying your smile.
Implants will:
totally revitalize your mouth.
bring strength, stability, health, and aesthetics to your smile.
build your self-esteem and totally change your life.
---
Dr. Edward Prus applies an acute awareness of natural looking aesthetics, pro-active prevention and a determination to create the very best functional and long-term dental care available. This ensures each patient Lasting Beauty…A Lifetime of Smiles©. Starting from his practice in Manhattan, his patients recognize his true dedication to their health and well-being. He performs his work with a truly holistic perspective, integrating total body health into his treatment planning. You can hear and read patient testimonials on his website: www.drprusdds.com/testimonials-videos.
The Center for Dental Excellence is conveniently located in Hopewell Junction, so patients can reach Dr. Prus from all over the Hudson Valley. It is just off I-84 (at the Taconic State Parkway) and a few minutes from I-684. Visit the CDE website: www.drprusdds.com for more information, to make an appointment, or find directions to CDE. Call Dr. Prus today and mention Hudson Valley Magazine's "Ask the Experts" for a free implant consultation at 845-227-7787 (PRUS).
---
Read Past Topics from Dr. Prus:

​How to Regain 20 Years of Youthful Beauty in Your Life
---
What's this?
This content is made possible by our sponsor. It is not written by and does not necessarily reflect the attitude, views, or opinions of the Hudson Valley Magazine editorial staff.