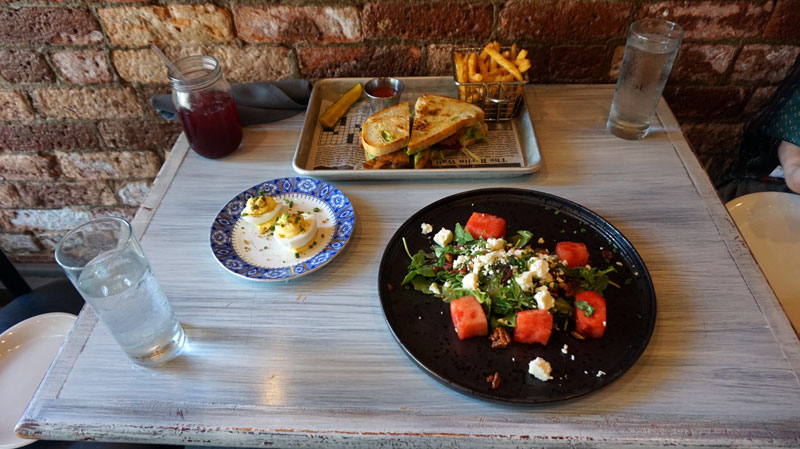 Photos by Dave Zucker
On a recent road trip through the Hudson Valley, we had the good fortune to get hungry right as we were passing through Albany. We were due for a late lunch but we were hoping to find something a bit more elevated than a basic burger; we were on vacation, after all!
As our navigator dutifully combed through the list of recent area openings and known mainstays, she happened across a relatively new addition, The Cuckoo's Nest. Opened last year by the team of Devin Ziemann and Kaytrin Sala behind the decadent Crave Burger just across the street, this Southern-styled they've already made our list of best places in the area to snag a pre-packed picnic, so we thought this'd be a great opportunity to pop in for a look at their full menu.
---
Related: Plan the Perfect Hudson Valley Picnic
---
The menu puts a primary focus on Southern cuisine, but with "a balance of comfort and innovation," as noted in their mission statement. Small plates include delicate deviled eggs, smoked wings, biscuits and gravy, buttermilk fried oysters and more. Fried chicken is available as sandwiches or by the half/whole bird, but other Dixie staples are represented well: shrimp and hominy grits, rib eye steak, blackened catfish, po' boys, even Coca-Cola braised beef ribs! Pair those with classic sides like cornbread and coleslaw, mac & cheese, or sweet potato mash. All this is served side-by-side with fresh garden salads, pickled crudité, and a cheeseburger that is anything but basic: a half-pound patty loaded up with caramelized onions and Crave truffle aioli, with optional toppings of bacon, avocado, and fried egg.
For a lighter lunch we opted for the deviled eggs alongside the watermelon salad and the FGBLT — "Fried green tomato BLT." (Yes, the T is in there twice but that's because it's comes with a thick-sliced fried green tomato and fresh red tomato.) The salad was beautifully presented and tastes delicious. A bed of invitingly fresh arugula was topped with slightly sharp Cotija cheese, mint, candied spiced pecans, and huge, perfect cubes of watermelon, and drizzled with a sweet and flavorful cumin seed vinaigrette. Tiny pieces of pickled watermelon rind provided tart bursts of juicy flavor.
The deviled eggs were two for $3, but had a lovely kick to them with a drizzle of olive oil and a dusting of pepper and spice. Not something we'd get on its own as a snack, but the perfect accompaniment to our sandwich.
Speaking of the FGBLT, this is a sandwich we'd eat hot of cold, rain or shiny, in a box, with a fox … you get the idea. All sandwiches come with a sweet pickle spear and your choice of fries, mac & cheese, or coleslaw. We opted for the perfectly hot-inside, crispy, golden-brown outside fries, which came in our own small basket. The bacon in our BLT was dark red and crispy but not at all burnt, which is absolutely perfect and we didn't even have to specify. The fresh lettuce and tomato provided a nice crispness and lightness to the sandwich, which could have easily been too dry if not for the benefit of just enough Green Goddess aioli. And that fried green tomato? Thick, juicy, still cool within and piping hot and crunchy on the outside. All of that was conveyed happily into our mouths on delicious sourdough.
The Cuckoo's Nest also offers a solid selection of beer and wine, as well as craft cocktails and mocktails befitting it's barroom and outdoor dining. The décor is very rustic with plenty of brick and distressed paint finishes, plus Mason jar lighting, giving the distinct impression of sitting a down-South porch, even indoors. As appealing as the Southern Revival looked (muddled blackberries, whiskey, lime juice, lemonade, and a dash of cinnamon), since we were driving we abstained with a wild berry hibiscus iced tea.
We were unable, however, to fully abstain when our waitress offered us a slice of chocolate-bourbon pecan pie. We were utterly stuffed, but we accepted the offer to go and would be lying if we told you anything other than that we ate it with our hands sitting in our hotel room later that night. And we are anything but liars.
The Cuckoo's Nest is open for lunch and dinner Tuesday through Friday, dinner Saturday, and Sunday brunch.
The Cuckoo's Nest
234 Western Ave., Albany
(518) 650-7215