It's hardly a surprise that farm dinners are hot stuff in the Hudson Valley. With an abundance of both farms and restaurants in the region, local culinarians have a bounty of resources for their farm-to-table initiatives. Yet "farm-to-table" as a description of anything begs the questions: "Where is the farm? How far away is the table?"
Ana Hito ponders questions like these. As the food editor of Goop, the lifestyle website and company owned by Gwyneth Paltrow, Hito lives and breathes food and drink with a wellness bent. Yet that's only part of her story. The editor is also making a name for herself here in the Hudson Valley with "It's a Dinner," a field-to-table dining series that she hosts once a month at her mother's organic farm, Goshen Green Farm, in Goshen. We sat down with Hito to learn more about what sets her initiative apart from other farm dinners, and why she can't get enough of the Hudson Valley.
Your @itsadinner Instagram feed is gorgeous! What inspired you to start your "It's a Dinner" events?
Hito: Goshen and the surrounding area have so much rich agriculture and small farming businesses. So, it kind of seemed like a no-brainer. Why not host a dinner centered around the produce from a local area?
When did you kick off the series?
H: I started the dinners in 2017, so we're just starting up.
Left to right: Goshen Green Farm, Ana Hito (center) and her team / Photos by Greg Rhein
What makes "It's a Dinner" different from other "farm-to-table" events in the Hudson Valley?
H: Something that puts us on the map is that everything on the table (everything going into your mouth) is actually from a farm or local business. A lot of places will say "farm-to-table," but get their milk, eggs, and other goods from bigger distributors — only sourcing vegetables from farms. That's something we try hard to avoid and have done successfully. Everything is sourced within 30 miles of the farm. We also understand that not everything can be produced on our farm, and we're ok with that. In fact, that's what make the dinners so special. We try to support other small businesses around that make an assortment of different things (honey, whiskey, eggs). We believe that's the only way to actually support your community in a sustainable way — the help your neighbor motto.
Can you describe your connection to the Hudson Valley?
H: In 2008, my family bought a nearly 200-acre farm in Goshen that is now Goshen Green Farm. I have a small renovated barn in Campbell Hall (right down the road) that is perfectly quaint that I love to come back to once a month. I love still being tied to the Hudson Valley even though I live 3,000 miles away [in Los Angeles]. I think the Hudson Valley is one of the most beautiful places on the east coast.
A noodle dish from the June dinner event / Photo by Greg Rhein
What is it like to collaborate with a chef from Mission Chinese?
H: I originally did these dinners by myself: cooking, setting up everything, doing all the P.R. Once I moved to LA it got a lot harder to manage everything from so far away. So, Sadie [Mae Burns] and I reconnected. We actually grew up together – she was a few years older than me and always a cooler kid than I was ever going to be, so we weren't really friends. I always knew of her and had heard she was in the food industry. She'd been working in a bunch of different kitchens in the city (Franny's Mission Chinese, and Flora), so I reached out to her and the rest is history. Sadie's boyfriend, Anthony, is also a great chef who also works in Shuko in the city. The three of us all love food and the experience involved with eating food. Working together is a breeze. These dinners come together with a lot of emails and phone calls back and forth from coast to coast. Sadie and Anthony have been coming up to Goshen to cook for the past few dinners, and it has been so wonderful to work with them – it's just fun and easy.
How does your work at Goop influence your dinners, if at all?
H: I try not to marry the two at all! My work at Goop interferes very little with these dinners and vice versa. These dinners are not a representation of Goop, they are a representation of me, Goshen Green Farm, and the people who are involved in them. I very rarely share that I'm a food editor. I like people to come because they understand and want to be a part of an event like this, not because they want to "see what Goop's food editor" is doing. The only thing that is similar between the two is the fact that I focus on trying to create menus and recipes that are clean, fresh, and full of bold flavors.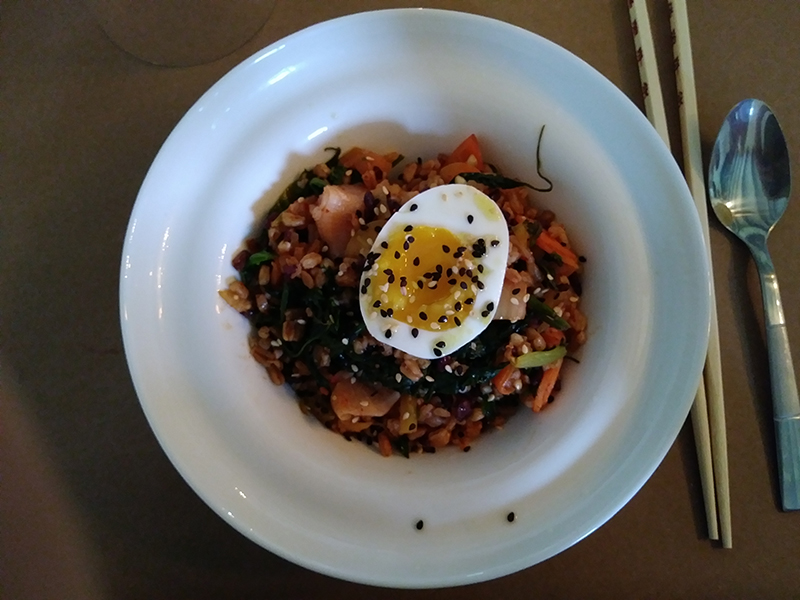 Kimchi banchan bowl and tiger salad / Photos by Sabrina Sucato
How do you balance life in Los Angeles with your visits to the Valley?
H: It's a little difficult to balance everything, but it always seems to work out. Typically at the beginning of the month I'll talk to local farms and see what will be in season by the end of the month. Then, I'll send a list to Sadie and Anthony and they'll look it over and we'll go through every item used in every course over many phone calls and emails. It somethings gets a little stressful and frustrating, just because it's hard to not be on the property. I typically fly in one day before and set up the whole barn while Sadie and Anthony prep everything.
When is your next dinner? What does the future look like?
H: My goal is to keep it the same, but just continue to do better. I don't really want to expand. The idea is to maintain doing the dinners one Saturday a month from June to October. I think 45 to 50 people is the perfect number of people for an event like this. My goal in keeping the numbers down is to continue to create an intimate environment where quality isn't sacrificed for quantity.
Stay tuned for the final two events in 2018's "It's a Dinner" series on September 29 and October 20. Tickets for the September dinner are available for purchase beginning September 1.