When the breeze blows softly on warm summer nights and the sun glitters quietly along the horizon line, there's no better place to spend an evening in the Hudson Valley than at one of the region's rooftop bars. With views of the Hudson River or the local landscape, the sky-high venues are dream destinations for cocktails al fresco and conversations that linger as long as the last ray of sun shimmers in the sky – and often even after that.
If you want to make the most of Summer Fridays (or Thursdays…or Saturdays), round up your crew and hit one of these hotspots for killer cocktails and delightful bites. With views like these, you'll want to stay roofside all season long.
COurtesy of zulu Time
Sit back and relax with a beverage in hand at the Zulu Time Rooftop Bar and Lounge at The Thayer Hotel at West Point. With views of the Hudson River and the United States Military Academy, you'll be sipping and dining in style from April to November. (Fun fact: Zulu Time, commonly referred to as Greenwich Mean Time — an absolute time reference that doesn't change with the season or location — was established in 1884. Worldwide military operations are coordinated in relation to Zulu Time.) With its proximity to the academy, the name is a perfect fit for this rooftop location. Enjoy happy hour from 4 to 7 p.m. or devour a gourmet meal with an exquisite view right before your eyes at Zulu Time. On Fridays, make the most of half price drinks and appetizer specials as well.
Wednesday to Sunday 4-11 p.m. (Friday and Saturday last call at 1:30 a.m.)
674 Thayer Rd, West Point
845.446.4731
Courtesy of Tarry Lodge
Get away from all the hustle and bustle of traffic at Tarry Lodge's rooftop. This unique and secluded spot in Westchester is tucked away from the busy street to give you a relaxing afternoon or evening. The rooftop is an urban oasis where you can sip a glass of wine, grab a pizza, or host your next big party. Open seasonally from May to October, this hideaway is perfect for private affairs such as bridal showers, rehearsal dinners, or corporate events. However, if you are simply looking for a place to dine in the open air, the rooftop is open seasonally for a la carte, weekend dining, with a full menu including delicious cuisine such as linguine with clams, grilled pork chop, and so much more.
Sunday to Thursday 12-9 p.m., Friday to Saturday 12-10 p.m.
18 Mill St, Port Chester
914.939.3111
2019 Update: Due to construction on a neighboring building, Tarry Lodge's rooftop space is temporarily closed. It hopes to reopen next season.
Photo Credit: Facebook
Grab a table or relax on a comfy couch on the rooftop of Boitson's Restaurant. This intimate setting is the perfect place to grab a drink with a plus one or to party with a crowd to celebrate the weekend. The rooftop bar offers plenty of options from cocktails to more than a dozen New York State beers to sip on. If you are looking for a great deal, Boitson's Restaurant also has a few special nights like the Monday Blue Plate Special where one dish is reduced to $10, Wednesday is the $20 Prime Rib Dinner Night, and Thursday is $12 Fried Chicken Night.
Sunday, Monday, Wednesday, Thursday 5-10 p.m.; Friday to Saturday 5-11 p.m.
47 North Front St, Kingston
845.339.2333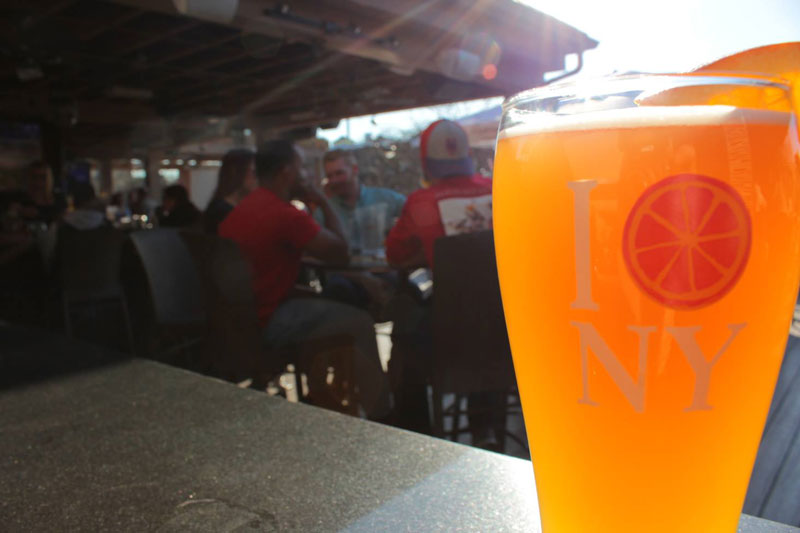 Photo Credit: Facebook
If you are looking for a place to party, Maggie Spillane's Rooftop Garden might be your next go-to. With two full bars, table service, a dozen flat screen TVs and live entertainment, you'll have a blast at one of the larger rooftop gardens in the area. There's even a special rooftop menu featuring Maggie Spillane's beloved Irish-American pub grub, like salads, soups, burgers, and wraps. Don't forget about happy hour, hosted from 4 to 7 p.m. Monday through Friday. Whether you are looking for a quick drink and some fresh air, dinner with the family, or a party for everyone, Maggie Spillane's rooftop is the place to go.
Daily, 11-4 a.m.
571 Gramatan Ave, Mt. Vernon
914.699.8900
Photo Credit: Facebook
This French-American bistro sits right on the waterfront in Irvington, where every seat offers a beautiful view of the Hudson River. You would never know this spot started out as a humble bistro with its bustling atmosphere. While the menu consists of French classics, there are many more cultural dishes to tempt your taste buds. The evolved menu offers some Italian, Spanish, and American Regional cuisine influences for a little more flare and flavor. Red Hat on the River is all about local using New York State purveyors, the local farmer's market, and opts for meat, poultry, and fish that are organic, wild, or sustainably raised. With new menus in the spring, winter, summer, and fall, you will never tire of the food.
Lunch: Monday to Friday 12-3 p.m.; Dinner: Monday to Thursday 5-9 p.m., Friday 5-10 p.m., Saturday 4:45-10 p.m., Sunday 4:30-8 p.m.
One Bridge St, Irvington-On-Hudson
914.591.5888
Photo Credit: Ken Gabrielsen
Dubbed "a touch of TriBeCa with a rooftop bonus", Winston's Restaurant offers atmospheric dining for every and any occasion. The three-level venue features the only open-air rooftop bar and lounge in Mount Kisco. The best part is, the rooftop area can be used all year-round! Sliding doors open to a lengthy and well-stocked bar during the summer and a glass-enclosed heated rooftop for when the weather is a bit too cold. With an extensive wine list and unique cocktails, as well as a Modern American menu crafted by Executive Chef Michael Williams, your girls' night out, romantic dinner, or special event will be a success.
Sunday, Tuesday to Thursday 5-9 p.m., Friday to Saturday 5-10 p.m.
130 East Main St, Mount Kisco
914.244.9780
Photo Credit: Facebook
Mamaroneck Avenue in White Plains is known for its lively nightlife. But before you hit the town, grab dinner on the rooftop deck at Esposito's Ristorante & Pizzeria. You will feel comfortable and relaxed as you dine out in the open air overlooking the surrounding streets. There is so much to pick from on Esposito's menu. From pizza and pasta to salads and heroes, you'll be fully satisfied before you live it up on Mamaroneck Avenue for the night.
Monday to Thursday 10 a.m. – 9:30 p.m., Friday 10 a.m. – 10:30 p.m., Saturday 11:30 a.m. – 10:30 p.m., Sunday 11 a.m. – 9:30 p.m.
359 Mamaroneck Ave, White Plains
914.368.8366
Soak up the sun as you dine at this watering hole in Pearl River. With a full menu of American restaurant favorites like burgers, tacos, and pasta, along with a varied selection of beers and spirits, the eatery is the perfect place to enjoy a meal al fresco. Aside from its regular live music schedule, The Pearl River Saloon also hosts Fourth of July fireworks and rooftop Halloween parties.
Monday to Wednesday 11 a.m. – 11 p.m., Thursday 11 a.m. – 1 p.m., Friday to Saturday 11 a.m. – 2 a.m., Sunday 11:30 a.m. –12 a.m.
45-49 West Central Ave, Pearl River
845.735.5300
---