Don't let the mystique of Speakeasy 518 intimidate you. This intimate, Prohibition-style bar is located near the City Beer Hall. There are no signs. Look for the black awning with a red light, and ring the doorbell. Once you're inside, enjoy live music, craft cocktails, and the company of others; there is a "no cell phone" policy.
Emmanuel Treski, Bartender & Manager 
Most complicated drink you've ever made
A Tom & Jerry cocktail. It is an amazing hot drink but it takes a while to make because it incorporates quite a bit of technique — you whip egg white until just right, separately combine egg yolk with sugar, rum, and vanilla, and then fold that together with the white. It also takes a while to clean up.
What does "craft cocktail" mean to you?
It's making a cocktail that's not single note, like a rum and Coke. A craft cocktail hits you like a symphony; you get one taste profile after another. There's a reason why the last hit from a profile matches up with the first taste. If it's made correctly, a craft cocktail will help evoke a memory.
Favorite day to work
Repeal Day, which celebrates the repeal of Prohibition on December 5. That's the day the 21st Amendment was fully ratified and federal laws enforcing Prohibition were then repealed, making it our constitutional right to drink. Every bartender should recognize that holiday.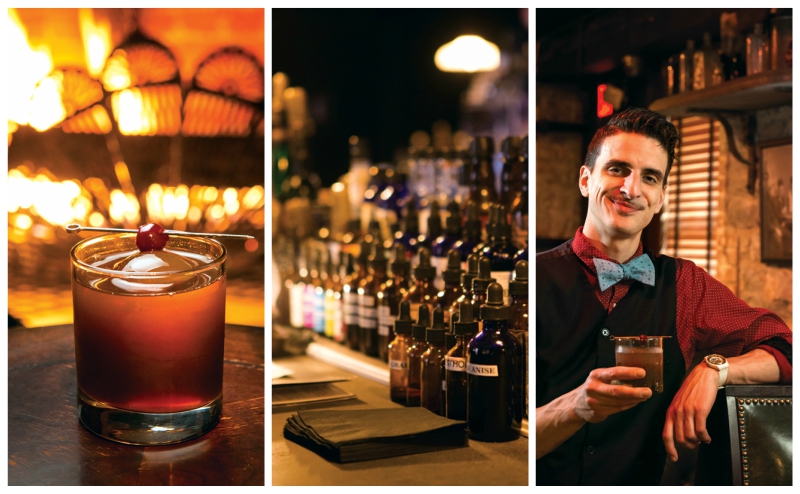 Gramophone #4
1 1/4 oz Sotol
1/2 oz Verdenne Creme De Cacao
1/2 oz Amaro Sfumato
1/2 oz Galliano Ristretto
2 dashes of coffee bitters
Brandied cherry
Assemble all ingredients. Stir — do not shake — for at least eight seconds. Pour into a rocks glass with a 2" rock. Garnish with a brandied cherry.
42 Howard St., Albany; 518.449.2332; www.speakeasy518.com