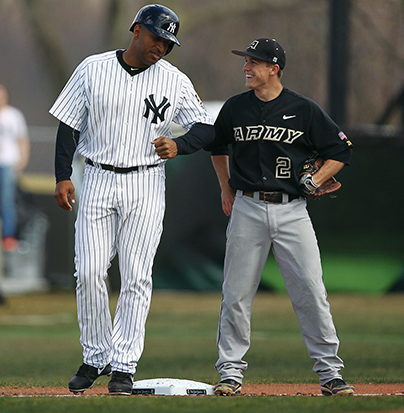 Photograph courtesy of USMA
Obviously, 2013 was not the Yankees' most illustrious season, but there were still some highlights. (Anyone else tear up a little watching Mo's retirement tribute?) One such moment came during the preseason when the Bombers played an exhibition game at West Point. On March 30, the Yanks went head-to-head against the Army Black Knights — drawing a record 6,100 fans to the Military Academy's Doubleday Field — and revived an old tradition. The Yankees and the Cadets played their first match-up on May 26, 1927, when Babe Ruth, Lou Gehrig, and the rest of Murderer's Row were in their prime. Although that game was rained out after only an inning and a half, the Yanks continued to make the trip upriver every few years until 1976. The game this year marked the first time since the '70s that the Yankees faced Army.
The Bombers scored a 10-5 win, giving them a perfect 22-0 record against the Knights. But logging a victory wasn't the day's sole purpose. The players spent most of it just hanging out. Superstars Andy Pettitte, Mark Teixeira, and Robinson Cano sat with the Cadets in their dugout; speed demon Brett Gardner signed a ball for the Army pitcher who struck him out; the legendary Mariano Rivera spoke at length with a Cadet who is training to be a bomb specialist; and Yankees General Manager Brian Cashman rode an Army mule around the parking lot. If those sorts of shenanigans are the norm, here's hoping this tradition continues.
» Return to Year in Review 2013