Okay, so you did the big brunch for Mother's Day, and now you're not quite sure how to entertain dad come June 16. Well, we turned to Hudson Valley guide extraordinare Joanne Michaels for a few tips. Michaels, a former editor of this magazine, has authored several popular books about the region, including Let's Take the Kids: Great Places to Go in New York's Hudson Valley and Hudson Valley & Catskill Mountains (The Countryman Press, $21.95), which is being rereleased this month. "This is the ninth edition, the eighth one with this publisher," says Michaels. "The first one came out in 1988." And while Michaels, who has lived in Woodstock for more than 30 years, acknowledges that there is a "mass" of travel information on the Internet, "much of it is misinformation. There is still something to be said for a guidebook. People tell me they still like to keep it in their car, so if they have a couple of extra hours they can pull it out and do something fun."
Below, we excerpt five listings from the latest edition of Michael's guidebook, any one of which could make the ideal day trip for your dad. But you'll have to pick up the tie yourself.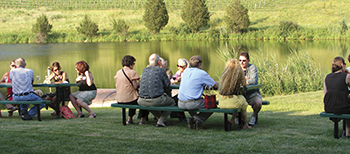 Visitors enjoy the Millbrook Winery's scenic location. Photograph courtesy of Millbrook Vineyards & Winery
26 Wing Rd., Millbrook. 845-677-8383; 1-800-662-WINE; www.millbrookwine.com. Open for tours and tastings September through May, daily 12-5 p.m.; June through August, daily 11 a.m.-6 p.m.
They have the largest 100 percent vinifera vineyard in the Hudson Valley region. Production follows French techniques. They offer Chardonnay, Pinot Noir, and Cabernet wines. There are summer concerts, special events, and art exhibits here, so check the Web site to see what's happening if you are planning to visit the winery. There is also a delightful café serving lunch overlooking the vineyards during the summer months. The second Saturday in November, the winery hosts a "Sip & Sign for the Holidays" event featuring 15-20 local authors autographing their books for visitors. The event is free and open to all.
HV Mag Tip: The Millbrook Winery gives complimentary portfolio tastings to all dads on Father's Day. They also offer Jazz at the Grille from 5:30-7:30 p.m. on June 15 and June 29. On June 22, the site hosts its Summer Solstice Lobster Bake & Concert.
One of the early Indian motorcycles at Motorcyclepedia in Newburgh. Photograph courtesy of Motorcyclepedia
250 Lake St., Newburgh. 845-569-9065; www.motorcyclepediamuseum.com. Open year-round, Fri-Sat. 10 a.m.–5 p.m., Sun. 11 a.m.–5 p.m. Admission fee.
Gerald Doering and his son, Edward, opened this motorcycle museum in 2011, featuring 400 bikes along with vintage photographs, posters, and lots of memorabilia. Several exhibit rooms include early American motorcycles dating back to 1865, as well as chopper bikes and Indian motorcycles built between 1902 and 1953. There is a military section as well as several Harley-Davidson models. A recreation of the Captain America chopper from the film Easy Rider is also in one of the galleries. The Wall of Death, an exciting live demonstration given approximately every six months, always on a Saturday, requires reservations for any of the four shows given on that day. Those who desire a guided tour of the museum can make arrangements by calling in advance. Even those who aren't motorcycle aficionados will find this an interesting place to visit!
HV Mag Tip: If you want even more motorcycle madness, why not take dad to lunch at the nearby Orange County Choppers Cafe?
River view: Tours of the Saugerties Lighthouse are offered on weekends and holidays all summer long. Photograph by Michael Nelson
168 Lighthouse Dr., Saugerties. 845-247-0656; www.saugertieslighthouse.com
From the center of Saugerties, follow Main Street to the end, heading north; make a right turn onto Mynderse Street, which becomes Lighthouse Drive — although there are no signs — and keep bearing to the left. The site is also accessible by boat from the Route 9W boat-launch area. Open Memorial Day weekend to Labor Day; tours given on weekends and holidays, 12-3 p.m. Donation. Enjoy a walk through the Ruth Glunt Nature Preserve, and at low tide walk out to the historic lighthouse, which contains a museum with artifacts from the commercial heyday of the Saugerties waterfront. Overnight accommodations are available year-round, and a live-in lighthouse keeper resides on the premises. I spent a night here in the month of June, and it was truly a memorable experience.
59 Letter S Rd., Ghent. 518-392-4740; www.artomi.org. From Hudson, take Route 9H north; make a right onto County Route 22, then left onto Letter S Road. They are located at the second driveway on the left. Open daily, sunrise to sunset. Free.
Founded in 1988 as public grounds for viewing contemporary sculpture — as part of the Art Omi International Arts Center — the park features more than 70 sculptures on view, with works by Liberman, Lipski, Pepper, Highstine, Knowlton, Venet, and others. There is a visitors center open May through October, Thursday through Sunday 11 a.m.-5 p.m.; Saturday and Sunday only the rest of the year. It is best to stop there upon arrival to find out what is being exhibited in the art gallery. Temporary exhibits change throughout the year and are made possible with the assistance of independent curators. This arts center is located on more than 150 acres, of which 90 are dedicated to the sculpture park that stretches through rolling fields, wooded knolls, and wetlands. Allow an hour to tour the entire park. There are free guided tours for groups of six or more people, but reservations must be made in advance. A great place to expose children to art and an unusual attraction!
1 Provident Bank Dr., Pomona. 845-364-0009; www.rocklandboulders.com
This impressive stadium opened in 2011 and overlooks the scenic Ramapo Mountains. Home to the Rockland Boulders (an independent professional minor league baseball team), the ballpark features extra-wide seats, a large food court, a special kids' zone, and an exciting atmosphere. If you are a baseball fan, make sure to take in a game when you are in the area. The season runs from mid-May through early September, and the prices are exceedingly reasonable. Check the Web site for a full schedule of games.
HV Mag Tip: On Father's Day, kids and dads are invited onto the field to play catch after the game. Plus, the first 1,500 fans in attendance will receive a free BoulderBird Growth Chart.
» Click here for more summer fun activities