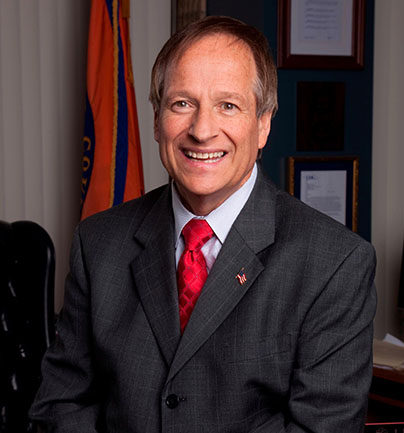 Photograph courtesy of facebook.com
Orange County has been one of the fastest growing counties in the state over the past 12 years, which just happens to coincide with the tenure of Edward A. Diana as County Executive. But Diana, who also served 12 years as Republican/Conservative County Legislator, six years as County Majority Leader and as a councilman and deputy supervisor in the Town of Wallkill in the 1980s, announced in April that he would not seek re- election this fall for health reasons. Diana was diagnosed with non-alcohol-related fatty liver disease and needs a transplant.
"When we started this journey, we looked at a few areas we really wanted to work on," Diana says. He lists public safety, county services, finances, and quality of life issues as his priorities over the years, and is proud of many of his accomplishments in those areas. Some standouts include the growth of Orange County Community College, with building projects in Newburgh and Middletown to help provide affordable education; the Emergency Services Complex and the training facility for firefighters; and the expansion of Stewart Airport, which provides jobs and gives local folks the opportunity to raise families. And he's proud that "We were the fastest-growing county in New York for many years, and our tax rate is the lowest it's been in 70 years."
Regrets? He has a few. The county Government Center "has outlived its usefulness, and I wish I had completed [the renovation] a little earlier," he says. He still wants to privatize the Valley View Nursing Care Center as well.
"But the plusses outweigh the minuses, and I sleep OK at night," he says as his tenure comes to an end. Once his health issues are addressed, he doesn't rule out returning to public service in some capacity. "But we'll see what happens," he says. "I have had a great 12 years, and I enjoyed almost every day of it. I never felt like it was going to work. I think we had a great run."
» Return to Year in Review 2013