If you dined at the Depuy Canal House over the past four decades, you'll probably have peered into the open kitchen at some point to see what chef John Novi and his crew were up to. Novi closed the restaurant to the public last year, and only serves special-occasion dinners these days. But now you can join him in that kitchen for a cooking class.
Novi is famous for his original, delicious (and sometimes wonderfully wacky) culinary creations — food critic Mimi Sheridan long ago pronounced him the father of New American cuisine. So if you're a nervous cook, he'll show you how confidence combined with flair and know-how can result in interesting, delectable food. "It's partly about taking the fear out of cooking," Novi agrees.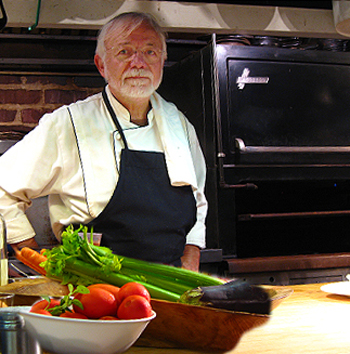 Chef John Novi
Classes, which cost $125, are for eight to 10 people and take place on Saturdays or Sundays — or any day, if you pull your own group together. The session begins at 11 a.m. with a tour of the gorgeous old house, and then everyone sits with Novi to discuss what will be prepared. "I'll make soufflé pancakes and a couple of other things for brunch, and we talk about who's going to be doing what jobs," he says. "About 1 p.m., everyone puts an apron on, and we get to work. Everyone chops, stirs — it's very hands on." As you work, you get a crash course in knife skills and cooking basics. The class ends with a six-course dinner in the kitchen, when you eat all the goodies you've prepared. "It's like a party," Novi says.
In fact, the first session was a party: A woman celebrated her 50th birthday with a cooking class along with a few girlfriends and their husbands. "Two of the husbands stayed, and three went back to the motel and watched a football game. They came back about 5:30, at which time the girls were well lit," Novi says, laughing.
The next class takes place on February 11, and will focus on dishes to make a Valentine's Day dinner special. You'll even learn how to smoke a duck breast on the stovetop. Beginners are welcome, and you can bring your own wine. And no, you don't have to wash the dishes afterwards. Go to www.depuycanalhouse.com/cooking-classes for more information.
» More from The Accidental Foodie blog
» Go to the Hudson Valley Restaurants Guide
» Go to the Hudson Valley Food & Drink Guide