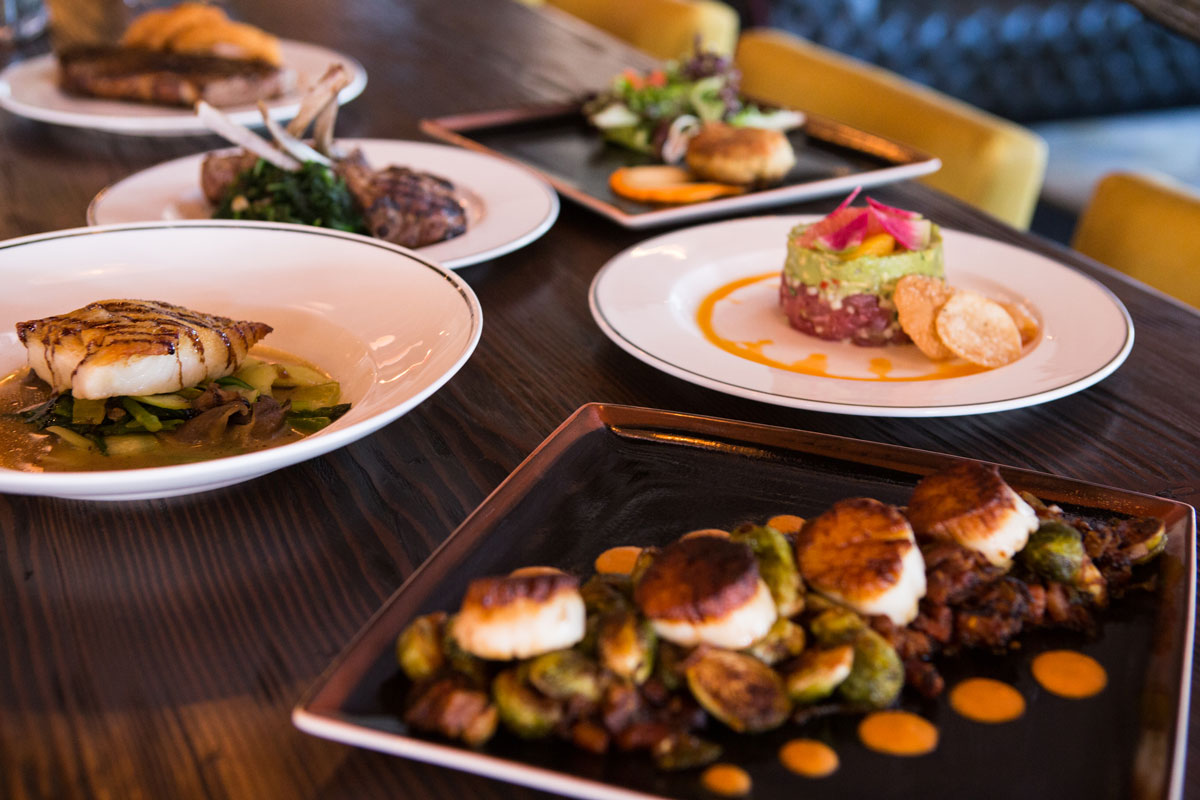 Eat like a local at this upscale steakhouse outpost. Photo courtesy of the Time Hotel.
BV's Grill at the Time Hotel
Nyack
Opened: May 2016
$22-$44 entrées
​
At first glance, BV's Grill, located in the trendy Time Hotel, might seem like just the place to find jetlagged executives on expense accounts. True, the dramatic entrance with bold red doors, a striking wall display of wine bottles, moody lighting, and sofa lounge areas do emit an upscale vibe. But spend some time here and you'll find that this spot is really a community gathering place, bustling with locals. Here's the best-kept secret in Rockland: When happy hour hits on weeknights from 4 to 7 p.m., platters of buttermilk fried chicken start to flow from the kitchen — on the house. And there are dollar oysters on Mondays.
Take your table in the high-ceilinged dining room with exposed beams and an industrial look — or at the poolside patio in warmer weather — and linger over the menu. There are several ways to go: The restaurant is, after all, the Hudson Valley outpost of Manhattan's famed Bobby Van steakhouse, and Executive Chef Rene Xelo-Sosa, formerly with Port Chester's Willett House (at one time Westchester's sole steakhouse) and White Plains' Gaucho Grill Argentinian beef palace, is just the man for the job.
His kitchen whips up dry-aged prime filet mignon, tender tomahawk, and lushly marbled rib-eye artfully presented with a French trim. But it's not all about meat. Beautifully composed seafood dishes like tuna tartare served with avocado and citrus sauce, lobster Cobb salad, sea scallop and crab cakes with wasabi vinaigrette, and land and sea sushi rolls are lighter options, with even more choices coming soon, promises event manager Samantha Snider, who says that the restaurant is increasingly tapping into local artisan vendors for ingredients.
Beverages will not disappoint, either. Yes, you could make like an executive and order a crazy-expensive bottle of Heidsieck & Co. Champagne from the impressive wine list. Or simply come on Wednesday nights when wine bottles are half price — just like the locals do.