In the world of music, Woodstock is legendary. The modest Hudson Valley town unwittingly became a creative landmark in 1969 when the Woodstock Music Festival took the region by storm. Although the fest itself went down in nearby Bethel, Woodstock earned the title spot thanks to its local reputation as an artistic haven.
Nowadays, the famous town continues to attract innovators of all sorts. Crafters sell their wares while foodies whip up delectable eats and musicians jam out. With so much going on in one zip code, Woodstock is a day tripper's paradise.
9 a.m. – Enjoy an egg-cellent meal at Oriole 9
17 Tinker Street, Woodstock
Trust us—hold off on breakfast until you get here. At Oriole 9, breakfast is the most important meal of the day. That's why the eatery offers the morning menu at all hours. If you love eggs, go for the goat cheese omelet filled with delicious baby spinach and goat cheese, served with crisp toast and your choice of a fresh salad or potatoes.
Looking for something else? Two bagel spots, Moonrise Bagels and Mud Club, along with always-crowded bakery Bread Alone, are awesome.
Woodstock
On a sunny day, venture on over to Overlook Mountain for a challenging hike that rewards you with one of the most picturesque views in all of the Hudson Valley. Although the full hike takes about three hours to complete the five-mile out-and-back trail, feel free to go at your own pace; the view from the top of the Overlook Fire Tower makes the trek worthwhile. On the way you'll see the breathtaking ruins of Overlook Mountain House, a 19th-century resort that burned down several times and closed in 1940.
The trail is great for dogs and kids, making it an ideal option for families. It's a popular trail in the region, so expect to see other hikers during your trek.
4 Rock City Road, Woodstock
With locations in Kingston, Red Hook, and Woodstock, Yum Yum is a Hudson Valley staple. Take advantage of the noodle bar options by customizing your bowl with different noodles, broths, and protein options. With vegan and gluten-free dishes scattered throughout the menu, this ramen joint is perfect for anyone with dietary restrictions.
For more, there are plenty of casual eateries nearby—from upscale vegan food at Garden Café on the Village Green to comforting Dominican dishes (especially the mofongo) at Que lo Que on Tinker Street. Head a few minutes out of town for southern fare at Dixon Roadside or Filipino street food at Harana Market.
Related: Radio Woodstock Celebrates Local Sounds on 100.1 WDST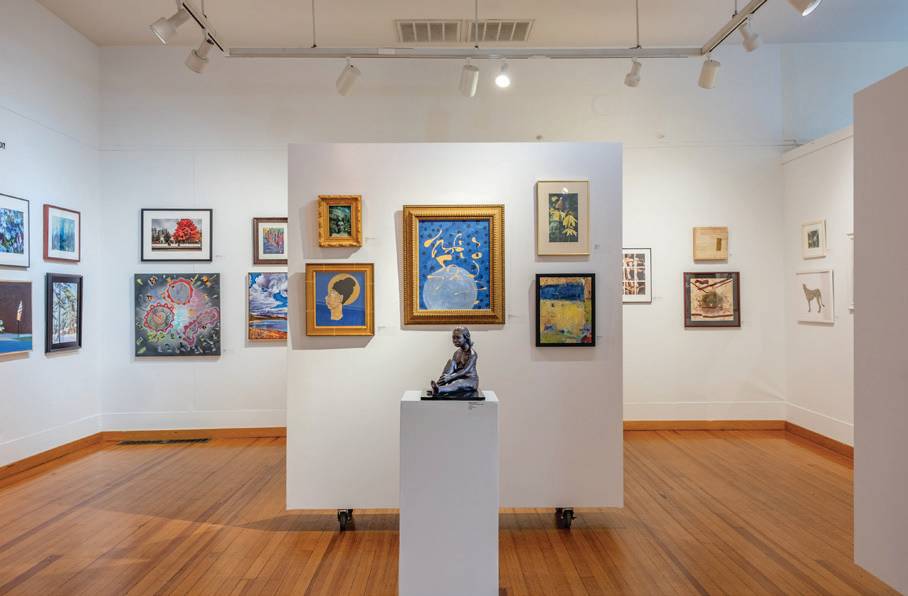 Tinker Street, Woodstock
With its rich creative history, it's no surprise that Woodstock is home to art galleries such as Woodstock Artists Association and Museum and Woodstock Byrdcliffe Guild. Spend an hour or two hopping from one art space to the next, taking in everything from photography and sculpture to ceramics, contemporary art, and more. If you visit with family or friends, make a game out of it as you pick and choose your favorite works in each space.
5 p.m. – Shop till you drop on Woodstock's Tinker Street
Tinker Street, Woodstock
All roads in Woodstock may not lead to Tinker Street, but they should. Woodstock's main drag is a must-visit during any trip into town, simply because it provides such a strong snapshot into community life. Stop into any of the clothing, home goods, and jewelry stores that line the road to pick up one-of-a-kind gifts and goodies. If you happen to spot something for yourself, snag it while you still can—many of the goods for sale in Woodstock are artisan originals. Essential stops include The Golden Notebook for excellent reads, Candlestock for a range of handmade candles, and Woodstock Music Shop for instruments and vinyl.
7:30 p.m. – Eat farm-to-table Italian at Cucina
109 Mill Hill Road, Woodstock
If you plan your day trip in advance, do yourself a favor and call in a reservation to Cucina, Woodstock's fan-favorite Italian restaurant hidden inside a farmhouse. Savor Mediterranean classics like stracciatella soup, burrata salad, and thin, crusty pizzas served hot from the oven. If you don't have room for dessert, don't be surprised. The food is just that good.
Excellent dinner is also served at Good Night, Millstream Tavern, Silvia, and Pearl Moon, which has live jazz. Don't miss the cocktail menu at Early Terrible—in addition to great drinks the eclectic spot features disco balls and outdoor chandeliers.
22 Rock City Road, Woodstock
What's Woodstock without live music? The Colony's cozy, historic hotel interior and expert sound engineering provide guests with an intimate musical experience. All of that dancing will take a lot out of you, so be sure to refuel with beverages and bites like a burger dressed with iceberg lettuce, red onion, pickles, American cheese, and the mouth-watering Colony secret sauce neatly sandwiched between soft potato buns.
Just a couple of minutes outside of downtown, headliners play at the Levon Helm Studios and the recently renovated Bearsville Theater. Get in the mood by listening to Radio Woodstock (100.1 WDST) on the drive over.
10 Waterfall Way, Woodstock
After all the excitement of a day trip in Woodstock, it only makes sense to wind down the evening in town. In a secluded alcove along Tannery Brook and its waterfalls, Woodstock Way's 12 contemporary suites are stunning and chic. The hotel embraces a natural aesthetic and welcoming vibes, with unique furnishings and eye-catching art strewn throughout. For larger parties or extended stays, Woodstock Way boasts a number of residences as well.
Town zoning laws don't allow for traditional hotels but Woodstock still has plenty of charming places to spend a night or two. The Herwood Inn has four suites (named after female pioneers in the music industry) with private patios, an outdoor lounge space, hot tub, and free bike rentals. A few minutes outside of town, Hotel Dylan has 22 bright, airy rooms in what was formerly a motel. There are fire pits on the front lawn ringed by Adirondack chairs as well as a heated saltwater pool.
Related: Mohonk Mountain House Named a Top Family Destination