Click through to see who's been out and about in the Hudson Valley in our parties and events gallery.
The Epilepsy Foundation of Northeastern New York (EFNN) hosted its 28th Annual Confection in Chocolate Gala on Mar. 12 at the Glen Sanders Mansion in Scotia. The night featured an assortment of chocolate creations donated by local pastry chefs and restaurants, as well as silent and live auctions. From left: EFNN's 2016 Winning Kid Britton Otis; Branson, Kimberly, Braedon, and Scott Otis; Executive Director of EFNN Jeannine Garab; WNYT 13 Morning Anchor and Master of Ceremonies Phil Bayly.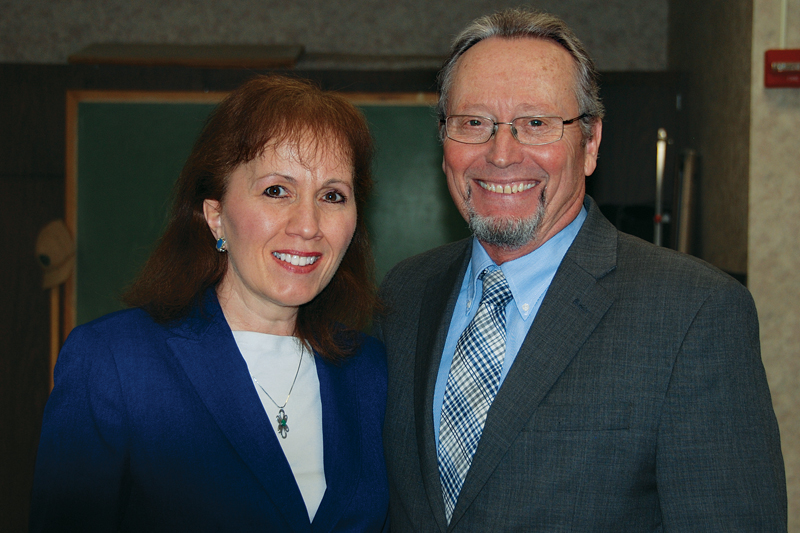 The Cornell Cooperative Extension Dutchess County (CCEDC) celebrated agriculture in Dutchess County and its importance to the local economy at its 20th Annual National Agriculture Day Breakfast on Mar. 15 at the Dutchess County Farm and Home Center in Millbrook. New York State Commissioner of Agriculture and Markets Richard A. Ball spoke about the Department's recent accomplishments and new initiatives to help promote and grow the state's agricultural industry. From left: CCEDC Executive Director Ruth Moore and Richard A. Ball.
The Claudio Cares Foundation celebrated its annual Snowflake Gala at Locust Grove in Poughkeepsie on Feb. 5. The night brought in $22,000, which is set to build a new computer lab for FDR High School in Hyde Park. From left: Winners of the Volunteer Family of the Year Award, Elizabeth, Ted, Emma, Patrick, Luigi, and Lisa Philipbar.
The Mid-Hudson Bridge was lit in rainbow colors as the Hudson Valley LGBTQ Community Center held its 11th Annual Gala on Mar. 12 at The Grandview in Poughkeepsie. The festive night honored local organizations and winners of the Spirit of the Center Award. From left: Gala committee chair Fran Divine and Spirit of the Center Award recipient Vanessa Shelmandine.
In celebration of its 15th anniversary, the Jacob Burns Film Center (JBFC) in Pleasantville held their first Viewing & Doing: An Afternoon of Film & Family Fun event on Mar. 6. The festivities included a preview screening of the animated film The Little Prince, followed by animation and technology activities inspired by the film. From left: JBFC Managing Director Dominick Balletta, filmmaker Mark Osborne, and JBFC Executive Director Edie Demas.
Photograph by Lynda Shenkman Curtis.
The Damien Center's Bowling for Paws fundraiser raised over $23,000 on Feb. 21 at Playdium Bowling Center in Albany. The Center's PAWS program ensures pet owners living with HIV/AIDS are never separated from their pets. From left: Kelly Morrone, Sharon Wheeler, Damien Center Executive Director Perry Junjulas, and Jenn Kilinski.
The Dutchess Community College (DCC) Foundation's annual Community's Bridge to the Future gala was held on Mar. 19 at The Grandview in Poughkeepsie. The gala honored exceptional people who have made a tremendous impact in the community and for the college. From left: Dutchess Alumni Hall of Fame inductee William Beale, Bernard Handel Community Leadership Award recipient John O'Shea, DCC President Dr. Pamela Edington, and Executive Director of the Eleanor Roosevelt Center at Val-Kil Kathleen Durham.