Photos courtesy of LEGOLAND New York
One of the biggest amusement parks to hit the Hudson Valley prepares for its grand debut in Orange County, with COVID-19 safety protocol in place, in 2021.
By Alicia McGowan and Sabrina Sucato
LEGOLAND New York is on its way to the Hudson Valley!
Brick by brick, LEGOLAND New York works its way toward its 2021 debut in Goshen after postponing its planned July 4, 2020 opening in response to the COVID-19 crisis. When it finally cuts the ribbon, it will be the biggest LEGO amusement park to date — and the first theme park to open in the Northeast in four decades.
Very soon, local fans will get to experience the magic of the park. Starting May 29, LEGOLAND New York will open its doors to guests for preview sessions. LEGO fans will visit six of the seven lands developed at the resort. Stroll down Brick Street, enter Bricktopia, and explore LEGO City on a visit to Orange County. Annual pass holders get first-priority for booking, with reservations opening for all other guests beginning May 21. Single-day preview passes are $49.99.
The opening news comes in response to Governor Cuomo's mid-February announcement that outdoor amusement parks may open at 33-percent capacity starting April 9.
"We are thrilled with Governor Cuomo's announcement for the reopening of family attractions, including outdoor theme parks," notes Stephanie Johnson, divisional director of LEGOLAND New York Resort. "This means LEGOLAND New York Resort will be able to celebrate its grand opening this season as planned and we look forward to sharing more details soon."
In the meantime, to get everyone excited for its big reveal next year, LEGOLAND shared a sneak preview of never-before-seen footage of the park's progress. Because of the new opening plan, the resort will unveil its outdoor theme park and LEGOLAND Hotel in the same year. Opening dates for both have not yet been announced.
Ready for a preview?
https://www.facebook.com/LEGOLANDNewYork/videos/330456031452597/
After commencing development in spring 2019, building is nearly complete for the 150-acre theme park and 250-room onsite hotel. When it debuts, the hotel will feature themed rooms for young pirates, knights in shining armor, LEGO Friends, and Ninjago lovers.
Related: LEGOLAND New York Is NOT Opening in the Hudson Valley This Year
The amusement park, meanwhile, will take visitors through seven themed lands with more than 50 rides, shows, and attractions scattered among them. Notably, the park's opening will mark the global debut for the LEGO Factory Adventure Ride, in which each guest becomes a Minifigure.
LEGOLAND is owned and operated by
Merlin Entertainments
, which runs more than 111 attractions around the world and 30 attractions in North America. In Goshen, a few of the planned attractions are special to the site and have not been seen before at any of the eight other
LEGOLAND
locations. Take the LEGO Factory Adventure, for instance. The experience, which takes visitors on a journey to see how Lego bricks are made, will make all who venture through it feel like kids again. Look out for it in the
Bricktopia
section of the park, which allows guests to build anything they want.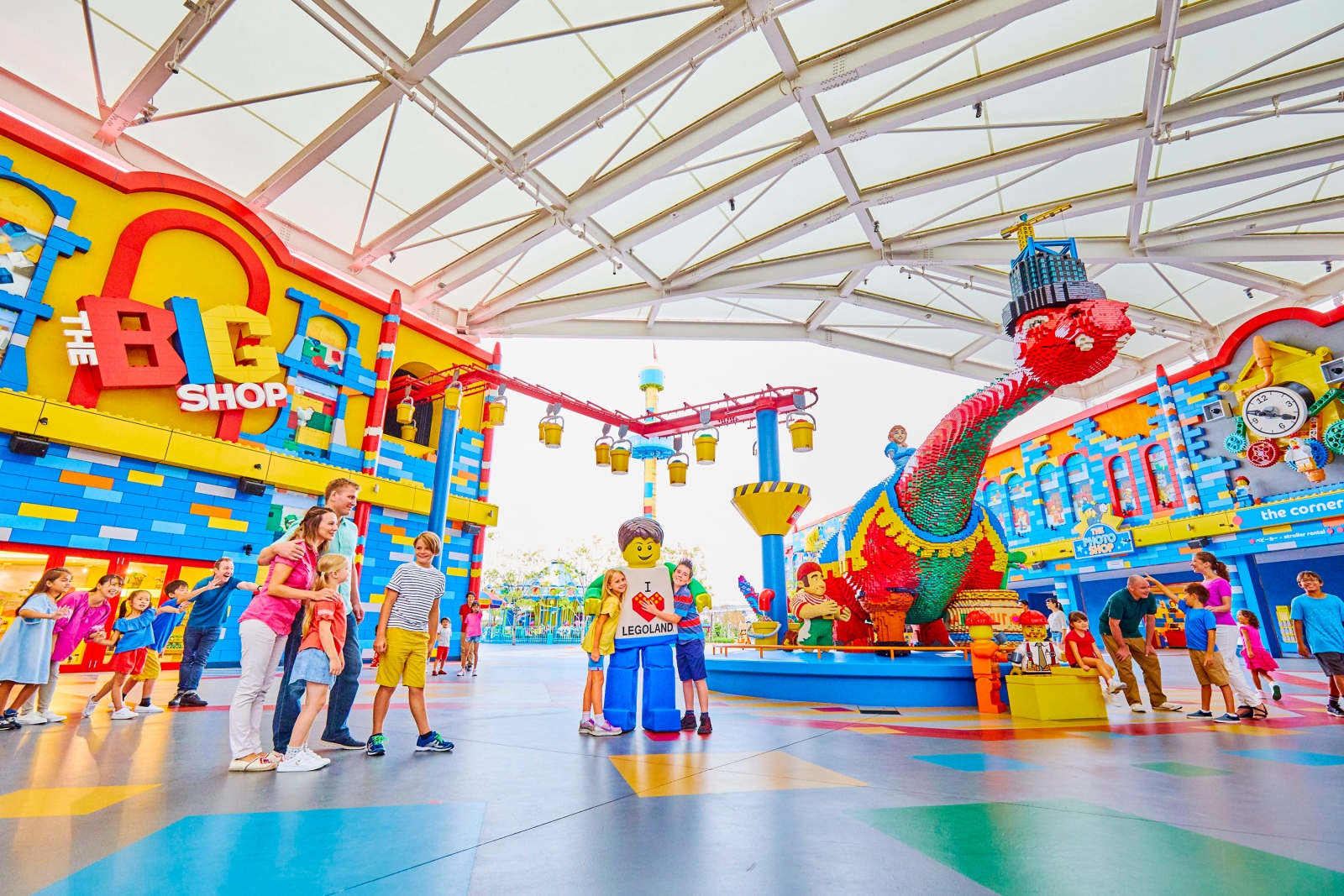 Interested in learning more about development as it continues through 2021? Follow along with a team of five kid reporters who tell the story of LEGOLAND as it approaches its opening date. The select group of reporters, who were culled from a vast pool of applicants, produce content about special ongoing events for the company's website and social media platforms. The call for reporters ages 6 to 12 ran through January 2019 and resulted in more than 450 submissions. On February 28, LEGOLAND announced the five winners to receive LEGO apparel, four complimentary annual passes, and a unique microphone for reporting duties. Notably, two of them are from the Hudson Valley, representing Orange and Westchester Counties, respectively:
Matt – Mahwah, NJ, age 6
Amelia – Middletown, age 7
Julio – Chester, NJ, age 9
Daniel – Brooklyn, age 10
Abigail – Mamaroneck, age 11
In regard to LEGOLAND's impact on Goshen itself, the town is growing with more jobs, developments, and projects. Once the park opens its doors, a one-way Shortline Coach USA bus running from Port Authority Bus Terminal in New York City will take passengers to LEGOLAND.
In town, new attractions like hotels, restaurants, homes, and warehouses will be ready to greet visitors and make their stays more comfortable. According to Orange County Tourism Director Amanda Dana, "Established brands such as LEGOLAND and City Winery have chosen to make their homes here, and Woodbury Common Premium Outlets, a world-class tourism destination and economic driver in the region, is planning to expand its amenities to further enhance its customers' experiences."
Goshen continues to grow with new developments in the area. "The value of the Town of Goshen today is $620 million. In 2022, it will be about $1.2 billion," says Goshen Town Supervisor Douglas Bloomfield. According to him, there may be more than 25 companies coming to town, with some yet to be presented in front of the planning board.
"We are a part of a whole tourism corridor that stretches up from Woodbury Common up into the Catskills, with the new casino and new attractions that are springing up through the region," says Matt Besterman, the public relations manager for LEGOLAND New York
As far as tickets to the epic entertainment center go, LEGOLAND offers three tiers of passes for LEGO lovers of all sorts. The Standard Pass, at $119.99, includes 12 months of admission to the park and special events. Next up, the Premium Pass, at $149.99, gives purchasers unlimited admission to the park for a year, plus free parking and access to special events. At the top of the line, the Gold Pass grants holders unlimited admission for 12 months, free parking, and access to Merlin North America's 30-plus attractions for a full year. Of course, one-day passes, which range from $62.99 to $71.99, are always available. P.S. Purchase them online to save 10 percent on the gate price.
"By the time we open up in [2021], you're going to see more than 6.5 million visitors to the Hudson Valley than you see today, and between more than 4,000 new jobs," Besterman says.
---