With flurries on the way, here's what to know before picking up your passes for slope-side fun at Hudson Valley mountains all winter long.
The ski site in Highmount boosted its snowmaking potential with the addition of 50 low-energy tower snow guns in 2019. This means that there's more production of snow with less resources. Belleayre's terrain parks also offer upgraded jumps, ramps, rails, boxes, and pipes. And newbie skiers no longer have to tote their gear — they can instead hop on a "magic carpet ride" that leads to the beginner's slope.
The Kidscamp Learning Area includes a longer, 220-foot carpet ride with a convenient entrance area that was upgraded in 2019. The resort features a new ski-patrol office, too, and ongoing renovations to Overlook Lodge (including replacing the deck and adding locker-room options such as season-long rentals). The deck is accessible to guests during the winter and during the fall and summer for special events. Belleayre's programs are also growing. The New York Ski Educational Foundation's expanding partnership with the Olympic Regional Development Authority provides competitive alpine and freeride programs at Belleayre.
Say goodbye to long lines. Additions to the $14.6-million Discovery Lodge design project are available to visitors with a modernization project that includes more cafeteria seating, lounge area, and a new patio in the ticketing area. Beginner skiers and snowboarders are welcome to utilize a new quad chairlift and new gates at the lifts.
181 Galli Curci Rd, Highmount
845.254.5600
Find Belleayre's snow report here.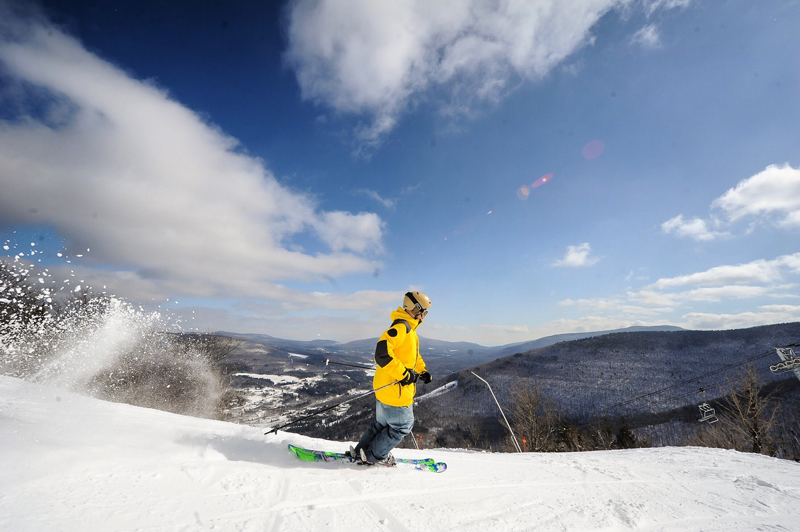 There's a lot to love at Hunter this season, with a massive expansion known as Hunter North that includes five new trails (mostly intermediate) and four new glades for a total of 80 more skiable acres in 2019. The Northern Express, a new high-speed, six-passenger detachable chairlift, can carry 2,400 passengers per hour up from the new base area in just over three minutes.
Visitors to Hunter can also find a new entrance and parking area; the new Hunter North base area also features an updated ticket area and casual dining. Take advantage of Hunter's learning areas for beginners and families to experience the terrain of Hunter West and Empire Terrain Parks. Hunter also offers a series of races and adult ski racing training programs. Hunter is now epic with EPIC passes with access to not just Hunter but 30 resorts as well.
Improvements last summer widened the Belt Parkway trail that leads to the Way Out trail. The addition of a Black Diamond trail and extensions to the White Cloud trail paves the way for an even bigger skiing experience for visitors. To tackle weather events, Hunter is making improvements to Racers Edge for a better snow surface.
64 Klein Ave, Hunter
518.263.4223
Find Hunter's snow report here.
This Greene County ski site has been upgraded this winter season. Upgrades to the Upper & Lower Whistler make snowmaking accessible with the touch of a button. With more snow there's more fun — a new booster pump house for the East Peak increases water pressure and snowmaking efficiency by 35 percent. Warm up with Windham's brand new patio area in the 33-foot diameter "Umbrella Bar," fitting up to 125 guests.
Take a leap into virtual reality with a new, unique ski and snowboard simulator to race around world venues. There's a winter ride for everyone, even for sunset lovers. New upgrades to the C lift make quicker rides to the top of Wonderama, Wheelchair, Warm Up and What Terrain Park. The 2020 season makes room for a new machine called the PistenBully Park Cat to provide the best snow surface. Stay cozy in the renovated rooms at The Winwood Inn after a winter day of fun and treat yourself to classic American comfort food at Tavern 23.
Windham is making upgrades to the booking system that makes lodging stays more accessible with a bundle of lift tickets, lessons, and rentals.
19 Resort Dr, Windham
528.734.4300
Find Windham's snow report here.
This family-friendly and #1 ski resort in Pennsylvania added several new features in 2019. To maximize snowmaking, it added nearly two dozen low-energy snow guns and new PistenBully snow groomer for ski runs and terrain park. Shredders will be eager to try the CBK terrain park, with features for riders of all levels. To brush up on park skills, riders and skiiers can head over to Sunbowl slope with low-on-the-ground features. Ski trails like the freshly cut Scarab are available with 15 acres of trails for beginners.
Camelback is offering new Triple Ticket options this season, as well as new eateries (they're open to the public) — including Berrelli's Family Style Italian, with ski-in/ski-out access at the base lodge. Atop the mountain, Kartrite's convenient Summit House is said to be the highest restaurant in the Poconos.
For tubing, Camelback offer Magic Carpet Lifts instead of walking back up to the top of 42 tubing lanes. For a bright experience, Galactic speed tubing is available in the evenings with LED color-changing lights with music. The Camelback Resort also features an enormous snow-tubing park; indoors, head to the popular Aquatopia waterpark that boasts seven pools, 13 waterslides, and other water attractions.
301 Resort Dr, Tannersville, PA
570.629.1661
Find Camelback's snow report here.
Winter is a winner with $25 million in 2019 feature upgrades at Killington. These include expanded availability and upgrades of busy trail intersections and a new six-person, high-speed bubble chairlift. Reaching the ski runs is a breeze with a lift service at South Ridge and upgrades to the K-1 Express Gondola. Skiiers and riders are welcome to enjoy the K-1 Express this winter season. Other improvements include a new quad chairlift, pipe replacements, low-energy tower guns, and new semi-automatic hydrants.
Killington's sister resort, Pico Mountain, is also making upgrades to the water supply pipeline and snowmaking pipe to keep making snow no matter the outside temperature. Stay tuned for Pico's pump house upgrade that will double the snowmaking capacity to open trails early come springtime 2020.
3861 Killington Rd, VT
802.422.3333
Find Killington's snow report here.
The combo bobsled, luge, and skeleton track is open this season at the Olympic Sports Complex and, though it's primarily a training site for the national teams, the public can get a taste of these thrilling sports. Similar experiences include the Lake Placid Bobsled and Skeleton Experience. As a spectator, watch the Luge and Bobsled/Skeleton World Cups that are hosted by Olympic Sports Complex every winter. Self-guided tours are available all year round, too.
As a city that has hosted two Olympic Games in the past, Lake Placid is revealing its 40th Anniversary of Olympic Winter Games in February, featuring 20 olympians who will be participating in public events. Throughout the winter, visitors can take a breathtaking half-mile bobsled ride down the track's final 11 curves (with a pro driver and braker) at speeds up to 55 mph. Check out nearby Whiteface Mountain for downhill and Nordic skiing, too.
2608 Main St, Lake Placid
518.523.2445
Find Whiteface Mountain's snow report here.