Photos by Daniel Schwartz, courtesy of Hotel Lilien
Located on an 1890s estate, the Tannersville hotel stuns with one-of-a-kind rooms and an exceptional bar program.
Hotel Lilien knows a little something about Hudson Valley history. The getaway, which recently debuted in fall 2022, resides on an 1890s estate with a picturesque location in the Catskills. It's one of those spots that charms from the inside out, and its newly restored status means it's an idyllic location for planning an escape to the mountains.
The hotel is the brainchild of The Lost Boys Hospitality Group, a collective of friends from California who cut their teeth running hostels and bars in Panama. They had been looking for a property with proximity to New York City and the Catskills for a while, but it wasn't until they spotted the 1890s gem in Tannersville in spring 2021 that they knew they had found the one.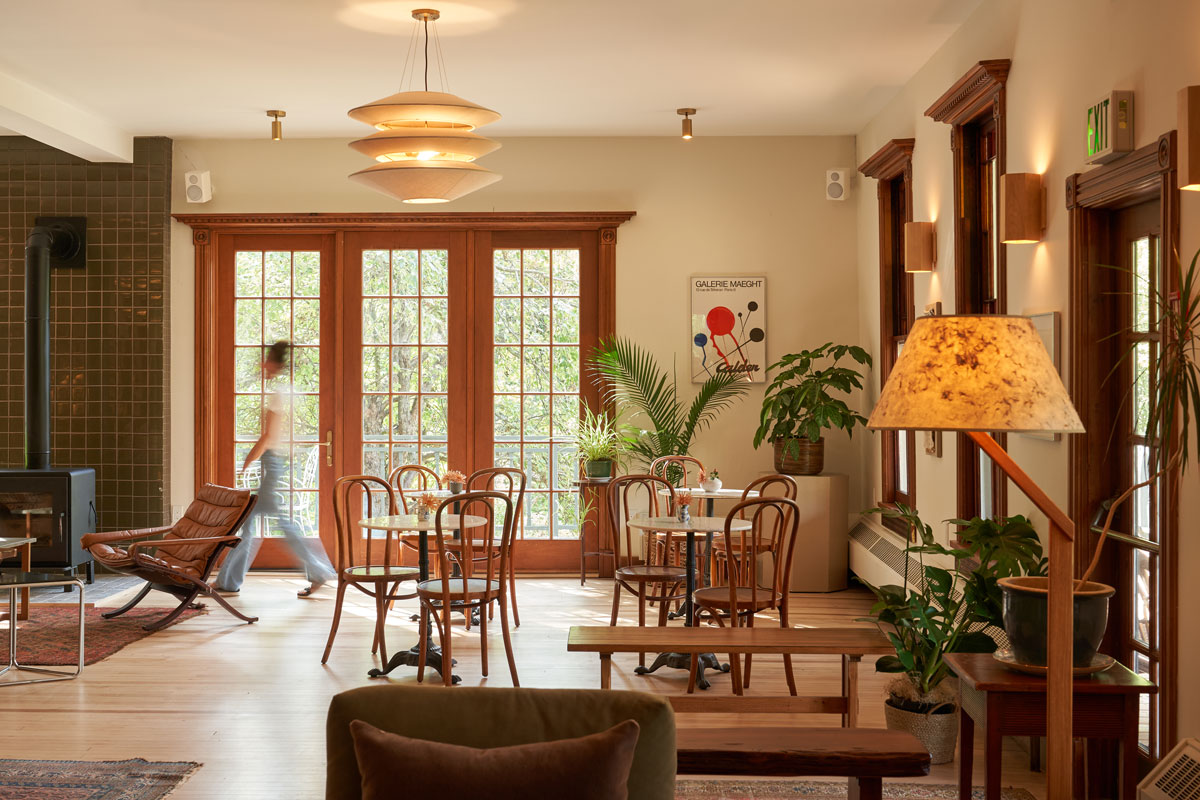 After a whirlwind construction on the seven-acre property that began in February 2022 and wrapped in late-fall 2022, Hotel Lilien is ready to welcome guests to Greene County. And what a welcome it is. Throughout the construction process, The Lost Boys collaborated with San Francisco-based firm Field Theory to craft an aesthetic that preserves historic touches while imbuing a clean, modern feel.
"Along the way, we were met with many surprises as charming as finding original 1890s wood paneling behind drywall in room one and as challenging as discovering we had to rewire the entire building's electrical system," explains Leah Harmatz, the principal designer at Field Theory. Original elements like wood paneling in room one and stained-glass windows in the library and lounge infuse historic elements throughout the space, while the curation of antique, modern, and vintage art and furniture makes the hotel feel cozy, welcoming, and as if it's been there for years.
"We spent over a year hunting down vintage and antique furniture, art, and rugs from auctions and estate sales across the region, layering in pieces from different areas," Harmatz notes. "It was important for us to preserve and restore all of the impeccable craftsmanship – dark wood paneling, engraved brass hardware, and stained-glass windows – but we wanted to balance the antique feel with a more contemporary guest experience."
To incorporate modern touches to the space, the team completed gut renovations on all the bathrooms, which now boast modern chrome and brass fixtures along with tumbled marble floors. Throughout the hotel, elements of natural wood, aged brass, and velvet add warmth and luxury as well.
During a visit to Hotel Lilien, guests can book one of the 18 rooms, with a two-night minimum required on weekends and a three-night minimum required on holiday weekends. Rooms range in size from a queen, which is perfect for couples, to a double, which is ideal for groups of four. There are also king rooms, deck and double deck rooms, and suites. Select rooms, including the deck rooms and suites, are pet-friendly in case Fido wants to come along for the ride. All rooms come with Wright mattresses, Brooklinen sheets, Further amenities, a blow dryer, and Wi-Fi. There are no TVs to help guests disconnect and explore all the property and the surrounding area have to offer.
As for the grounds, there's more than a little to do onsite. Hotel Lilien makes it easy to relax and have a good time with amenities like billiards, board games, an indoor wood-burning stove, an outdoor firepit, a live DJ every other Saturday night, and a pool in the warmer months. The hotel is also a short drive from dozens of hiking trails, Kaaterskill Falls (eight minutes away), Mountain Top Arboretum (six minutes away), and Hunter Mountain (four minutes away). On weekend mornings, a NYS-certified nature guide leads guests on a local walk down Huckleberry Trail along Gooseberry Creek to Rip Van Winkle Lake. And, for those who plan to venture offsite, the hotel offers complimentary gear, including snowshoes and sleds, to guests who want to embrace the great outdoors. For day-trippers, the destination is nearby downtown Tannersville, which houses everything from antique stores and eateries to a movie theater and shoppable boutiques.
And don't forget the food! Each morning, Hotel Lilien helps guests start their days right with a modern, continental breakfast plate served alongside Partners coffee and assorted teas. In the evening, the hotel's bar and lounge opens to serve seasonal cocktails, local beers, and wines alongside gourmet bar bites.
"Our best sellers include our fried chicken sandwich and fries with basil aioli and charcuterie board made with local cheeses, but we recently added a butter board that's been super popular," notes co-owner Daniel Smetana. "We also serve dessert, including warm chocolate cookies with local milk and Jane's Ice Cream."
Unsurprisingly, the cocktails are equally delightful and rotate regularly depending on the season.
"We update our specialty cocktail menu regularly," explains co-owner and Tannersville resident Jason Marcus. "This season it includes our Blood Orange Sbagliato with prosecco and the Smoking Gun, a spirit-forward drink that includes Ilegal Mezcal, Mr. Black Cold Brew Coffee Liquor, panela syrup, and a burning cinnamon stick."
Throughout its cocktail menu and food program, the hotel incorporates a strong and varied list of local purveyors. Catskill Brewery and West Kill Brewing are mainstays on the beer menu. Among the food offerings, Ronnybrook Farms supplies milk, yogurt and butter; Bread Alone crafts peasant bread for burrata, charcuterie, and butter boards; Rockhedge Herb Farm grows herbs for olives, baby gem salad, and cocktails; McGrath Cheese Company makes Rascal cheese for charcuterie; Nettle Meadow Farm and Artisan Cheese supplies Kunik cheese, Catskill Provisions crafts honey; and Jane's Ice Cream provides the ice cream. And that's just to start. Depending on the season and menu, the hotel mixes and matches suppliers to showcase the talents of the Hudson Valley.
With the hotel's final six rooms, weekday bookings, and extended bar and lounge hours all debuting in December, Hotel Lilien looks forward to welcoming guests to its charming corner of the Hudson Valley. Coming in spring 2023, it will introduce sister restaurant Nat's Mountain House (formerly Chateau Belleview), led by Manhattan restaurateur Natalie Freihon of The Orchard House and Nat's on Bank, next-door as well.
"We set out to create a welcoming upstate escape for visitors and an unofficial living room for community members," says Marcus. "Since our soft opening in August, we've been overwhelmed by the support, enthusiasm, and appreciation for this hub that's been long missing from our region. As per our ethos, people just want to stay awhile."
Hotel Lilien
6629 NY-23A, Tannersville
Related: How to Spend 24 Hours in Tannersville