Hudson Valley Restaurant Week — various locations
October 30–November 12
Eat and drink around the Hudson Valley during this two-week event with special prix-fixe lunches and dinners at the region's best dining destinations. Reservations to participating restaurants can be made online. hudsonvalleyrestaurantweek.com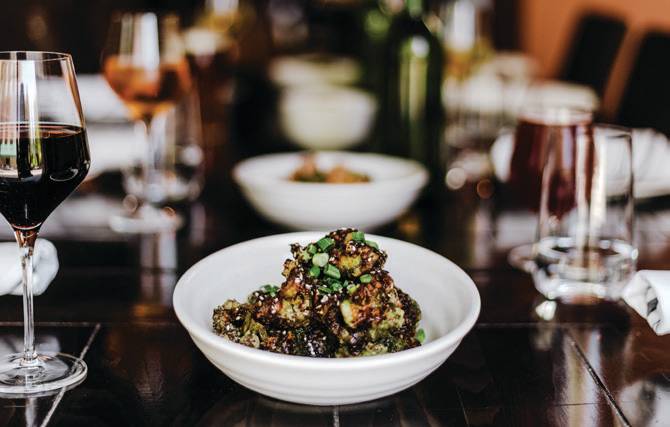 Irish Music Session — Athens
November 3, 7:30–9:30 p.m.
Head to the American Legion Post in Athens for this monthly gathering of singers, musicians, and fans. Show is presented by Don Meade, a traditional Irish musician. friendsofathens.org
Albany Auto Show — Albany
November 3–5
Downtown Albany's MVP Arena will host three days full of all things cars, trucks, SUVs, and more. Manufacturers will exhibit new technology and options for the latest models; there will be a variety of food and service vendors set up throughout the space. albanyautoshows.com
Antique Show & Flea Market — Stormville
November 4, 8 a.m.–4 p.m.
Walk the grounds of the Stormville Airport to find a wide variety of antiques, collectibles, art, handmade goods, and more. Admission and parking are free—this will be the last market at Stormville for the 2023 season. stormvilleairportfleamarket.com
Grand Fall Wine Tasting — Fishkill
November 4, 1–5 p.m.
Join Boutique Wines, Spirits and Ciders for a fun afternoon of free samples of local and international vino. Over 50 varieties will be available to taste at the shop—bring home your favorite bottles to wow your holiday guests. boutiquewsc.com
Honor Roll

Two Hudson Valley Hospitals—St. Anthony Community Hospital in Warwick and White Plains Hospital—were recently awarded five-star ratings from the Centers for Medicare & Medicaid Services. They are among the 483 hospitals across the U.S. that excel in lower mortality rates, safety of care, patient experiences, readmissions, as well as timeliness and effectiveness of care.
Beacon Bonfire Music + Art Festival — Beacon
November 4–5
During the first weekend of the month, catch a variety of performances and exhibitions from over 150 artists and musicians across the city at the second annual Beacon Bonfire Festival. Acts including Fat Boi's Brass Band, Mexican folk group Pulso de Barro, and mentalist Vinny DePonto will be in attendance. beaconbonfire.com
Festival of Nations — Albany
November 5, 11:30 a.m.–5 p.m.
Celebrate the diversity of the world during the 52nd annual Festival of Nations. The Empire State Plaza Convention Center will be decked out with arts and crafts, vendors with tastings of ethnic foods, and performers displaying traditional songs and dances of different cultures. festivalofnations.net
Paris & Madrid — Claverack
November 11, 2:30 p.m.
Two harpsichordists, Frederick Haas and Andrew Appel, will give an intimate performance at the Won Dharma Center. The program, "Tales of Two Cities: Paris and Madrid," features traditional French and Spanish music styles, from the gavotte to the fandango. fournations.org
Troker — Saugerties
November 12, 6 p.m.
The recently opened arts venue The Local welcomes Guadalajara-based band Troker. The group's sound is a mix of jazz, rock, funk, psychedelic, and traditional Mexican music for a unique and electric energy. thelocalsaugerties.com
Samantha Bee — Poughkeepsie
November 17
In her newest live show "Your Favorite Woman: The Joy of Sex Education," comedian Samantha Bee presents a multimedia stand-up routine that takes audiences on a journey of female bodies from puberty to menopause—with her usual witty and funny anecdotes sprinkled throughout. bardavon.org
Holiday Fineries at the Wineries — various locations
November 18–19
Create your own tasting experience on a vineyard hop along the Shawangunk Wine Trail. Head to the SWT's website and choose among three itineraries. Each one includes four wineries, where you can participate in tasting flights, purchase bottles, and collect holiday ornaments. shawangunkwinetrail.com
The Wonderland of Lights — Rhinebeck Opens
November 22, 5–9 p.m.
For the holiday season, the Dutchess County Fairgrounds will be transformed into a fantastical land with hundreds of displays of lights. The show is a family-friendly drive-through experience; tickets are $30 for a vehicle with up to eight passengers. thewonderlandoflights.com
Family of New Paltz 5K Turkey Trot — New Paltz
November 23, 9:30 a.m.
Before settling in for your Thanksgiving feast, run or walk a 5K throughout the village in support of Family of New Paltz's food pantry and crisis services. A shorter, free "Mashed Potato Fun Run" will be open for children 12 and under. newpaltzturkeytrot.com
Gratitude: Annual Members' Holiday Exhibition and Sale — Woodstock Opens
November 25
Come to admire the talent of local artists and leave with one-of-a-kind gifts for all the art lovers on your holiday shopping list. Works in a variety of mediums created by members of the Woodstock Artists Association & Museum will be on display and available to purchase. woodstockart.org
Sip & Wrap — Newburgh
November 30, 4 p.m.–7 p.m.
Join local businesses to enjoy whiskey, beer, and more at Newburgh Brewing Co. while wrapping donated holiday presents for Cornerstone Family Healthcare's children in need. facebook.com/moroneyshd
Upper Crust

There's another slice of heaven in the HV—thanks to Ollie's Pizza. In August and September, the beloved eatery in High Falls opened not one, but two new spots in Midtown Kingston: Ollie's Slice Shop and Fletcher & Lu. The shop sells slices and pies as well as other Italian faves like meatball parm heroes. Right next door, specialty grocer Fletcher & Lu offers up house-made pasta, fresh bread, and rotisserie chicken, plus charcuterie and pantry goods. – Francesca Furey