Art

Photo provided by Albany Institute of History & Art
Birds and Beasts
Albany Institute of History & Art, Albany
Through December 30
Drawing from Dutch folk art, Anglo-American oil painting, and Tibetan goldwork, this exhibition collects all things feathered and furry from the Albany Institute's collection.
518.463.4478, www.albanyinstitute.org

Photo by Peter Aaron/Otto
Costume & Custom
Olana State Historic Site, Hudson
Through November 25
When Frederic Church traveled throughout the Mediterranean basin, studying and sketching some of his greatest paintings, he also collected a number of artifacts, keepsakes, and pieces of clothing. Spread throughout the Olana interiors, visitors can see these costumes alongside the figures and architecture that they inspired in Church's own work.
518.828.0135, www.olana.org

Photo provided by Joelle Tuerlinckx
Joelle Tuerlinckx: That's It
Dia: Beacon
September 24–30
The multi-media artist will bring her first live commission to Dia: Beacon. Over one week, Tuerlinckx and a group of collaborators, including professional dancers, regional athletes, and local firefighters, will take over the many sprawling galleries at Dia, interacting with the artwork on display to a live-composed soundtrack. All of it will be recorded, edited, and displayed as a feature-length film to cap the week.
845.440.0100, www.diaart.org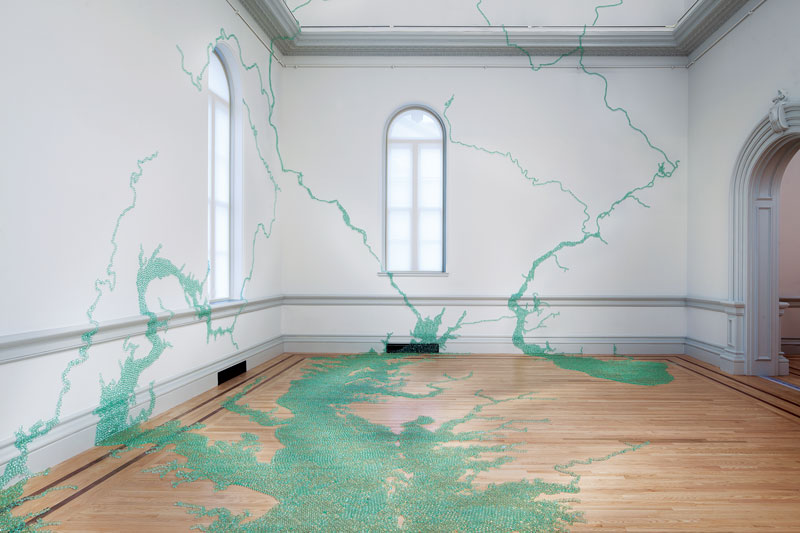 Photo by Rob Blunt, courtesy of smithsonian american art museum
Maya Lin: A River is a Drawing
Hudson River Museum, Yonkers
October 14–Jan 20
The artist, architect, and environmental activist Lin, best known for her design for the Vietnam War Memorial, presents a massive, site-specific piece mapping the Hudson River from mountain to sea. It begins outside with a growth of bamboo grass stalks forming the river basin, and then continues into the Museum's atrium as a webbing-wire map of the Hudson Canyon, where the river falls out into the Atlantic. Several other galleries will display Lin's environmental and artistic work.
914.963.4550, www.hrm.org

Photo provided by Rockland Center for the Arts
Crossing Boundaries: Material as message
Rockland Center for the Arts, West Nyack ​
October 7–November 25
This group show, focusing on diversity in media, presentation, and representation, prioritizes a "kinder, gentler, more beautiful form of activism." Exhibiting work from Joyce Scott, Adrienne Sloane, Mitch Lewis, Nancy Azara, and Kebedech Tekleab, this show intends to gently prod viewers of its glass beadwork, sculpture, and fiberwork into ruminating over racism, environmental destruction, and class struggle.
845.358.0877, www.rocklandartcenter.org
Film

Photo provided by Jacob Burns Film Center
Contemporary Arab Cinema
Jacob Burns Film Center, Pleasantville
September 20–27
This weeklong program will focus on some of the Arab world's most acclaimed, and provocative, filmmakers, like Annemarie Jacir. Curated by Lina Matta, this slate of films covers works from Lebanon, Palestine, and Tunisia, including Un Certain Regard contender Beauty and the Dogs and The Blessed, which netted Sofia Djama the Best Director award at the 2017 Dubai International Film Festival.
914.747.5555, www.burnsfilmcenter.org
Phantom of the Opera
Bannerman Island
September 28–29
Before Hugh Jackman, before Andrew Lloyd Webber, there was Lon Chaney. The horror legend's iconic performance in this silent classic will be sure to haunt you long after its two-night screening on Bannerman Island. Each $40 ticket includes boat fare and a short lecture or tour, in addition to the film.
855.256.4007, www.bannermancastle.org

Photo by Giacobazzi Yanez
19th Annual Woodstock Film Festival
Woodstock
October 10–14
With world debuts, panels, live music, and plenty of celebrities, the Woodstock Film Festival has grown into a reliable local institution.
845.679.4265, www.woodstockfilmfestival.com
2018 Flicks Series
Bethel Woods Center for the Arts, Bethel
September 21, October 26 and 28, November 9
This monthly series brings award-winning and popular movies to the Museum Theater at Bethel Woods. Highlights include the street-art faux-documentary Exit Through the Gift Shop and a special Halloween weekend with Young Frankenstein and Monsters, Inc.
866.781.2922, www.bethelwoodscenter.org

Photo courtesy of FilmColumbia
FilmColumbia
Crandell Theatre, Chatham
October 20–28
Though smaller than its Woodstock cousin, FilmColumbia is even more fiercely independent, bringing audiences, filmmakers, and curiosity-seekers to a week of indie film at Chatham's Crandell Theatre. Past highlights have included Cannes-favorite 120 Beats Per Minute and The Artist, winner of the 2012 Oscar for Best Picture.
518.392.3445; www.crandelltheatre.org/film-columbia; www.filmcolumbia.org
Theater

Photo provided by Shadowland Stages
The Mystery of Love and Sex
Shadowland Stages, Ellenville​
September 14–30
Charlotte and Jonny grew up together, but their deep friendship dredges up a whole host of issues when they try to move it in a serious — and sexual — direction. Since its 2015 debut, Bathsheba Doran's intimate exploration of love, race, and religion has drawn praise from the New York Times and Chicago Tribune. For mature audiences.
845.647.5511, www.shadowlandstages.com
Dracula
Bannerman Island
September 14–15 and 21–22
As ideal a locale for vampires as you can get this side of the Carpathians, Bannerman Island will be hosting an adaptation of Bram Stoker's novel for its first nighttime theatrical production. Moving from London to Transylvania and back again, this classic bit of horror will be acted out under lights in the shell of the old castle. Each $65 ticket includes a short tour by land and water.
855.256.4007, www.bannermancastle.org
Music

Photo provided by The Egg
Melissa Etheridge
The Egg, Albany
October 13
Singer, songwriter, and part-time school teacher Melissa Etheridge will celebrate the 25th anniversary of her breakthrough Yes I Am with a concert at the Egg. As known for her activism as for her string of indelible '90s hits — including "Ain't It Heavy" and "Come to My Window" — Etheridgeheads should plan to lightly rock the house.
518.473.1845, www.theegg.org

Photo by Cameron Mirza
Tramps Like Us
Daryl's House Club, Pawling​
September 22–23
This two-night stand from the famous Springsteen tribute band will allow fans unable to catch Bruce on Broadway to celebrate the Boss' birthday in style.
845.289.0185, www.darylshouseclub.com
Basilica Soundscape
Basilica Hudson, Hudson
September 14–16
Soundscape returns with its most eclectic lineup yet. This annual festival brings food, poetry, and loud — very, very loud — music to Hudson's wonderful Basilica space. Expect performances from noise-saboteurs Lightning Bolt, a collaboration between the Haxan Cloak and Nick Zinner of the Yeah Yeah Yeahs, and a performance of doom metal gadfly Stephen O'Malley's arch-classical "Un Vide Dans Le Ciel" by Bard College's The Orchestra Now, as well as a rare solo piano set from Grouper's Liz Harris to end things on a whisper.
518.822.1050, www.basilicahudson.org

Photo by Matt Dine
The Orchestra Now
The Fisher Center for the Performing Arts, Bard College, Annandale-on-Hudson​
​October 6–7, November 3–4
Based out of the Fisher Center, this world-class young-person's orchestra will bring a program from both sides of the Atlantic over two weekends this fall. October's performances will focus on Brahms, Joachim, and Elgar, while November's is themed around Aaron Copland's "Lincoln Portrait."
845.758.7900, www.theorchestranow.org

Photo provided by Kris Davis
Kris Davis
Howland Cultural Center, Beacon
September 22
This keyboardist and composer, winner of DownBeat magazine's 2017 Rising Star Pianist award, will come to the Howland Cultural Center as part of Elysium Furnace Works' jazz series.
845.831.4988, www.howlandculturalcenter.org
Hudson Valley Philharmonic: The Silk Road
Bardavon, Poughkeepsie
November 17
As part of its 2018-19 season, the Hudson Valley Philharmonic will be performing a program inspired by the Silk Road, showcasing transition and interplay among Europe, Central Asia, and China. Highlights include Stravinsky's "Song of the Nightingale," Bartok's "Miraculous Mandarin Suite," and a performance of the Silk Road Ensemble member Kinan Azmeh's "Suite for Improviser and Orchestra," with Azmeh himself on clarinet.
845.473.2072, www.bardavon.org
Peter Yarrow
Bethel Woods Center for the Arts, Bethel
October 5
This songsmith attained '60s immortality as a member of Peter, Paul, and Mary, famously writing the perennially misunderstood "Puff the Magic Dragon." The singer-songwriter and political activist will play an intimate set at the Bethel Woods Event Gallery.
866.781.2922, www.bethelwoodscenter.org
Ted Leo
Colony, Woodstock
September 16
Punk great Ted Leo hops genres with ease, bringing touches of power-pop, hardcore, and reggae to his work with the Pharmacists, Chisel, and Aimee Mann collaboration The Both. Expect sing-alongs, shout-alongs, and other forms of communal joy at this historic music venue.
845.679.7625, www.colonywoodstock.com

Photo provided by Matador Records
Yo La Tengo
BSP, Kingston
September 12
Yo La Tengo have gone their own way for close to 35 years, alternating albums of Motown-inflected dream-pop with gentle acoustic ballads and feverish, 25-minute guitar jams. Known for their wildly inventive live shows — from all-covers sets to live-readings of classic Seinfeld episodes — the trio will bring songs from There's A Riot Goin' On to BSP's backroom theatre.
845.481.5158, www.bspkingston.com
Festivals

Photo provided by Bethel Woods Center for the Arts
Craft: Beer, Spirits & Food Festival
Bethel Woods Center for the Arts, Bethel
October 13
Like Woodstock '69 but with better beer, this festival of local breweries returns for its sixth year. Held on the historic Bethel Woods grounds, attendees can sample a wide variety of area beer, wine, and mead as well as a host of food vendors. VIP tickets include free admission to the Woodstock Museum.
866.781.2922, www.bethelwoodscenter.org

Photo by Nosotros Balun
O+
Kingston
October 5–7
Uptown's crown jewel, the annual O+ (think blood-type) festival returns for its ninth year of food, art, music, and health care. Visitors can have their fill of gourmet food, check out specially commissioned murals, and enjoy free live music from artists regional and international. Highlights this year include Brooklyn-via-Puerto Rico's Balún, the acclaimed J.K. Vanderbilt and Hudson Valley stalwart Sammi Niss with her Hiding Behind Sound group.
www.opositivefestival.org/Kingston
Hudson Valley Garlic Festival
Cantine Field, Saugerties
September 29–30
Now is your chance to consume extreme amounts of garlic. In its 29th year, this Hudson Valley institution allows you to enjoy light music, crafting, and workshops, while sampling just about every possible dish, drink, and dessert that can safely include garlic.
845.246.3090, www.hvgf.org
Warwick Applefest
Warwick
October 14
This annual Orange County festival invites visitors to eat, drink, mash, ferment, and otherwise appreciate the humble apple. Tens of thousands of hardcore fanatics descend on Warwick for a day of food, drink, music, and art, all dedicated to this most generous fruit.

Photo by Alan Thomas
Pumpkin Festival
Pete and Toshi Seeger Riverfront Park, Beacon
October 14
Parents: Want to bake as many pumpkin-based dishes as you can, but hate the clean-up? Kids: Always wanted to carve a pumpkin, but also hate cleaning up? Then the Beacon Sloop Club has the event for you, and more. People of all ages are invited to try local food, listen to music, and enjoy the view from the Beacon waterfront at this annual festival. Free entry.
845.542.0721, www.beaconsloopclub.org

Photo by Garrett Lown
Sheep and Wool Festival
Dutchess County Fairgrounds, Rhinebeck
October 20–21
Curious about sheep? Want to network with your fellow shepherds? Need a new sweater? Come to the Dutchess County Fairgrounds for all this and more. Shop products made from local wool, watch a sheepdog herd, and meet the livestock at this annual festival, devoted to wool-bearing animals of all shapes and sizes, from sheep to llamas, alpacas, and more.
845.876.4000, www.sheepandwool.com

Photo by Francisco Graciano
Hudson Valley Dance Festival
Historic Catskill Point, Catskill
October 6
Watch cutting-edge dance while raising money for charity. This unique festival brings the cream of contemporary dance to a century-old warehouse at Catskill Point. Now in its sixth year, the HVDF has raised more than $600,000 to fund family-service and AIDS organizations in the Hudson Valley.
212.840.0770, www.dradance.org
Halloween Events

Photo by Tom Nycz for Historic Hudson Valley
Great Jack O'Lantern Blaze
Van Cortlandt Manor, Croton-on-Hudson
September 28–November 24
The grounds of Van Cortlandt Manor are reduced to fire and flames for this family-friendly event. From carousels to sculptures and dioramas, you'll grow more than a little sheepish about your own Jack O'Lantern display — or you might take away an idea or two. All proceeds benefit Historic Hudson Valley.
914.366.6900, www.hudsonvalley.org

Photo provided by New York State Parks
Legends by Candlelight Ghost Tours
Clermont State Historic Site, Germantown
October 19, 20, 26, 27
Inventors, statesmen, and land barons, the Livingstons were one of the early Republic's most important (and richest) families. Their Hudson River estate is one of the best-preserved 18th-century manors in America, so why not celebrate its 250th birthday with a séance, ghost stories, and a candlelight tour of the grounds? Reservations required.
518.537.4240, www.friendsofclermont.org
Yaddo Ghost Tours
Yaddo Artist Colony, Saratoga Springs
September 28–October 28
Steeped in history, literature, and (probably) ghosts, the famous Saratoga Springs artist colony will give twilight tours of the property's appropriately gothic gardens, taking in the region's Native American inhabitants, the colony's founding Trask family, and the arch-horror of Edgar Allen Poe.
518.584.0746, www.yaddo.org

PHOTO BY TOM NYCZ FOR HISTORIC HUDSON VALLEY
Horseman's Hollow
Phillipsburg Manor, Sleepy Hollow
October 5–31
Mixing local legend with American literature, this Historic Hudson Valley trail leads visitors throughout historic Philipsburg Manor and into Washington Irving's classic tale — with a modern flair. Recommended for children 10 and up.
914.366.6900, www.hudsonvalley.org

Photo provided by Headless Horseman
Headless Horseman
Ulster Park
September 22–November 3
Lauded by publications from all over the world, the high-tech, high-horror Headless Horseman whisks visitors through ever-evolving haunted houses, escape rooms and, for the centerpiece, a mile-long hayride whose set changes annually. With all the spirit of a local-theater corn maze but at a thousand times the budget, expect elaborate costumes, special effects, and gothic atmosphere. Not recommended for children under 13 years old.
845.339.2666, www.headlesshorseman.com
Halloween Haunts & Happenings
Mohonk Mountain House, New Paltz
October 26–28
Guests of the historic resort are in for a fun weekend, including a carnival, a campfire sing-along, an escape room, a gala costume ball, and of course, trick-or-treating.
855.883.3798, www.mohonk.com
---