They're small compared with Sundance and Cannes (and without the velvet ropes and paparazzi), but the Woodstock Film Festival (WFF) and FilmColumbia nevertheless have earned outsize reputations for their discerning lineups of both future box office favorites and works by emerging artists.
At WFF this year, there is no shortage of star power: Man of Tai Chi, Keanu Reeves' directorial debut, will screen — and Reeves himself might even show, as he has in the past. Also on the roster is At Middleton, making its East Coast premiere with leading man Andy Garcia in attendance. But you'll also find more low-key fare like Here Comes the Night, directed by Peter Kline, a tale of two estranged friends reunited at a funeral; as well as Bastards of Young, director Josiah Signor's debut feature — and incidentally his M.F.A. filmmaker's thesis at NYU.
"We are fiercely independent and are committed to supporting independent filmmakers' work," says Meira Blaustein, WFF's cofounder and executive director. "It's always good to have celebrities attend, and thanks to the casual attitude and the friendly atmosphere of both the festival and the community, they can feel at home and comfortable. However, the heart of the festival is a far cry from any glitz and glamour; it's about true art, the quality of the work, and the vision of the independent filmmakers."
More compact than WFF, which is spread out over several locations, FilmColumbia takes place at venues within walking distance of each other in downtown Chatham. With everyone in one place, the energy is intense and the networking possibilities soar. It was here, after all, that writer/director Courtney Hunt sealed her moviemaking deal for Frozen River over coffee with actress Melissa Leo. "It was so exciting to see them later at the Academy Awards, knowing that it all started here," says festival director Calliope Nicholas. The festival's diverse offerings last year ranged from the feature Hyde Park on Hudson with Bill Murray to It Was My City, a world premiere from Iranian director Tina Pakravan.
A word to the wise: Get your tickets now for the surprise Saturday night sneak film, which always sells out. Last year, it was Cannes Palme d'Or winner Amour. "We always have a fabulous lineup," says Nicholas. "That's why people come all the way from Park City to see us."
A still from Kingston resident Eddie Mullins' film Doomsdays, which screens at the Woodstock Film Festival
Doomsdays debuts
A standout among the independent, locally made films at this year's WFF is Doomsdays. Written and directed by Kingston resident Eddie Mullins, this "pre-apocalyptic comedy" stars indie hipster darling Justin Rice (also from Kingston) and follows squatters as they avail themselves of Catskill vacation homes. "My friendship with Justin precedes the film," says Mullins. "We were sitting on my porch talking about this project and he said, 'When are you going to ask me to be in it?' I had seen his acting work in Mutual Appreciation, so I offered him a role." Shot at friends' homes in the area, the movie was made in 18 days. It's no accident that the film has its U.S. premiere at WFF. "I'm amazed at the caliber of films and the star power," says Mullins. "I took my parents to the festival to see Up In the Air, and Vera Farmiga was sitting right next to us. My mother nearly had a conniption fit, she thought it was the coolest thing. There's just something about Woodstock — perhaps it's the reputation for integrity of their agenda. It seems to outshine many festivals that are larger and better known."
Fast festival facts…
Dates:
Woodstock Film Festival (WFF): October 2-6
FilmColumbia (FC): October 23-27
Year founded:
Both festivals: 1999
Approximate number of films:
WFF: 130
FC: 100
Attendees:
WFF: 12,000-15,000 ("We expect to break records," says Blaustein)
FC: 7,000 tickets sold
What's new?
WFF: The Orpheum Theatre in Saugerties serves as the newest screening venue.
FC: The Crandell Theatre has been upgraded to all digital and 3-D projection.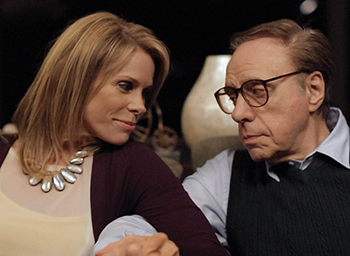 Woodstock Film Festival
Marquee names (from past years):
WFF: Jonathan Demme, Timothy Hutton, Sally Kirkland, Tim Blake Nelson, Steve Buscemi, Ethan Hawke, Daniel Day-Lewis, Richard Linklater, Aidan Quinn, Uma Thurman
FC: Parker Posey, Sopranos creator David Chase, Kristianna Loken, James Schamus (Focus Features CEO), screenwriter John Orloff
Oscar ties:
WFF: The fest's Maverick Award for Best Short Narrative is often won by the same films that go on to snag the Oscar for Best Live Action Short. Case in point: 2012's Curfew, by Wappingers Falls native Shawn Christensen
FC: Penchant for screening films that nab Oscars, including The Artist, the Best Picture winner in 2011
Screening prices:
WFF: $10-$20 (special events: $20-$35)
FC: $10-$15
FilmColumbia
Hot events:
WFF: (Wednesday) Screening of Sonny Rollins Beyond the Notes, followed by a Rollins tribute jazz performance by the JD Allen Trio at the Woodstock Playhouse; (Thursday) opening night film at Woodstock Playhouse and party at New World Home Cooking in Saugerties; (Friday) Filmmakers Party at Skytop Steakhouse; (Saturday) Maverick Awards Gala in Kingston at Backstage Studio Productions. Peter Bogdanovich receives a lifetime achievement award. (He also appears in Will Slocombe's Cold Turkey, which screens at the festival.) Paul Green of School of Rock fame presents a staging of The Rocky Horror Picture Show at the after party; (Sunday) actors dialogue and closing night film
FC: (Friday) Filmmaker's Party at Peint O Gwrw pub; (Saturday morning) children's animation program (free), panel discussions with industry experts; (Saturday night) sneak surprise movie at the Crandell Theatre, followed by After-Sneak Party; (Sunday) screenwriting panel moderated by Scott Cohen (Kissing Jessica Stein, Gilmore Girls, Necessary Roughness)
Unexpected perks:
WFF: Black bear sightings
FC: Popcorn with real butter