-Biking-
START GEARING UP FOR FIVE OF THE BEST LEAF-PEEPING CYCLING PATHS.
Albany-Hudson Electric Trail (AHET)
Hudson to Rensselaer
Notes: 36 miles mostly paved parking available a part of the Empire State Trail (EST)
Peak color prediction: mid-October
Happy trails: "This is a bit hillier than most sections of the EST, but the peaks of these moderate hills afford some of the best foliage views in New York," says Paul Steely White, executive director of Parks & Trails New York. You'll see the rolling, colorful valleys of Columbia County to the east and the northern Catskill Mountains to the southwest. Along the trail, you'll pedal by picturesque Rossman Falls, Stuyvesant Falls, and Valatie Falls.
What's nearby: Grab a morning pastry from Le Perche in Hudson before heading out. The trail winds through towns like Kinderhook, Nassau, and East Greenbush—all have quaint downtowns with casual lunch spots. Steely White also recommends visiting Samascott Orchards, which is right off the AHET. Sip or snack on all things cider (the donuts are delish) and pick a few apples if you have room in your pack.
Harlem Valley Rail Trail (HVRT)
Wassaic to Copake Falls
Notes: 26 miles paved train accessible parking available
Peak color prediction: mid to late October
Happy trails: Making your way northward, you'll wind through dense woods and sprawling farmland. The trail snakes along a portion of the abandoned New York and Harlem Railroad (one of the oldest in the country). "For the most immersive experience, the stretch between Millerton to Boston Corners sits under a canopy of deciduous forest—perfect for capturing fall's fleeting colors from all angles," says Andy Levine, founder and CEO of DuVine Cycling, a luxury tour group that hosts annual HV farm-to-table biking retreats in September and October. And heads up: the HVRT is expanding—in the coming years, organizers hope to develop an additional 20 miles of trail to connect Wassaic and Chatham.
What's nearby: "The trail passes through Millerton, a sleepy town experiencing a revival. It's our favorite midway point for coffee or lunch paired with local ciders," says Levine. Get espresso at Irving Farm, tea at Harney & Sons, or award-winning hard cider at Kings Highway Cider Shack.
"The Harlem Valley Rail Trail is our favorite. It weaves through charming towns and beautiful farm country, so you get the feeling of being secluded in wilderness without leaving civilization too far behind," says Andy Levine, founder and CEO of DuVine Cycling.
Heritage Trail
Middletown to Harriman
Notes: 19.5 miles paved parking available
Peak color prediction: mid to late October
Happy trails: Once the old Erie Railroad (which connected Jersey City and Chicago in the late 1800s), this paved rail trail is perfect for laidback cruising. It passes through a little bit of everything: shaded woods, a bird sanctuary, babbling brooks and wetlands, pretty meadows, and even historic landmarks (such as Goshen's many old churches).
What's nearby: Chester is a bit of a hidden gem. There are coffeehouses (Valkyrie Coffee Roasters and Meadow Blues Coffee); Rushing Duck Brewing, which specializes in hoppy IPAS; and places to snack like American House Ice Cream, Tacos Express, and the beloved Allan's Falafel (which is just a half-mile ride down Main Street.)
Maybrook Trailway
Brewster to Pawling to Hopewell Junction
Notes: 24 miles paved parking available a part of the EST
Peak color prediction: mid-October to early November
Happy trails: This offers some of the most scenic sights in Putnam County and southern Dutchess. There are dense woodlands, low-lying wetlands, and farm fields along the abandoned tracks of the New York, New Haven, and Hartford Railroad (also known as The Consolidated). Stop and take pics of the foliage at Whaley Lake in Pawling, recommends Steely White. "You'll get some of the best views in the whole Hudson Valley here," he adds.
What's nearby: Take a break in Pawling, which will act as your midway point. You can peruse novels at the Book Cove and wander through vintage finds at Pawling Antiques. Some of our favorite places to eat are Sunflour Bakery (don't miss their delicious lemon bars) and Tacos and Cones. Pro-tip: bike Maybrook on a Saturday so you can catch the Pawling Farmers Market (open until October 7).
Wallkill Valley Rail Trail (WVRT)
Gardiner to Kingston
Notes: 23.7 miles packed stone dust parking available a part of the EST
Peak color prediction: mid-October
Happy trails: Tucked between the Shawangunks and the Walkill River, the WVRT is one of the highlights of the entire 750-mile EST, according to Steely White. The Rosendale Trestle, a 940-foot truss bridge, has a beautiful vantage point of the mountains. "It's particularly breathtaking because you can see the evergreens and the hardwoods—you get a whole palette of fall colors right before your eyes juxtaposed with the Shawangunk Ridge," he says. Fun fact: you might even pass some horseback riders. (The WVRT is one of two trailways on the EST that allows equestrian use.)
What's nearby: Charming Café Mio in Gardiner has some of the best farm-to-table brunch options along the WVRT; the apple cinnamon or banana bacon French toast are especially popular in the fall. A little further north along the trail, get your fill of apples at Dressel Farms and Kettleborough Cider House. And New Paltz is obviously where it's at: stop by an array of restaurants (from cheap vegan eats at Moonburger to comforting noodle soups at Pho Tibet), fun shops and boutiques, and cute cafes.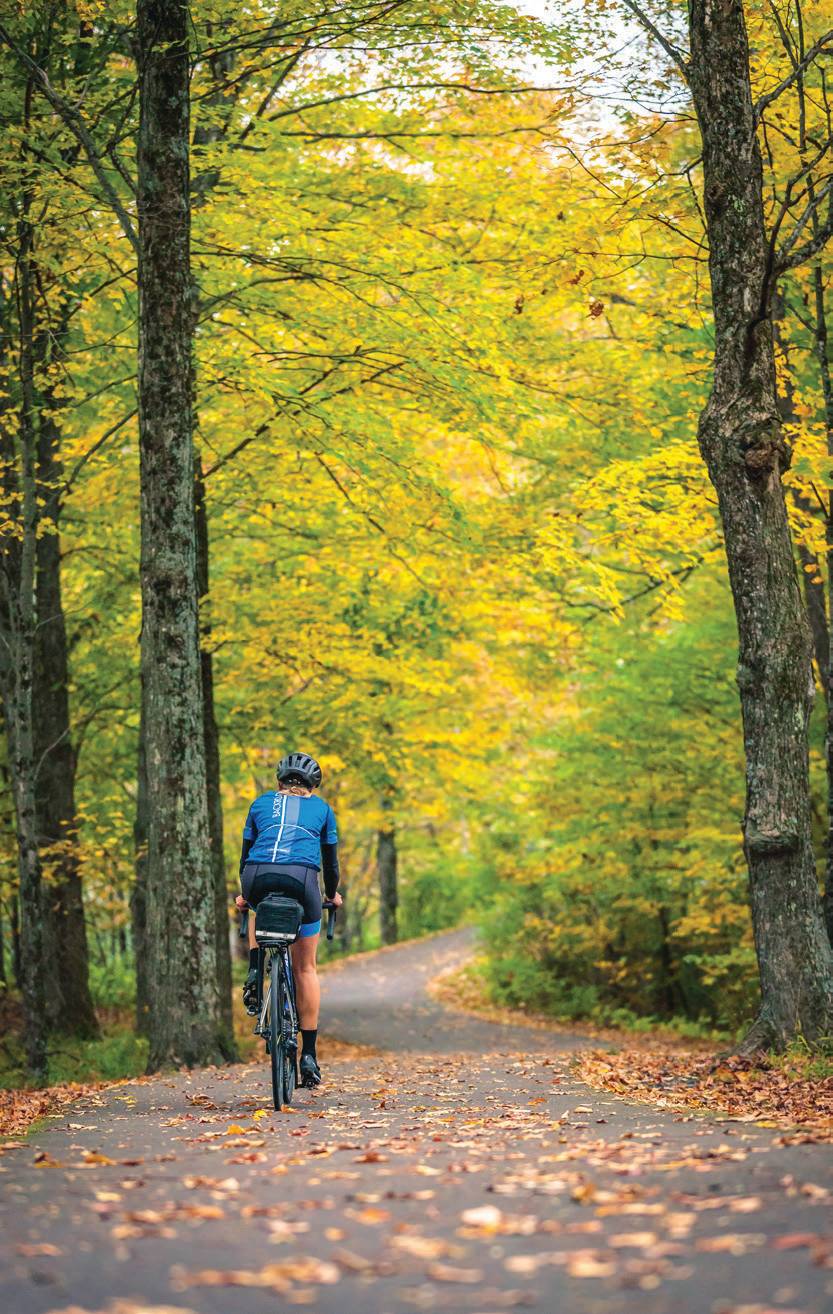 -Hiking-
THE MOUNTAINS ARE CALLING AND YOU MUST GO—FOR THE FOLIAGE.
Anthony's Nose
Hudson Highlands State Park Preserve
Notes: 2 miles out-and-back moderate to challenging limited roadside parking train accessible
Peak color prediction: late October
Happy trails: Start your 688-foot ascent right off Route 9D. Though the winding, uphill trail is strenuous, you're amid colorful woods and there are plenty of places to rest. Once the route plateaus a bit (where it diverges from the Appalachian Trail), start getting excited for the best views of the lower HV. From anywhere along Anthony's Nose, you'll see the changing foliage of Bear Mountain State Park and Iona Island, plus an unbeatable aerial view of the Bear Mountain Bridge. The rockface is great for a picnic, but gets crowded on weekends.
What's nearby: The 15-minute drive south to Peekskill is another opportunity for some great leaf-peeping. Newcomer Benny's Brown Bag has inventive sandwiches such as the green goddess chicken salad BLT and a Thai-fried chicken sandwich with house made sweet chili slaw. RameNesque is the spot for those who love sushi or ramen (the dan dan ramen is amazing) and don't forget to grab dessert bars and blondies from Blondery.
"Autumn is an opportunity to bliss out and immerse in the beautiful woodlands this region of New York has to offer. There's a magic in the area that has pulled in artists, musicians, and monasteries for hundreds of years, and it's easy to see why once you get connected and engaged in the scenery," says Ross Tarhini, a trip leader at Backroads.
Breakneck Ridge
Hudson Highlands State Park Preserve
Notes: 3.2 miles loop challenging limited roadside parking train accessible
Peak color prediction: late October
Happy trails: Let's be honest—Breakneck is one of the hardest routes in the Hudson Valley. But the payoff is so worth it. Before you get to the peak (at 1,269 feet), you'll face rock scrambles and tough ascents. "It's the type of trail where you'll be on all fours at many points," says Billy Farrell, founder of Active Lifestyle Tours, a sightseeing group based in Marlboro. It takes Farrell about 2–2.5 hours to hike Breakneck roundtrip. Once you're at the top, take in the vistas of Storm King Mountain and the Hudson River. Don't trek after a day of rain, it's dangerous if rocks and fallen leaves are slippery.
What's nearby: You'll enjoy spending the rest of your day in Cold Spring. Check out shops Poor George, Cold Spring General, Split Rock Books, and Pink Olive before pairing an Alsacienne onion soup with a croque madame at Le Bouchon. End on a sweet note at local favorite Moo Moo's Creamery (they'll have fun fall flavors like spiced apple and pumpkin).
Dover Stone Church
Dover Plains
Notes: 2.7 miles out-and-back easy parking train accessible
Peak color prediction: mid to late October
Happy trails: This is one of the coolest geological formations in the entire region. After hiking inland and over a bridge, head for the stone church trail—it will bring you through short crags and rocky steps along a mossy brook surrounded by foliage. You'll soon come face to face with the stone church, a metamorphic rock cavern (in the shape of a cathedral window) with a waterfall inside its cave. In the 17th century, it was briefly a hiding spot for Sassacus, a Pequot sachem who fled from conflict with the British. It soon became a hot spot for New York City tourists in the late 1800s after Hudson River School artist Asher Durand sketched it. Be sure to take the blue trail up the mountain for a scenic view of Dover Plains.
What's nearby: Downtown is a bit sparse, but Four Brothers Pizza Inn and Kelly's Creamery more than make up for it. Order a pie (we are partial to the chicken bacon ranch) to share and follow up with a scoop of banana Oreo cookie or whole lotta dough. Insider tip: Kelly's has an 18-hole mini golf course in its backyard! For more things to do, Millbrook is only a 13-minute drive northwest.
Gertrude's Nose
Minnewaska State Park Preserve
Notes: 6.7 miles loop moderate to challenging $10 parking (free with Empire Pass)
Peak color prediction: mid to late October
Happy trails: It was difficult to whittle down which of the many Minnewaska trails to recommend—but the Millbrook Mountain and Gertrude's Nose loop has amazing sights of Ulster County's autumn splendor. There are a several steep sections and some rock scrambles, so be sure to wear sturdy hiking shoes. This is one of Farrell's favorite fall hikes. "It's a single-person-wide trail that will take you about 4–5 hours to hike round trip," he explains.
What's nearby: Head north on Route 44 to Kerhonkson. In its quaint downtown, grab some light bites at Mill & Main Provisions (its sister restaurant Mill & Main is one of our best new restaurants, (see them all on page 69) or the Kerhonkson Diner. In nearby Accord, explore two popular farms (Kelder's and Saunderskill), the grounds at luxury resort INNESS, and, if you have any energy left, Skate Time roller rink.
Planning on visiting Minnewaska State Park several times this fall? Invest in an Empire Pass. It's an $80 annual membership that allows unlimited vehicle entry to most NYS parks.
Overlook Mountain
Woodstock
Notes: 4.6 miles out-and-back moderate to challenging parking
Peak color prediction: mid to late October
Happy trails: It's only up from here. (Seriously—the first half of the trail is "a steady incline," says Ross Tarhini, a trip leader at Backroads, an active travel company.) But the ruins at the top are worth it. Brightly hued leaves highlight the remains of the once-grand, 19th century-era Overlook Mountain House. Climb another ¾-mile for the summit, where a fire tower offers a fantastic, autumnal panorama of Indian Head Wilderness to the north and the pretty Ashokan Reservoir to the south.
What's nearby: You'll have fun in Woodstock. There are plenty of eateries (Good Night, Mud Club, Garden Cafe, and Oriole 9 are local favorites), shops such as home goods store Beck, candle emporium Candlestock, and Woodstock Trading Post, and galleries to roam around.
Don't forget the carry in, carry out policy. Many parks don't have trash cans. "Please carry out your trash, respect the natural surroundings and wildlife, and always be safe," says Greg Calabrese.
-Walking-
FALL FUN FOR THE WHOLE FAMILY.
Hudson River Skywalk
Hudson to Catskill
Notes: 5.8 miles out-and-back easy to moderate parking
Peak color prediction: mid-October
Happy trails: Start your hike at Olana, the home of famed Hudson River School artist Frederic Church. The estate itself has "four miles of easy trail walking and amazing views of the Catskill Mountains to the west," says Greg Calabrese, lead guide at Rip Van Winkle Adventure Guides. Make your way down through colorful woods toward the Rip Van Winkle Bridge. As you walk across toward the Thomas Cole National Historic Site in Catskill, take in the kaleidoscope of foliage from both sides of the river. The best part? You get to see it all again as you trek back up to Olana.
What's nearby: Take a break in downtown Catskill (a 15-minute walk from Thomas Cole's estate). Get a coffee at Willa's or head to Hemlock, Left Bank Ciders, or Subversive Malting + Brewing for something harder. Great Thai food awaits in an unassuming spot called Wasana's. Or take a Japanese bento to-go from weekend pop-up Atelier Ku-Ki located in Made X Hudson.
Poet's Walk Trail
Poet's Walk Park, Red Hook
Notes: 2.2 miles loop easy parking
Peak color prediction: mid to late October
Happy trails: As its name indicates, Poet's Walk is quite serene. Embark on a loop of gentle rolling hills and meadows with views of the Kingston-Rhinecliff Bridge and the Hudson River. There are multiple "outdoor rooms" (or artfully crafted wood structures and gazebos) throughout the property. The tail end of the trail takes you through shady groves of colorful woods with little creeks snaking around. Look out for different varieties of mushrooms and moss.
What's nearby: The park is 10 minutes north of Rhinebeck—a great town to stroll around during autumn. You'll find just about everything here, but some standout spots include Aba's Falafel, Oblong Books, Pretty To Think So (another best new restaurant), Cinnamon (for Indian fare), Hammertown (home goods), and Samuel's Sweet Shop. Poet's Walk is close to the Migliorelli Farm Stand on River Road, so check it out for apples and other seasonal produce.
Rockland Lake
Rockland Lake State Park, Valley Cottage
Notes: 3.2 miles loop easy parking
Peak color prediction: late October
Happy trails: This entire route—which is stroller, dog, and bike friendly—has beautiful views of fall colors reflecting in the water. On the shoreline, you might see aquatic plants and birds like ducks, storks, and herons. There are plenty of benches throughout the trail to stop and relax amongst the foliage. Rockland Lake is a quick drive from Hook Mountain and Nyack Beach state parks if you want Hudson River views, too.
What's nearby: Head south on Route 9W for 15 minutes and you'll end up in downtown Nyack. Enjoy the fall breeze on Art Café's outdoor patio—our favorite meals are the Picasso Bowl (Bulgarian feta, hard-boiled egg, and cherry tomatoes over Israeli-spiced couscous) and a hummus plate with pita to share. For something heartier, My Father's House serves up Southern cuisine, like chicken wings and waffles and Cajun shrimp and cheese grits.
"The Walkway Over the Hudson is amazing in and of itself as an engineering marvel, but it's also just a great place to take in the expanse of the Hudson River," says Paul Steely White, executive director of Parks & Trails New York.
Storm King Art Center
New Windsor
Notes: 3.5 miles loop easy paid parking
Peak color prediction: mid to late October
Happy trails: Get your fill of art and autumn at the same time. Throughout the 500 acres of sprawling meadows, the leaves beautifully contrast sculptures like Alexander Calder's "Five Swords, "Mon Père, Mon Père" by Mark di Suvero, and the serpentine field stone "Storm King Wall" built by Andy Goldsworthy. Tickets for Storm King are subject to peak pricing until November 12; passes are released in two-week blocks at stormking.org.
What's nearby: Cornwall has a few great breakfast and lunch spots—so head here before or after your day at Storm King. Anything on Fiddlestix Café's menu is delicious, but The Roots (a 7-inch Belgian waffle piled high with Dijon-maple glazed fried chicken and bacon) and the Strawberry Fields Forever French toast (strawberry cheesecake stuffed in brioche) are best sellers. Other great picks include 2 Alices Coffee Lounge, Cornwall Coffee Co. and Mercantile, and the Farmhouse Market.
Not a fan of going solo? There are plenty of local outdoor groups—such Body Liberation Outdoor Club, Hudson Valley Hikers (on Meetup), and the New York-New Jersey Trail Conference—that are hosting events this fall.
Walkway Over the Hudson
Highland to Poughkeepsie
Notes: 3.2 miles loop easy parking
Peak color prediction: mid to late October
Happy trails: Did you know the Walkway is the world's longest elevated pedestrian bridge (spanning 1.3 miles)? It was originally a double track railroad for The Consolidated company from 1889–1974 before it was decommissioned after a fire. "You can see foliage on both sides as you're suspended in midair. It's just marvelous," says Steely White. He recommends planning a visit when the Friends of the Walkway are hosting a fall event. Walktoberfest—a weekend gathering of dozens of makers and food vendors—is slated for October 21–22.
What's nearby: There's not much on the Highland side of the Walkway (besides a cute ice cream and pizza shop called Frozen Caboose), so we recommend stopping in Poughkeepsie for a bit. Near the exit are fan favorite eateries like Rossi Rosticceria Deli (you must order the No. 4 sandwich), El Azteca Mexican, Schatzi's Pub and Bier Garden, and Zeus Brewing Company which has a stunning rooftop bar with Hudson River views.
Related: 5 Hudson Valley Hiking Trails Filled With History and Ruins