Glassblowing is incredible, in the truest sense of the word. Although it's difficult to believe that shapeless blobs can turn into masterpieces so perfectly colored and formed with only heat and a little bit of air, it's impossible to deny the transformations as they happen in front of your eyes.
In the hands of professional glassblowers, otherwise known as gaffers, the blobs shape themselves into beautiful, artisanal glassware that can stand the test of time.
Nowadays, you don't need to be all that professional in order to try your hand at the old-fashioned art. In fact, Howe Glassworks Studio welcomes individuals of all ages and experience levels to test their hand at the longstanding tradition.
Whether you're a 15-year-old with a passion for crafting or an 82-year-old who wants to try something new, you can head to the Howes Cave location to learn exactly how those molten globs mold into eye-catching knickknacks and treasures.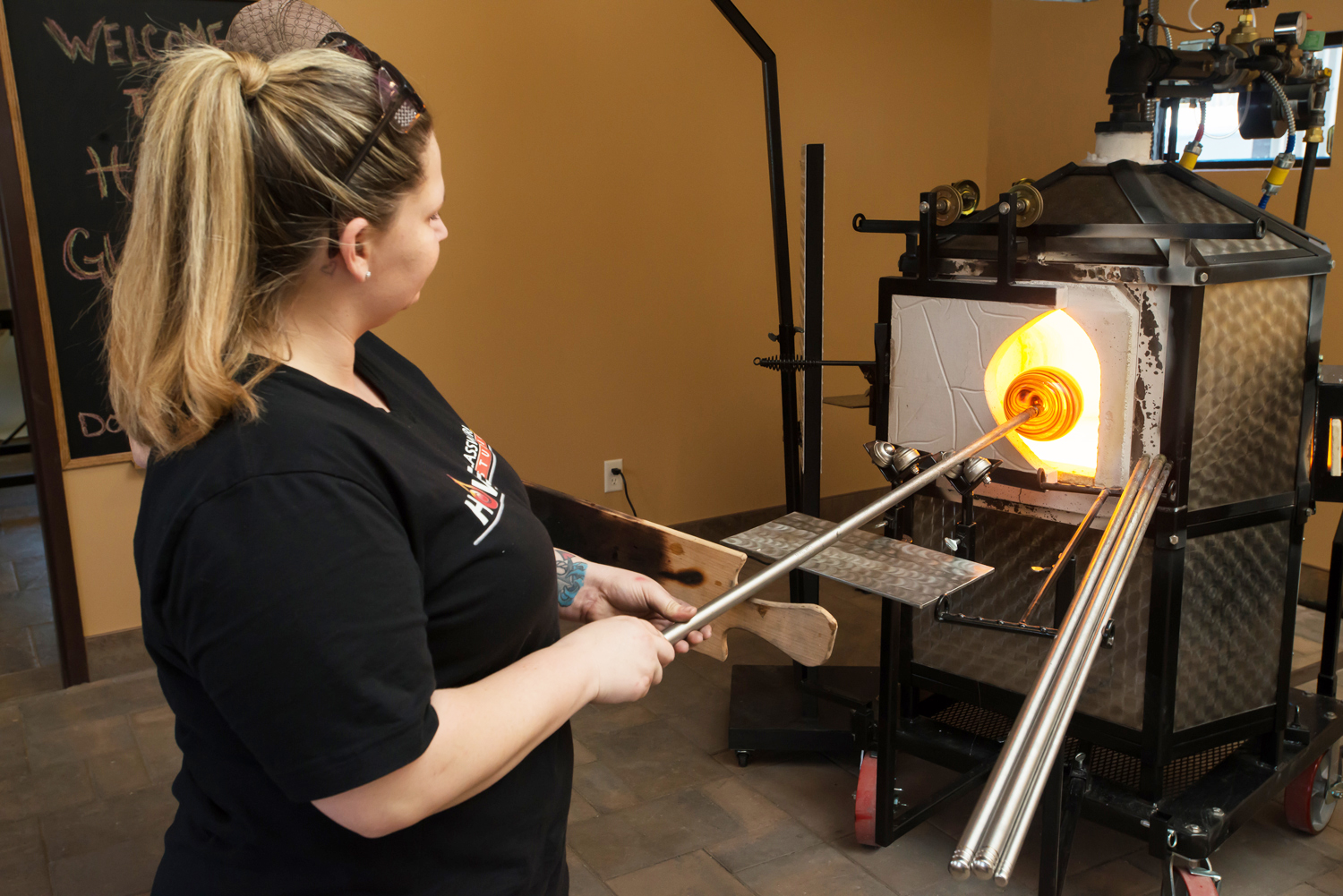 "It's kind of like paint-by-numbers for glassblowing," says Studio Director Dorian Ordyne. Along with other glassblowers, she teaches visitors how to spark their glassblowing passions for the first time.
At the studio, which opened in February 2019 as part of Howe Caverns, Ordyne and team offer a medley of private lessons, programs, and workshops to attendees to cater to personal goals and varying comfort levels. Workshops are great for beginners and one-day experiences, since they take guests through pre-selected projects from start to finish.
Included in the cost, which ranges from $50 to $150, is a one-on-one session that results in a final, completed work. What the work will be, of course, depends on the lesson and on the individual creating it, although it could be anything from a twisty tumbler glass or a circular vase to a ruffle bowl or a pumpkin paperweight.
No matter which project attendees choose, Howe Glassworks Studio works step-by-step to educate on the process and allow guests to garner as much hands-on experience as possible.
"I explain the colors, what metals create the color," Ordyne explains. "After that it's a series of heating the glass. I explain the tools, how you're going to use them, how to blow."
As Ordyne notes, education is a critical part of the process at the studio. Just as visitors learn how and why to craft their unique glassware, so too can they tailor their creations to suit their interests. Howe Glassworks boasts more than 40 color choices, along with options for speckles, spirals, and fades to ensure that no two creations are ever the same.
Keeping with the one-of-a-kind mentality, the studio has two programs geared toward children and adults, respectively. In the "You Design It, We Create It" sessions, youths in camp or school groups can visit to learn how glass comes to life under the watchful care of the space's gaffers.
Prior to visiting, each child has the chance to submit an original piece of art to the master glassblower, who will choose one work to be created in front of the group as a demonstration and then shipped to that student's home. Of course, no child goes home empty-handed at Howe Glassworks. Before heading out for the afternoon, all children receive a complimentary medallion to commemorate their fun, educational day at Howe Caves.
For adults, meanwhile, Howe has an intensive Glass 101 course. Geared toward people who want to learn the ins and outs of glassblowing, the classes run 10 weeks for 30 hours. During that time, attendees can learn everything from glassblowing basics and hot shop safety to the differences between solid and vessel forms and the ins and outs of creation and design.
Last but certainly not least is Ashes to Art, a meaningful program that allows individuals to memorialize a loved one's ashes through glass. The option to assist with the creation process is available for anyone interested, and Howe Glassworks Studio is also happy to ship custom designs for those who are not able to make it to the studio in person.
"It makes you happy when you see it," enthuses Ordyne, who admits she's been touched by each and every Ashes to Art memorial she's created. "Instead of sending off the ashes, you actually get to come in and create something."
Ready to fire it up?
Howe Glassworks Studio
255 Discovery Dr, Howe Caves
518.296.8900
Related: Splash and Slide Your Way Through Monticello's Massive New Water Park