Are you ready to check out these April events? Adobe Stock | fahrwasser
An orchestra performance, the start of the Renegades season, a flower show, and a mac and cheese festival are top picks.
Beethoven's "Missa Solemnis" — Annandale-on-Hudson
April 1, 7 p.m. & April 2, 3 p.m.
Conducted by Leon Botstein, Bard College's Festival Chorale and The Orchestra Now will perform the "Missa Solemnis" (solemn mass, one of Beethoven's only sacred works) at the Fisher Center. fishercenter.bard.edu
French Thursdays — Cold Spring
Begins April 6, 4:30–6 p.m.
Want to brush up on your French speaking skills? Join other Francophiles every Thursday at café and boutique Paulette for an immersive happy hour. paulettecoldspring.com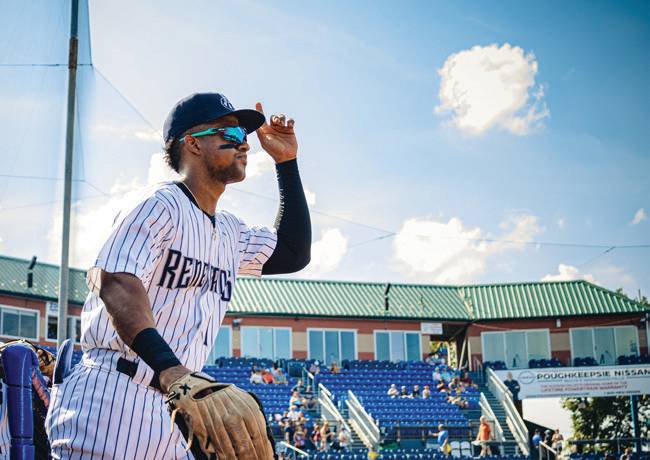 Hudson Valley Renegades Opening Day — Wappingers Falls
April 7
The Renegades, a New York Yankees affiliate, will face off against the Greensboro Grasshoppers at Dutchess Stadium to kick off the season. Fireworks are set to follow the game. milb.com/hudson-valley
Amphibian Night Hike — Mount Kisco
April 7, 8–10 p.m.
After the sun sets, join naturalists at the Westmoreland Sanctuary Nature Center in search of the nocturnal amphibians that call the property's ponds and vernal pools home. Program suitable for families with children 7 and up; flashlights and boots recommended. westmorelandsanctuary.org
Hurley Mountain Highway Band — Accord
April 8, 2–5 p.m.
Cornwall-based acoustic-electric quartet Hurley Mountain Highway Band will kick off Arrowood Farms' 2023 outdoor concert series with feel-good pop-rock from the '60s and '70s. Grab a brew from the taproom and enjoy! arrowoodfarms.com
You can start placing bets closer to home: Resorts World Hudson Valley (RWHV) opened last December in the Newburgh Mall.The 60,000-square-foot space has 1,200 slot machines, electronic table games like craps, baccarat, and blackjack, with Bet Sports Bar taking center stage. The casino has created 250 new full-time jobs and claims to contribute about $65 million in annual taxes to support NYS public schools. RWHV is open seven days a week from 9 a.m.–3 a.m. For more info, visit rwhudsonvalleyny.com. – Rebecca Aurigemma
Brian Scolaro — Poughkeepsie
April 14 & 15, 8 p.m.
Comedian Brian Scolaro, whom you may recognize from his appearances on "Conan" and "A Million Little Things," takes the stage for two nights at Laugh It Up Comedy, run by Mahoney's Irish Pub. laughitupcomedy.com
RUTHLESS! The Musical — Ghent
April 14–16, 21–23, 28–30, Friday and Saturday 7:30 p.m., Sunday 2 p.m.
In this performance, which spoofs Broadway productions like "Gypsy" and "Mame," an 8-year-old does whatever it takes to get the lead in her school musical. This play will take place at The Ghent Playhouse. ghentplayhouse.org
Orleans Acoustic — Pawling
April 15, 8 p.m.
Celebrating over 50 years performing live, Woodstock-born pop-rock group Orleans returns to the stage with help from Nashville musicians Brady Spencer and Tom Lane to perform an intimate acoustic set at Daryl's House Club. darylshouseclub.com
Flower Show: Celebrate Spring! — Tarrytown
April 15–16, 10:00 a.m.–4:30 p.m.
Welcome the season with this weekend-long display of botanical design at the historic Lyndhurst Mansion. Installations by artists like Kingston's Hops Petunia Floral and Lemon Terrace Florals from Hastings-on-Hudson will take over the property. Plus: an onsite flower and plant market. lyndhurst.org
Nyack Spring Street Festival — Nyack
April 16, 10 a.m.–5 p.m.
Nyack's ultra-popular SpringFest street fair returns for its 30th year! Join thousands of attendees to visit hundreds of art vendors and local businesses, listen to live bands at the gazebo on Main Street, and bring the children to the kid zone for family activities. visitnyack.org
Bubbles and Brushes — Montgomery
April 20, 6 p.m.
Join City Winery for a paint-and-sip event taught by Vicki Andrade of ArtVicki Creations in Middletown. Admission to the class includes a tasting flight of sparkling wines, cheese, art supplies, and aprons. The full restaurant menu will be available à la carte. citywinery.com
Rude Mechanics — Catskill
April 20–23 and 27–30, Thursday–Saturday at 7:30 p.m., Sunday at 2 p.m.
Written and directed by theater actor Eric Hissom, "Rude Mechanics," a period comedy set in 1612 about performing during the plague, will make its world premiere at Bridge Street Theatre. The two-week run kicks off the theater's 2023 season. bridgest.org
Hudson Valley Mac & Cheese Festival — Washingtonville
April 22, 1–5 p.m.
Held at the historic Brotherhood Winery and presented by BAP Food Events, the seventh Mac & Cheese Fest will feature dishes from top restaurants and chefs in the region. The event is for all ages, and tickets include a self-guided tour of the winery. baptickets.com
The Chancellor's Sheep & Wool Showcase — Germantown
April 29, 11 a.m.–4 p.m.
Head to Clermont State Historic Site for this family-friendly annual celebration of fiber arts. Live music, spinning and weaving demonstrations, and handmade wool pieces and yarn sold by dozens of vendors fill the schedule. friendsofclermont.org
Rachel Podger — Katonah
April 30, 3 p.m.
Join internationally renowned Baroque violinist Rachel Podger for an afternoon of Bach sonatas and suites at Caramoor Center for Music and the Arts. The concert will be in the Rosen House Music Room. caramoor.org
Bread Alone is always on the rise. The Valley-based family-owned bakery has made some big changes recently: The Kingston headquarters replaced its café with a staff-only cafeteria. And this month, their Rhinebeck bakery is set to reopen after a month-long renovation. Comfy booths and banquettes line the front of the café, leading to the new wood-paneled, modern main dining room. Fans will quickly flock back to the popular spot to enjoy fresh-baked goods and sandwiches—but, we'd argue, in a much cooler atmosphere. – Micaela Warren
Related: 6 Mac and Cheese Recipes for When You Need All the Comfort Food