Ellie Stover is a bit of a drifter.
After spending her formative years in Middletown, the artist and photographer left the Hudson Valley for eleven years to cross the globe, traversing Canada, Europe, and the United States in an attempt to discover hidden corners of the world and experience diverse cultures. During that time, she took photos. She tapped into the skill she honed as a child and practiced capturing moments, finding perspective, and experiencing her surroundings in new ways.
"My mom always had a camera around, so I picked up photography when I was very young. I was shy at social interactions, so I would use it as a tool where I was able to be involved but not have the pressure of full interaction," she recalls. "Now my photography is all about interaction and finding a way it can represent someone or some environment."
Alexis Tellefsen, a Middletown ceramicist who runs Workshop Workshop in town
Equipped with a fine-tuned talent and a global perspective, Stover knew she wanted to integrate photography into her life when she returned to Middletown in November 2018. After settling down, she reached out to old and new acquaintances to gauge their interest in participating in her new project: a photo series of Middletown's inspiring and individualistic women.
The responses were overwhelmingly positive, leading Stover to shoot 40 personalities for her portrait collective titled "Middletown Women." During the process, which spanned the course of one autumn season and involved shoot times before sunrise, she had a chance to catch up with old friends and forge new connections with the multitalented members of her Orange County community.
"It was a really unique experience because some of the subjects I hadn't seen in nine years, others I would see in the hallway at high school but never talked to, and then [some] of my closest friends who have been around the camera with me for twenty years, but we never took a professional approach for a specific outcome," she notes. "Middletown has inspiring, strong, [and] talented women from many different backgrounds. I wanted to use my camera as a communication tool as an homage to our community."
Yessica, an employee at American Eagle Outfitters
Making the most of natural lighting and the moods of the Hudson Valley in fall foliage season, Stover explored the lives of nurses, a ceramicist, and a stay-at-home mother. She captured moments in time for a defense attorney, producer, and clothing designer. Behind the scenes, she chatted with a hairstylist, a yogi, and a travel photographer, to name only a few. She met them all, heard their stories, and channeled those moments into a stunning photo project, one which began as a way for her to channel her passion and quickly morphed into a social experiment that explores the ways in which women interact with and perceive themselves and one another.
From behind her camera, she watched as her subjects released their insecurities and allowed Stover to capture them as unique, authentic individuals. Just as it was an enriching, eye-opening experience for them, so too was it a learning experience for Stover, who developed her skills as a storyteller in the process. Surprisingly, she found her friends, and not her new acquaintances, to be the most challenging subjects to photograph.
"It was the hardest to photograph the people I considered my closest friends, which was something I was not expecting at all," she admits. "I was consistently overwhelmed with the support from the ladies because they seemed to understand right away why I was doing this project."
Chloe, a stay-at-home mom
"Middletown Women" debuted at SUNY Orange, inside the Mindy Ross Gallery in Kaplan Hall, from March 8 to May 7. During that time, Stover's subjects and her Hudson Valley audience at large had the opportunity to reflect upon the profiles and the themes reflected within them. Stover notes that for the women in her photographs, the experience was something of a cathartic one, since it allowed them to view themselves in a new, more objective way.
"One of the reactions that sticks out for me is when someone felt like they had less of an imposter syndrome of being a mother when seeing their photo with their child in the series," she says. "Others I think noticed they were dealing with some senses of dysmorphia because they didn't believe it was them in the picture, yet there was no beautifying or retouching. It felt really good to help with some people's self-conscious issues, since it has been debilitating for me for a majority of my life."
Taj-Mone't, an RN, BSN CMSRN, SICU-CICU nurse
Just as Stover's subjects felt moved, so too did her audience at the gallery.
"A seven-year-old pointed to the picture of Claire [one of the women in the series] holding up a weight lift and said, 'I want to try that.' I really think opening up that communication between people from different backgrounds is one of the best outcomes of the project."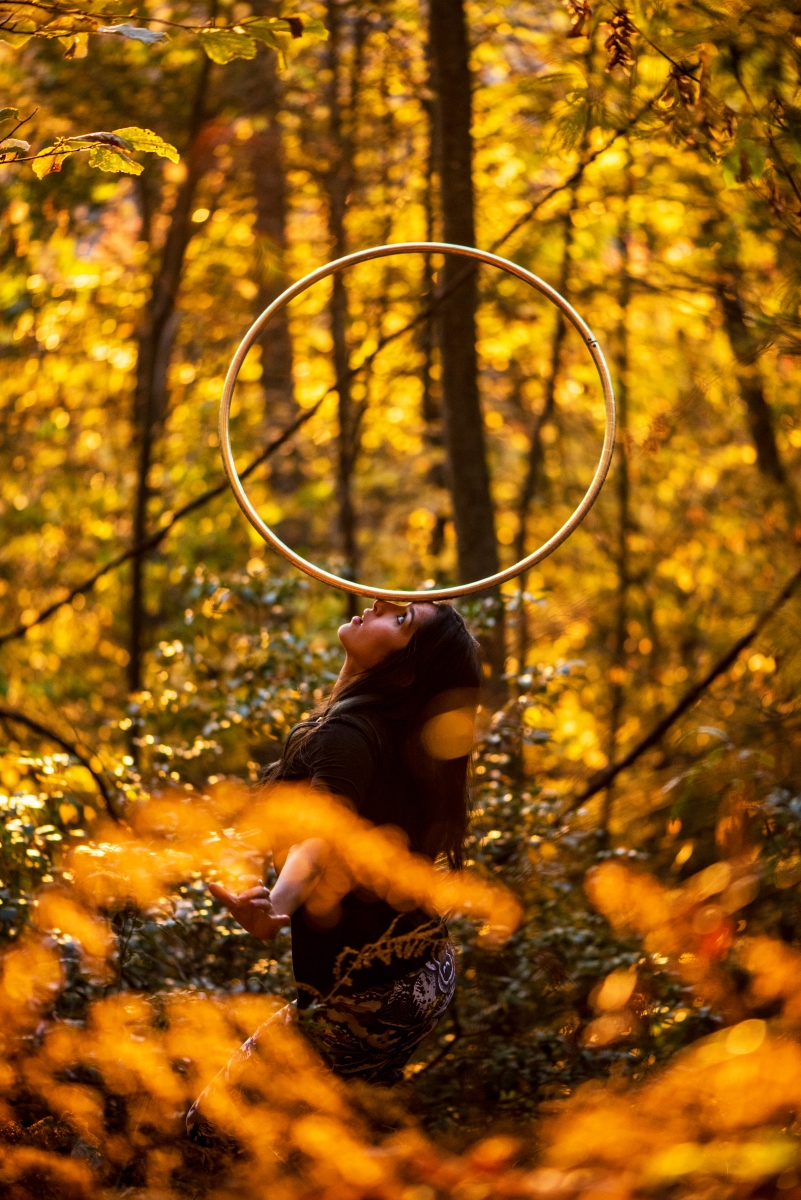 Sasha, a hoop enthusiast
Although "Middletown Women" is no longer showing at SUNY Orange, Stover has plans to slowly expand the series with a goal to make it approachable and relatable for individuals both young and old and from every walk of life. If all goes well, she hopes to bring the series on the road with her starting in fall.
Of course, now that she's back in Middletown, Stover is excited by the possibility of what she can contribute to the Hudson Valley. Alongside three of the artists she featured in "Middletown Women," she is working to launch a new artisan collective called Artisan Grow to create a supportive resource for creatives in Orange County.
"I am forever grateful for the outcomes of this project," Stover says. "I wanted to give individuals…a moment's capture that showed their empowerment and elegance."
---