West Point is home to America's oldest military academy; the first graduating class was just two cadets.

What to do
The first item on your "to do" list should be Woodbury Common Premium Outlets, as the lines get long fast at retail shops (there's Nike, Gap, Michael Kors, Burberry, Coach, etc.) and Shake Shack (there's also a Chipotle, Le Pain Quotidien, and the 1,000-seat Market Hall dining destination). If you prefer to shop small, make weekend plans for Sugar Loaf Art & Craft Village in Chester, where funky boutiques offer handmade soaps, candles, stained glass, and pottery.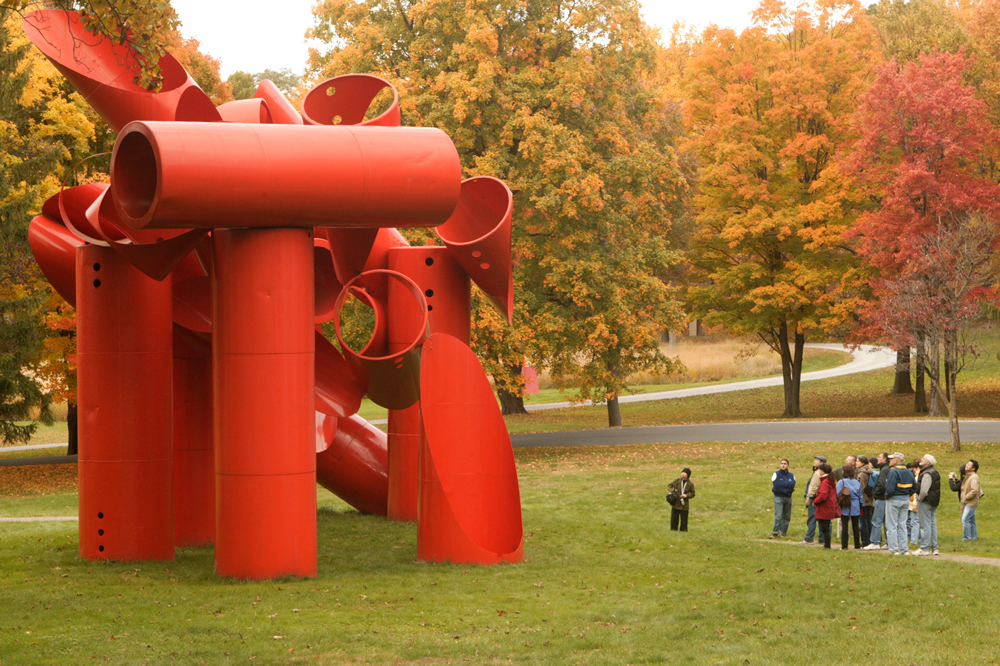 Storm King Art Center, Photo by Jerry Thompson
A visit to Storm King Art Center, in New Windsor, the world-famous sculpture park with more than 100 beautifully crafted works on 500 acres, is a must. The lesser-known Seligmann Center, an art trove of paintings, prints, and sculpture-filled grounds, is also a good option.
Brush up on Revolutionary War history with a guided tour of the US Military Academy at West Point. While there, see who's playing at the Eisenhower Hall Theater — maybe a traveling Broadway show, a big-name country act, or a well-known comedian. Speaking of history, Brotherhood Winery, over in Washingtonville, is the oldest continuously-run winery in the United States. Stop by for tastings and a tour.

Photo courtesy of U.S. Military Academy
Lake Tiorati on gorgeous Seven Lakes Drive in Harriman is a great spot for swimming, fishing, boating, picnicking, and even ice fishing in winter months. At Bear Mountain State Park, you can ice skate (weather permitting), hike, visit the zoo, or ride on a carousel. Head down the Hudson coast to Stony Point Battlefield Lighthouse; built in 1826, it's the oldest lighthouse on the river. Aside from its spectacular river views, the site features a small museum with intriguing artifacts that will appeal to history buffs and lighthouse lovers.
Where to eat and drink
Daytrippers from New York City hop on the Thruway and beeline to Dottie Audrey's Bakery Kitchen in Tuxedo Park for an off-the-beaten-path breakfast. Try the Tenderloin Benedict (filet mignon on a toasted baguette) or go lighter with yogurt parfait with cashew granola. Grab a bag of Linzer tarts for the road! Alternatively, you can have Sunday brunch at Iron Forge Inn, in Warwick, a farmhouse-turned-restaurant reachable by 17A through picturesque Sterling Forest in 20 minutes. Grab a seat on the patio for views of Sugarloaf Mountain.
A more rustic brunch awaits at Blooming Hill Farm, a tad farther north on Route 208 in Blooming Grove. This idyllic hidden gem serves up sourdough crust breakfast pizzas topped with eggs, potatoes, and cheese on Saturdays and Sundays. They also serve farm-based dinners, such as Farm Polenta with Grana Padano, on Fridays and Saturdays.
This neck of the woods is also home to Cosimo's Brick Oven, a favorite après-shopping spot on Route 32 in Central Valley. Arancini (Italian rice balls), wood-fired brick-oven pizzas, and flatbreads are crowd-pleasers at lunch or dinner.
If you spent the day hiking at Bear Mountain or Harriman State Park, Restaurant 1915 at the Bear Mountain Inn is an atmospheric place to unwind. Back at West Point, the Gothic-style MacArthur's Riverview Restaurant at the Thayer Hotel has epic views of the Hudson, Sunday brunch, and a rooftop lounge.