Finding the right space in the right place proved to be the lure that brought Benny Castro back into the Spanish restaurant scene. Basque Tapas, which opened in Piermont in October, returns Castro to his roots and brings Hudson Valley residents authentic cuisine.
The son of Spanish immigrants, Castro was born in the United States, but spent his summers and holidays in Spain. Throughout his adolescence, he worked at his father's restaurants in New York, the most famous of which was El Quijote in Chelsea. All of this prepped him with the knowledge and skills to open two of his own restaurants in Hell's Kitchen, which he successfully ran for 15 years.
Eventually, the commute into Manhattan, coupled with the fact that Castro wanted to operate a smaller restaurant, led him to take some time off from the restaurant business — that is, until he discovered the perfect location for his new endeavor. "Piermont allows me to get back to what I love best — serving quality Spanish food, talking to customers, and making them feel at home," Castro says. The restaurant, which seats 50, has a homey air with reclaimed wood, an ample bar, and artwork by Spanish artists. Imported ingredients give the food a homey feel as well.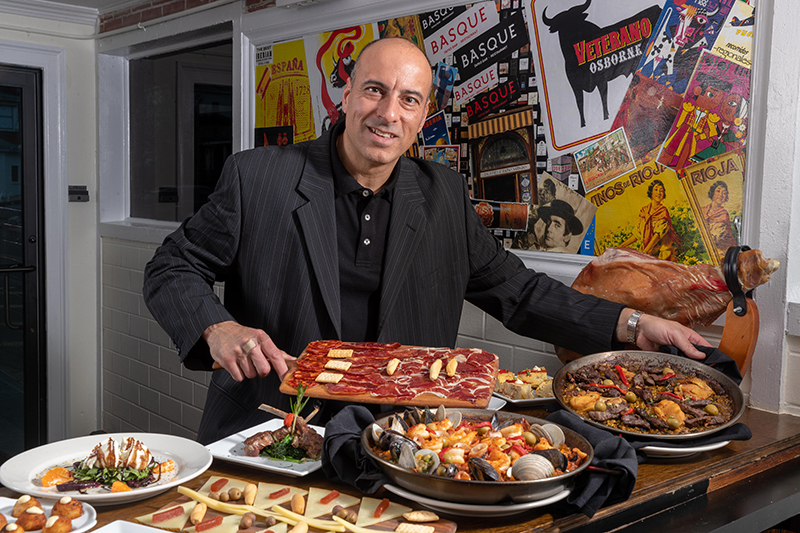 "While every region in Spain may tweak a dish," he says, "overall the country shares a cuisine." Castro brings variety to the menu while keeping the selection to one page. The tapas selection is broad with choices ranging from ham croquettes to pan con tomate to fried artichokes with a caper remoulade. And as befitting a Spanish restaurant, there are four choices of Sangria — red, white, rosé, and Cava.
There are three paellas on the menu, with the meat option proving most popular. Other customer favorites include a grilled skirt steak, chicken in garlic sauce, and a seafood dish with white wine, garlic, and parsley sauce.
With a warm response from the community so far, Piermont has clearly embraced the Basque influence. "I'm glad to be back in the game in such a welcoming town," Castro says.