We are so proud to introduce these amazing movers and shakers. Eighteen extraordinary leaders who excel in their fields, give back to their communities, and are true assets to the Hudson Valley. Read on to learn all about them and prepare to be inspired!

Nicole Harris
Owner of Tiny Greens Farm, East Fishkill
During my personal healing journey with chronic Lyme disease and my career in holistic health, my husband and I started growing our own food. Ten years and two children later, I decided to start growing nourishing food for our community in addition to working as a certified clinician in whole food nutrition and as a nutritional therapy practitioner. I started Tiny Greens Farm in 2020; we are a woman-owned micro farm that provides high-quality, hyperlocal, sustainable, and soil-grown microgreens, edible flowers, and gourmet lettuces that are healthy and fresh 365 days a year.
We primarily sell our products to chefs and restaurants in the Hudson Valley, but people can purchase our produce from Adams Fairacre Farms in Wappingers Falls, Nature's Pantry in Fishkill, Obercreek Farmstand in Wappingers Falls, Marbled Meat Shop in Cold Spring, and Fishkill Farms' farm store. I also offer a local delivery microgreen salad subscription.
Favorite career moment?
There are many, but connecting with our Hudson Valley customers, chefs, farmers, store managers, and business owners has to be my favorite.
When you're not working, where can we find you?
At home with my sons, drinking a raw milk latte, and finding a few minutes to meditate.
Favorite podcast?
"On Purpose" with Jay Shetty and "Beyond Labels" with Joel Salatin and Dr. Sina McCullough.
Last great movie or series you watched?
"Blippi"—just kidding!
What book is on your night table?
Drawing the Line: How to Achieve More Peace and Less Burnout in Your Life by Kate Crocco and Nourishing Traditions by Sally Fallon Morrell.
If you weren't in your current career, you'd be…
A homemaker and full-time homesteader.
Adasha Gittens
Owner of Dash Events, Party Rentals & Photo Booths, Middletown
When I was a child, my grandmother had a group of friends called the Jolly Girls. They hosted trips and fabulous events. My godmother used to have tea parties in her backyard with girlfriends and my aunt taught me how to set a table and create desserts for my slumber parties. I was inspired by those experiences.
Before beginning my career in event planning, I worked in sales and marketing for Kodansha USA, a subsidiary of one of the largest Japanese book publishing companies. I started Dash Events about 20 years ago while living in New York City; I brought my business with me to the Hudson Valley in 2016, and now oversee a small team.
At Dash Events, our mission is to transform ordinary occasions into extraordinary experiences. We plan weddings, sweet sixteens, bar and bat mitzvahs, baby showers, fashion shows, celebrity car shows, and more.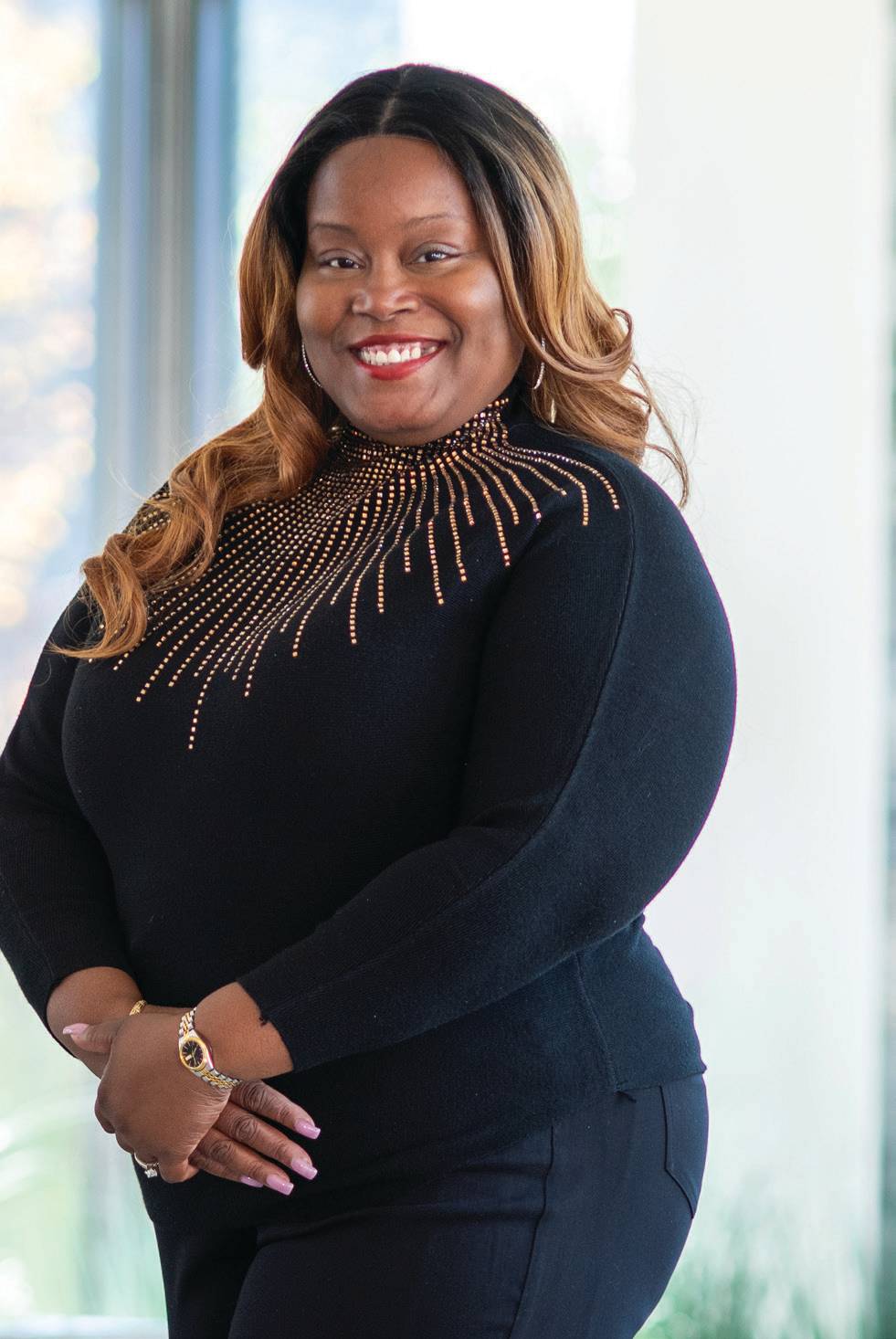 Favorite career moment?
My daughter and I hosted a fashion show to raise money for Memorial Sloan Kettering Cancer Center's Pediatric Department. We received a letter from one of the parents of a child who lost an eye due to cancer. She said walking the runway and experiencing outstanding support was a life-changing experience for her child.
Favorite podcast?
"The Casey Crew" with DJ Envy and Gia Casey.
Favorite phone app?
FaceTime.
Last great movie or series you watched?
I am currently watching "Chicago Fire." I truly appreciate firefighters' commitment to saving lives while risking their own.
What book is on your night table?
The Light We Carry: Overcoming in Uncertain Times by Michelle Obama, and Dapper Dan: Made in Harlem by Daniel R. Day.
If you weren't in your current career, you'd be…
A lawyer. My family calls me ADA (asst. district attorney) Gittens!
Charlotte Van Horn
President of Tri-State Drywall & Acoustical Inc., Port Jervis
After receiving my BA in accounting from SUNY New Paltz, I started to work for a small contractor. I found that I liked construction, but the company that I was working for did not have room for job growth. I knew that I wanted to eventually start my own company and that I wanted to continue in the construction industry. In 2005, I decided to leave and start Tri-State Drywall & Acoustical with two business partners. I wanted to build something that I could leave for my children, a legacy.
We specialize in commercial construction, and offer services that include metal framing, drywall, insulation, taping, painting, acoustical ceilings, doors, frames, hardware, and a range of specialty and custom ceilings.
Favorite career moment?
Buying out my last partner (and finally having full ownership of the company), and being a part of the LEGOLAND Project.
When you're not working, where can we find you?
At our lake house in Glen Spey with my family—or traveling. We try to travel at least three or four times a year. I want to see as much of the world as possible.
Favorite phone app?
I don't have one. When I'm not at work, I try to disconnect from electronics.
Last great movie or series you watched?
I just finished "The Last Kingdom" series on Netflix.
What book is on your night table?
Razor 3: A Night Stalker's Wars by Alan C. Mack.
If you weren't in your current career, you'd be…
I thought I wanted to be an accountant, but after being in this business I really can't see myself in any other career. It's pretty spectacular to drive by an amazing building and be able to say, "We built that."
Stacey Lamar, Dr.P.H.
Owner of Sadie's Place NY, LLC, Poughkeepsie
I was a midwife in the Hudson Valley for many years and then went back to school for my doctorate in public health. During this time, my grandmother, a retired nurse (and my mentor and hero) was diagnosed with Alzheimer's and Parkinson's diseases. My family had no place for her to remain safe except a local nursing home. She died there, which was heartbreaking.
I opened my business—Sadie is an acronym for Social Adult Daycare Is Essential—in September 2017. Although social adult day services are not a new concept, I didn't see anything that truly met the needs of the population in Poughkeepsie. With my healthcare background, I created a business that I believe is more tailored to client and caregiver needs. The Poughkeepsie location serves as a pilot; I expect to open more in the future.
In addition, because I am passionate about avoiding caregiver burnout, I opened The Source NY above Sadie's Place. It's a meta energy studio where we offer guided meditation and other metaphysical modalities.
Favorite career moment?
Delivering my first baby, passing my certifications, and being cut loose into healthcare as a provider.
Favorite phone app?
Spotify. I listen to music more than anything else.
Last great movie or series you watched?
I recently watched the film "Where the Crawdads Sing" and enjoyed that.
What book is on your night table?
The Pillars of the Earth by Ken Follett. I've actually read it twice and am prepping to read it again.
If I wasn't in my current career, you'd be…
Nursing is in my DNA. So whatever I do it will be in service to others.
Christine Pellegrino
Owner, Pellegrino Healing Center and Pellegrino Integrative Cancer Center, Hyde Park
The origin of my business came from my desire to help as many people as possible. I wanted to create a space where other gifted practitioners could join me and help more people than I could alone. I opened my solo acupuncture practice in 2017. When I saw an increase in demand for my services, the vision of creating a multifaceted, integrative team in a beautiful space came to life. In 2018, I opened Pellegrino Healing Center, a health and wellness facility which offers acupuncture, massage, meditation, intuitive energy healing, yoga, laser therapy, nutrition, healing skin care, a salt cave, a sauna, and more.
I opened Pellegrino Integrative Cancer Center in 2021. We offer advanced therapies such as ozone therapy, vitamin infusions, booster shots, and genetic, food, and hormone testing. My practice has grown steadily, as has the size of my team. I started with a staff of 12 and now have 27 in side-by-side buildings.
Favorite career moment?
From hearing that a patient can sleep through the night to learning that someone who was struggling with fertility gave birth to a healthy baby—these are the moments that fill my heart with joy.
When you're not working, where can we find you?
Relaxing with my husband while we explore amazing restaurants around the Hudson Valley.
Favorite podcasts?
"Elevation" with Steven Furtick and "Chris Beat Cancer."
Last great movie or series you watched?
The Netflix series "Live to 100: Secrets of the Blue Zones."
What book is on your night table?
You're Going to Make It by Lysa TerKeurst and How Not to Die by Michael Greger, M.D.
If you weren't in your current career, you'd be…
A holistic nurse practitioner.
Jocelyn Zimmer
President of Zimmer Brothers Jewelers, Poughkeepsie and Rhinebeck
I am the first female president of a fine jewelry store that has been a pillar of the Hudson Valley for 130 years. I joined the company in 2001 as the fifth generation of the family business and have worked directly with my father, Michael Gordon, for the last several years to help expand the business. Specifically, I developed and promoted our e-commerce platform, which dramatically increased our sales, and oversaw the opening of our second shop in Rhinebeck. Being part of something that my family has built is such an honor.
One thing I've enjoyed doing recently is collaborating with global nonprofits, Moyo Gems and Gem Legacy, that support women artisanal miners in East Africa. Their efforts include making sure these women get fair prices for their goods as well as vocational, entrepreneurial, and community development.
Favorite career moment?
Selling my first engagement ring. It was the first time I was able to be part of someone's love story.
When you're not working, where can we find you?
At a Starbucks drive-thru with one of my daughters or going for a walk in the woods.
Favorite podcast?
"The Moth Radio Hour." I have love listening to people's interesting life stories.
Favorite phone app?
The camera app—I'm always taking photos—and Spotify. My top playlist right now is '90s Skater Rock.
What book is on your night table?
A Carnival of Snackery by David Sedaris. It's hysterical and in a diary format which makes it easy to pick up and put down—perfect for me because I tend to read three pages and fall asleep!
If you weren't in your current career, you'd be…
A singer/songwriter.
Gerda Maissel, M.D.
Founder of My MD Advisor, Pleasant Valley
I started my business to help people with complicated medical issues get better care. I worked as a physician and health system leader for many years, including being president of a 500-person medical group in a moderate-sized health system in Florida. In the summer of 2020, I came back to the Hudson Valley to work remotely. My mother, who was living in New Paltz, was isolated and not doing well. I decided to move back to the Hudson Valley permanently and combine my clinical and business knowledge to create a private patient advocacy business that provides medical navigation.
When you're not working, where can we find you?
In my garden or hiking with friends or family in the Hudson Valley.
Favorite phone app?
My husband is amused that I like Weather Puppy and Weather Kitty. You get an hourly weather forecast—important for gardening and hiking—and a cute dog or cat pic. What could be better?
Last great movie or series you watched?
Netflix's "The Crown" series. My mother is English and was in London during the Great Smog of 1952. I had never heard of it, but she remembered it well.
What book is on your night table?
I'm a big fan of Ken Follett and enjoyed the Kingsbridge series. I'm now reading Fall of Giants which is set in WWI.
If you weren't in your current career, you'd be…
A leader of a nonprofit or maybe a writer or travel blogger. But I love what I do and feel like I'm in exactly the right place. It's a pleasure to enjoy what you do, be good at it, and get paid for it, too.
Caroline Yip Spindel
Co-owner of The Rock Shop, Nyack
I opened The Rock Shop Nyack during the pandemic with my husband Jeff and our business partner Dylan Kelehan. I handle our finances, customer service, managing lessons, overseeing our rental, retail, and repair departments, and public relations. When many businesses were drowning, we decided to swim upstream and create a music school.
The core of our mission is instruction. We are currently serving about 140 music students of all ages each week. We are rock 'n' roll themed, but we teach all major instruments and all forms of music, as well as classes in audio production. As a local music shop, we are here for all your retail needs. Three years in, our dream of bringing our love of music and local community has turned into a thriving business.
Favorite career moment?
Every day I see the smiling faces of students and parents. Bringing positive changes to the young ones has truly been a blessing.
When you're not working, where can we find you?
At home chilling with our dogs, cooking, and spending time with friends and family. I also love going to local concerts.
Favorite podcast?
"Dateline NBC," "SmartLess," and "The Rachel Hollis Podcast."
Last great movie or series you watched?
The series "Beef," "Bridgerton," "Queen Charlotte: A Bridgerton Series," and "Somebody Feed Phil." All on Netflix!
What book is on your night table?
Lady Tan's Circle of Women by Lisa See and Crying in H Mart: A Memoir by Michelle Zauner.
Colonel Brianna Perata
Commander of Keller Army Community Hospital and director of the West Point Health Service Area, West Point
As director of the West Point Health Service Area, I oversee the United States Military Academy's health system. We provide exemplary services to over 12,000 Hudson Valley residents—military, dependents, and retirees—through our emergency department, urgent care clinic, outpatient pharmacy, behavioral health clinic, and many specialty clinics.
Located at West Point (the Army's oldest continuously operating base), Keller Army Community Hospital provides patient-centered care to the West Point community. We host the Department of Defense's only Orthopaedic Sports Medicine Fellowship and the Army-Baylor Sports Medicine Physical Therapy Fellowship. We conduct over 1,000 commissioning physicals every year, support four health service areas throughout four states, and provide support to the Army Reserve.
Favorite career moment?
Nothing has been more of honor than the opportunities I've had to re-enlist and promote our soldiers. Their devotion to service and our great nation makes a difference. I'm grateful each day for the opportunity to serve alongside them.
When you're not working, where can we find you?
If I'm not on my porch with my husband, I'm cheering for my sons at their soccer, football, and baseball games, or rooting for the U.S. Military Academy Black Knights. Go Army!
Favorite podcast?
"WarDocs," a military medicine podcast.
Favorite phone app?
Samsung Health keeps me accountable.
Last great movie or series you watched?
The Apple TV+ series "Ted Lasso." Believe!
What book is on your night table?
I have two: The Happiness Advantage by Shawn Achor and The Grit Factor: Courage, Resilience, & Leadership in the Most Male-Dominated Organization in the World by Shannon Huffman Polson.
If you weren't in your current career, you'd be…
A florist. Creating bouquets is so therapeutic.
Cecille Castillon-Weinstein
Founder and CEO of Pepper Executive Concierge, New Paltz
Pepper is a lifestyle management company that offers services such as small business operations management, event planning, home and business concierge services, and professional organizing. I started my company in 2018 and rebranded it to Pepper Executive Concierge in 2021; I currently manage a small team.
As a former nurse and healthcare worker, I've always been passionate about caring for others and driven by a desire to make a meaningful impact on people's lives. This idea was integrated into my business where I saw an opportunity to connect with my community personally and professionally. Through Pepper, I've been able to extend the concept of bayanihan, a Filipino tradition of people coming together to help one another.
Favorite career moment?
My favorite one is the "reveal." It's that magical moment when our clients first witness the fruits of our labor. Stress turns to relief. Apprehension becomes happy excitement. Examples are turning a cluttered room into a nursery and transforming a storage room into an art gallery.
When you're not working, where can we find you?
At New Paltz Karate Academy, mastering my katas. Or with my dog, either walking or cuddling.
Favorite phone app?
WorldRemit. It enables me to send money to my family overseas at a very low cost.
Last great movie or series you watched?
The 2016 film "Arrival."
What book is on your night table?
Rich Dad's Cashflow Quadrant: Guide to Financial Freedom by Robert Kiyosaki. It was recommended to me by my karate teacher.
If you weren't in your current career, you'd be…
A creative director for a sustainable fashion line empowering weavers, artisans, and designers from the southern Philippines.
Christine Kelley
Co-founder of Freefall Sangria, Wallkill
I eat, sleep, and pretty much bleed sangria! It all started when we used to make wine in our basement, distill moonshine in the backyard, and put it all together with local fruits to give to our friends at our local skydiving drop zone. (At the end of the day, after jumping of course.) Everyone always went crazy for it and we couldn't make it fast enough, so we figured we would take a risk and see what the general public thought. Luckily, they liked it as much as our friends!
When you're not working, where can we find you?
With my partner Tom Falzone, my family—including my four grandchildren who mean the world to me—and a phenomenal group of friends. You can also find me skydiving, which I really need to do more often.
Favorite podcast?
NPR's "How I Built This" has such great stories from very successful entrepreneurs.
Favorite phone app?
FaceTime so I can stay connected with everyone even if I'm swamped with work.
Last great movie or series you watched?
The movie "A Million Miles Away." The biopic of José M. Hernández is great story of fulfilling a dream through dedication, sacrifice and perseverance. If you reach for the stars, you can actually get there.
What book is on your night table?
Atomic Habits: An Easy & Proven Way to Build Good Habits & Break Bad Ones by James Clear and Grandma Gatewood's Walk: The Inspiring Story of the Woman Who Saved the Appalachian Trail by Ben Montgomery.
Chelsea Streifeneder
Owner of Body Be Well Pilates, Catskill, Coxsackie, and Red Hook
I started Body Be Well Pilates in a tiny space with one reformer when I moved back home to Red Hook from Los Angeles after becoming certified to teach Pilates. I knew I didn't want to do this alone, so I also ran a certification program out of the studio and hired teachers. We started adding small classes and then expanded our Red Hook location. In the meantime, we opened the Catskill studio and I started to build the amazing team that makes Body Be Well Pilates what it is today. We added an athleisurewear boutique (which my sister co-owns) and recently found a new home for our third location in the James Newbury Hotel in Coxsackie.
Favorite career moment?
Hiring my mom and my sister and being my own landlady with the Red Hook and Catskill buildings.
When you're not working, where can we find you?
Walking in the beautiful Hudson Valley, hanging out with my nephews, or in my kitchen creating recipes for my "Heathyish in a Hurry" blog/Instagram.
Favorite podcast?
"SmartLess," "Stuff You Should Know," and TED Talks.
Favorite phone app?
Instagram.
Last great movie or series you watched?
The shows "Yellowstone" and "Succession," and the movie "Dirty Dancing."
What book is on your night table?
A few: Grit: The Power of Passion and Perseverance by Angela Duckworth, Leaders Eat Last by Simon Sinek, and Give and Take: Why Helping Others Drives Our Success by Adam Grant. I also have a notebook and pen so when I wake up at 2:30 a.m. with amazing ideas, I can write them down.
Jasmin Davis
City Chamberlain of Poughkeepsie
After graduating with a bachelor's degree in public relations in 2010 from Long Island University, I began a career in marketing and events. (This past May, I also received my MBA from Syracuse University!) Most recently, I worked as the assistant marketing director for the Poughkeepsie Galleria for almost four years before beginning the once-in-a-lifetime role of city chamberlain in March 2021.
I was appointed to my current position by former mayor, now New York State senator, Rob Rolison. I'm honored to serve as a department head in City Hall and to provide quality services to meet the needs of city residents and business owners in an effective, efficient, and timely manner. I take great pride in being the records management officer and working directly with the City of Poughkeepsie Common Council.
Favorite career moment?
Securing the first-ever $50,000 grant for the City of Poughkeepsie's Office of Vital Statistics for the preservation and digitization of the city's historical records. This project helps move the city into the digital age while supporting green initiatives and sustainability for future generations.
When you're not working, where can we find you?
On vacation! My last trip was to two of the most beautiful places in the world—Dubai and Thailand!
Favorite phone app?
I'd be lost without the calendar app.
Last great movie or series you watched?
"The Gilded Age" on HBO. I love historical series and it has been quite interesting to see the dramatized version of the social lives of some of the Hudson Valley's most famous former residents.
What book is on your night table?
Sunny Hostin's Summer on Sag Harbor.
If you weren't in your current career, you'd be…
An international public relations magnate, travel influencer, and socialite! I visualize myself on Bravo's "The Real Housewives of New York" in the future. (Here's looking at you Andy Cohen!)
Sarah Dwyer-Shick
Founder of The Sports Bra Project, Beacon
After playing multiple sports in high school and college, I spent the first half of my career coaching college soccer and I'm now working in youth games. While more girls play than I could ever have imagined, there are still barriers to participation, such as sports bras not being part of standard equipment. I started The Sports Bra Project to ensure that girls and women's access to sports continues to grow. Most of the sports bras we distribute come from donation drives hosted by youth, college, and professional teams. To date The Sports Bra Project has supported more than 15,000 athletes from recreational to national team level in 35 countries. In 2022, 65 percent of the sports bras distributed were to U.S.-based organizations.
Favorite career moment?
Presenting The Sports Bra Project at The Equality Summit in Australia. The first person I saw was Billie Jean King. Spending the day with her and 150 women from around the world all working to grow opportunities for women in sports was truly special.
When you're not working, where can we find you?
I love to explore the history and the many hiking and outdoor spaces in the Hudson Valley.
Favorite phone app?
WhatsApp lets me stay connected with friends and family around the world.
Last great movie or series you watched?
I saw the premier of "Ayenda" at the Tribeca Film Festival last spring. It's the story of the escape of the Afghan Women's Youth soccer team to Portugal after the Taliban took control.
What book is on your night table?
Achieving Excellence by Colleen M. Hacker.
If you weren't in your current career, you'd be…
I'll let you know when I figure that out!
Jess Kravit
Founder and CEO of Exalted Alchemy and River Valley Guild, co-founder of Dream Valley, Beacon
Exalted Alchemy is the first business I started in January 2020. I'm a clinical herbalist and I create wellness products. Infusing elements of the earth into our daily routines can offer a lot of support both physically and emotionally. This led me to start River Valley Guild (RVG) in October 2020, as I was looking to strengthen a community of creative entrepreneurs in the Hudson Valley. The RVG is an interdisciplinary creative collective, comprised of artists and entrepreneurs. What started as a group of friends has blossomed into the Hudson Valley's hub for creative connection, collaboration, networking, events, and support. Since starting the RVG, I've met so many incredible people and made wonderful friendships. It was through the Guild that I met Decora Sandiford, who is now my co-founder and business partner in Dream Valley, a full-service event production company we started in 2022.
Favorite career moment?
Our parties for RVG and Dream Valley always leave my heart really full.
When you're not working, where can we find you?
In my painting studio, at the gym, or catching up with friends and family. You'll often find me in a booth at Quinn's in Beacon!
Favorite podcast?
My best friend Mya's pod "Codependents." I also started my own podcast this year with RVG, where we feature our members and partners discussing their ventures, projects, and inspirations. It's called the "#GuildGang Podcast."
Last great movie or series you watched?
I'm rewatching "Charmed." I first watched the series in 2019 while I was developing products. I named our signature face oil after the show.
What book is on your night table?
The Creative Act: A Way of Being by Rick Rubin.
If you weren't in your current career, you'd be…
A full-time artist. I love painting.
Lisa Wilson
Executive director of Hudson Valley Hospice Foundation and VP of marketing of Hudson Valley Hospice
After over two decades in financial services operations, this is my second act and I could not be more passionate about it. Inspired by my mother and grandmother, who supported their communities in so many ways, I was delighted when the Board of Hudson Valley Hospice Foundation's search committee chose me to be their next executive director in 2014. In May 2020, I was asked to take on the additional role of vice president of marketing. The synergies between the two are endless, as we raise awareness and take the stigma out of that "H" word.
We launched an Advance Care Planning Program to help people understand how important it is to make their wishes known should they not be able to speak for themselves, to engage and give our community the tools and support to have what we know are hard conversations. In addition, through the efforts of the Foundation and our generous supporters, we launched a capital campaign for the first Hospice House to serve Dutchess and Ulster counties. It has 14 beautiful, self-contained suites opening onto a meditative garden with everything needed to provide every level of hospice care and will hopefully be open by the end of the year.
When you're not working, where can we find you?
On the beach with a book.
Favorite podcast?
"End Well."
Favorite phone app?
Instagram.
Last great movie or series you watched?
"Love Actually."
What book is on your night table?
We All Want Impossible Things by Catherine Newman, In Love: A Memoir of Love and Loss by Amy Bloom, and The Lost Kitchen by Erin French.
If you weren't in your current career, you'd be…
A writer.
Charise Isis
Founder, photographer, and executive director of Grace Goddess Inc. (The Grace Project), Kingston
For years I ran a business that specialized in boudoir photography. In 2008, The Poughkeepsie Journal ran an article about my work and interviewed clients who spoke highly of their empowering experiences. Shortly after the story ran, a man booked a shoot for his wife. She was a beautiful 62-year-old who wanted to stay covered up because she was ashamed of her mastectomy scars. Yet she let go during our session, threw off her shirt, and said she was doing it for herself. It was the most powerful moment I had experienced and so cathartic for her. So, I began The Grace Project and set out to photograph 800 portraits to represent the daily number of breast cancer diagnoses in the U.S. In 2020, I established the Project as a nonprofit; I now exhibit the photographs around the country, giving breast cancer survivors the transformative experience of revealing their scars. I'm very close to reaching the 800th portrait but will continue doing this work until breast cancer is eliminated.
When you're not working, where can we find you?
Either in my bathtub, enjoying a FUN IPA at Keegan Ales, or having a bite at Sonder.
Favorite podcast?
"Wiser Than Me" with Julia Louis-Dreyfus.
Last great movie or series you watched?
"Stanley Tucci: Searching for Italy" was a delicious series! And, of course, "Barbie."
What book is on your night table?
M Train by Patti Smith. I love biographies and memoirs.
If you weren't in your current career, you'd be…
I can't imagine doing anything else.

Monali Verma
Founder and owner of Robotics4U, Florida and Wappingers Falls
I have an engineering degree and worked in IT until I stepped away from my job to raise my two kids when they were young. It was during this break that I realized my passion to teach! When I went back to work, I held positions as an elementary computer lab aide for the Chester Union Free School District, a sub in Goshen, and the district registrar for the Pine Bush CSD. I currently work in the department of information services for the Monroe-Woodbury CSD.
I was trying to find a robotics class for my son when he was in fourth grade, and there were none in the area. I launched Robotics4U in October 2018 with five students; we currently have over 80 students at our primary branch in Florida, and we opened a second location in Wappingers Falls in January 2022. We offer classes for children in pre-K through ninth grade, using a variety of robotics kits. Every class is a place of innovation where students practice STEM and robotics skills that will prepare them for college and a career in the tech world.
Favorite career moment?
Conducting an open house for LEGOLAND in 2019.
When you're not working, where an we find you?
Vacationing with my family, watching Bollywood movies, taking long walks with my husband, trying my hand at photography, and watching interior designing shows.
Favorite podcast?
"Success Stories." I am always intrigued to know how a business started from a vision to inception to success.
Favorite phone app?
The calendar!
Last great movie or series you watched?
"Suits." I can totally relate to the series as it can be mundane and then suddenly thrilling—just like running Robotics4U.
If you weren't in your current career, you'd be…
A motivational speaker. I'd love to inspire others to dream more and help them unlock their potential!