Photos by Maine the Way, Christine Reighley
A drive along the Hudson Valley's country roads leads to this quiet Clinton Corners farm, which is a dream for weekend escapes and small-scale events.
Rambling down the county roads on the way to Willow Farm feels like getting lost. On quiet streets lined high with towering trees, dirt-path driveways branch off to houses set far back enough to be nothing more than a fleeting glimpse from the main stretch of pavement.
It's here in Clinton Corners that Willow Farm, a 35-acre retreat and event venue that opened to the public in fall 2020, makes its home. Located in a quieter corner of Dutchess County, the farm is one of the region's under-the-radar gems.
"Willow Farm is a perfect backdrop for a small wedding, a family reunion, or a much-needed friends' weekend away," notes owner Lynn Byrne. An author and playwright with an off-Broadway play opening this year, Byrne purchased the farm over 20 years ago in 1998 as a meeting place for friends and family to celebrate special occasions in the Hudson Valley. As the years progressed, she realized the home would be ideal as an overnight and event venue for those looking to plan unforgettable occasions in upstate New York.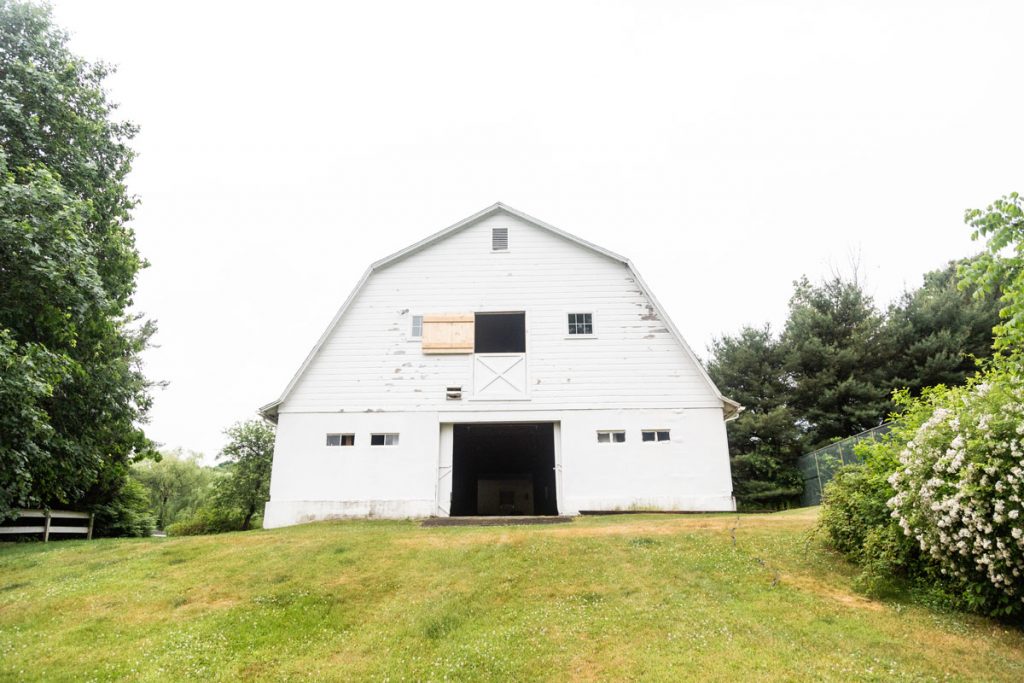 So, she began the renovation and restoration process to transform the historic country home into a one-of-a-kind Hudson Valley retreat. Because the original section of the house dates back to 1828, Byrne worked to keep its roots alive via authentic touches and thoughtful details.
"During restoration, the builders found old doorknobs and old doors to keep the authenticity of the home," she explains. "When the kitchen was enlarged, original pine flooring from the attic was brought down and used for the present kitchen floor."
All together, the home is comprised of the 1828 section, plus a second section that was built a few decades later in the 1900s. Nowadays, it stands as a charming maze of rooms and cozy corners that delight during weekends away. It contains a total of nine bedrooms, six full bathrooms, and two half baths, making it ideal for staycations with family and friends (it can sleep up to 19!). The kitchen is open and inviting with an elegant stove and farmhouse sink, while the laundry room nearby was once the summer kitchen for the original house. On the ground level, multiple living room areas welcome opportunities for lounging and entertaining. Upstairs, the second and third floors play host to the majority of the home's bedrooms, all of which are decorated with vintage furniture and elegant country-chic décor.
Because it was originally Hicks Farm, a reputable farm with milking cows and horses, the property also boasts a stunning, converted two-story cow barn along the breezeway to the tennis court at one end of the property. With rich wood panels, an open upper floor, and a total of 3,200 square feet of space, it's the perfect place for small weddings, celebratory dinners, and bridal and baby showers of up to 50 people. As for the tennis court, it's just as open for playing a game as it is for a tented event outdoors.
And did we mention there's a pool, too? In warmer weather, Willow Farm opens its inground pool for swimming and luxuriating in the secluded Hudson Valley countryside. There's also a hot tub nearby, not to mention a serene pond and verdant gardens that are just as lovely for afternoons spent reading outside as they are for celebratory photo ops.
Of course, because it's located centrally in Clinton Corners, Willow Farm is an easy 20-minute drive away from popular towns like Rhinebeck and Red Hook, where a wealth of restaurants, shops, and historic sites await. Clinton Vineyards and Millbrook Winery are both nearby and top picks for weekend wine tours in the Hudson Valley.
During the COVID-19 crisis, Byrne and her caretakers do all they can to ensure each stay is safe and comforting for all. In addition to spacing out stays and requiring three-day minimum bookings, she and her team deep-clean the property after every occupancy. Overnight accommodation requests can be made through Airbnb or the farm's Instagram page, the latter which is also the place to learn more about booking any larger events.
Looking ahead, Byrne hopes to continue to make Willow Farm a destination for crafting unforgettable memories in the Hudson Valley.
"We look forward to hosting people for their special occasions," she says. "We hope they are able to create special memories at Willow Farm as we have done over the years."
Willow Farm
Clinton Corners