Tell us a little bit about yourself and Derek.
I am originally from the Hudson Valley and am a wedding photographer. I would say I definitely fit the stereotype of an artist with a free spirit. Derek is originally from Boulder, Colorado, so he is in love with almost any outdoor activity. He is a civil engineer by trade and is extremely logical and methodical when it comes to his work. We met in Syracuse in 2015. I was in town helping my best friend from college with her bridal shower. At the time, she volunteered at Hopeprint in downtown. Derek also volunteered there, and one night we met by chance. The rest is history!
Once you started planning your wedding, were there certain things you knew you wanted?
We both definitely wanted to be married in a beautiful landscape. I also wanted to be photographed by my mentor, Katelyn James. At first, we were thinking of a spring wedding, but when we decided to push it to fall, we felt it was really a fit for us. We both love apple picking, eating pumpkin-spice anything, and the warm colors.
How did you find Red Maple Vineyard?
I had worked as a photographer in the area for years, so I was familiar with the region. My parents had attended a wedding at Red Maple Vineyard a few years before, and they felt it was totally our vibe. They also serve farm-to-table food, which is another thing we love.
As a wedding photographer, did you find you had a unique point of view on planning?
There were moments I felt like a photographer who was super informed. And there were moments I felt like wow, this is what all my brides experience behind the scenes and I had no idea. As a photographer, I definitely had an eye for detail during the planning process [and thought about] what would photograph well. I thought about having a clear color palette to our day because it would influence all the details. We went with merlot, peach, and gold. Our makeup artist, and DJ were vendors I worked with a ton before. I had also worked with our hair stylist and our florist was a family friend. As our big day approached, Derek and I noticed that the weather was not going to be favorable. I pulled out all the stops like I would for clients. I brought boots and bought our entire bridal party clear umbrellas.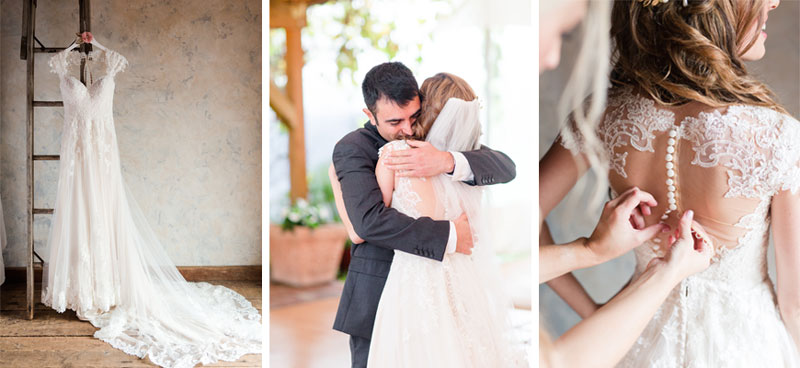 Your dress was so beautiful. How did you find it?
I had a Pinterest wedding board, and I pinned [all these dresses] with lace backs and long lace trains. I realized that almost all the ones I pinned were from Essense of Australia. I picked out several lace dresses, and, as soon as I put on "the one," my mom and I knew that was my wedding dress. The way the bodice fit my top, the way the lace and buttons looked in back, the way the train fell so gracefully — it was amazing.
What's one moment from your wedding day that felt extra special?
I'll never forget our first look. It was raining cats and dogs and our photographer suggested doing our first look in our ceremony space under the tent. It wasn't how I'd imagined it, but when I saw Derek standing at the head of what would be our aisle and I listed to the rain falling on the tent, I knew that moment was exactly as it was supposed to be. I was in tears before I even touched his back.
Photography: Katelyn James; www.katelynjames.com | Venue: Red Maple Vineyard, West Park; 845.384.3057; www.redmaplevineyard.com | Florist: Plants and Things, Mount Kisco; 914.666.7170; www.plantsandthingsfloral.com | Rentals: Hudson Valley Vintage Rentals; 917.804.9874; www.hudsonvalleyvintagerentals.com | Catering & Cake: Corner Stone Caterers, Rye; 914.933.0177; www.cornerstonecaterers.com | Invitations: Betty Lu Paperie, Fairhope, AL; www.bettylupaperie.com | Dress: Essense of Australia (www.essensedesigns.com) purchased at Majesty Bridal, Danbury; 203.730.1784; www.majestybrides.com | Bridal Hair: Brittney Weiss, Beacon; 845.797.2109; www.bwbridal.com | Bridal Makeup: About Face by Meredith Hayman, Yorktown Heights; 646.418.5445; www.aboutfacebymeredith.com