Photos by Light in the Dark Photography (Kira Spencer), courtesy of Alkmini O'Brien (For the Love of Details LLC)
Fall in love with the fun-filled festival format of this naturalist ceremony and lively reception at Gather Greene in Coxsackie.
Music is the language of love. It's what pulled Carly and Eric Daneman together, and it's what shaped their one-of-a-kind Hudson Valley wedding.
"I play guitar and sing in a bluegrass band, Dark City Strings. Carly happened to be at one of my shows," Eric recalls. "Six months later we're dating, and another few years after that we were married."
The pair actually knew each other in high school, but were more acquaintances than high school sweethearts. They both grew up in Asbury Park, New Jersey, where they live to this day. However, the Hudson Valley has always been an important place for them.
Certainly, Eric developed his fervent passion for music attending festivals with his father. He attended his first show as early as six years old. Their favorite, the Grey Fox Bluegrass Festival (formerly known as the Winter Hawk festival) in Oak Hill, revealed the beauty of Greene County. Once he and Carly started dating, the Catskill Mountain jam became their tradition.
"Driving up 87 always always sparks good feelings and nostalgia. We're always doing something…camping, snowboarding, concerts," Eric says of his and Carly's jaunts in the Valley. "We've gone to a bunch of different other festivals around the around the country, mainly focused around bluegrass." Over the years, they experienced the Northwest String Summit (Portland, Oregon), DelFest (Cumberland, Maine) Strings&Sol (Puerto Morelos, Mexico), and many others.
Living on the beach, they listen to live music nearly every week. Plus, according to Eric, Carly sings even better than he does. So, the two often play and perform together.
However, there was one music-filled experience the two hadn't conquered yet: a wedding.
"I asked Carly if she wanted to go on a bike ride with me. I led her to this place called the Asbury beer garden. Well, all of our friends and family were at the rooftop bar, watching the affair," he recalls. 
They rode over a bridge, and he asked to stop and take a photo. By the time she turned around, he was on one knee. That's when the tears began flowing.
After much celebration, they started thinking about their ideal ceremony.
"I always envisioned kind of getting married in sort of a naturalistic, woodsy setting. We didn't really go into the planning process with a certain idea," Carly remembers. "We wanted something a little more open and a little more unique."
Enter, Gather Greene: the first and last venue Carly and Eric visited.
At the suggestion of their wedding planners, Alkmini O'Brien and Whitney Long, the couple spent a night at Gather Greene. In fact, they fell in love with the feeling of seclusion in nature. They stayed in one the 17 onsite cabins, in which grand picture windows look out at verdant forests. Similarly, outdoor decks offer brilliant Berkshire mountain views.
Above all, this Coxsackie destination presented a blank canvas on which the couple could paint whatever they wanted. Everyone in the wedding party could spend the weekend in adjacent cabins. Paired with a gorgeous pavilion, Gather Greene presented the perfect recipe to emulate what Carly and Eric love the most.
So, they planned a music festival for their wedding.
First, there was the décor. Their planners, For the Love of Details, lived up to their name. They assembled a slew of vendors and artists from New Jersey and the Hudson Valley to curate a festival atmosphere. Wildflowers, antique furniture, rustic wood tables, and vintage rugs added to the bohemian bluegrass vibe. Attendees wore wristbands marked with their name and table number. They also found custom Kleen Kanteens at table settings.
"Specifically at Grey Fox Bluegrass Festival, people claim their campsites and name them. Likewise, they usually display this with a tapestry," Carly says. To do something similar, the couple enlisted the help of their friend, Ashley McFarland. A fellow festival-goer, the artist painted a massive work representing the couple's love for one another. Majestic mountains, colorful wildflowers, and a hopeful moon claimed the "campsite" for Carly and Eric.
In addition, every guest received a brochure and "festival map" upon arrival. Carly and Eric wrote a welcome letter together, and outlined a visual schedule. It even had tidbits on all of the bands playing the wedding.
So, the festivities kicked off July 9, 2021. The couple parked their old-school airstream on the grounds and prepared for the party of a lifetime.
"Once everybody started rolling up on Friday at like, 4 p.m., it was like a vacation for everyone. About 50 people came the night before. My band, Dark City Strings, played an impromptu set for everyone there," Eric explains, "and the merriment continued on through the wee hours of the night."
"Maybe for you," Carly jokes. She went to sleep a little earlier, preparing for an early start on Saturday.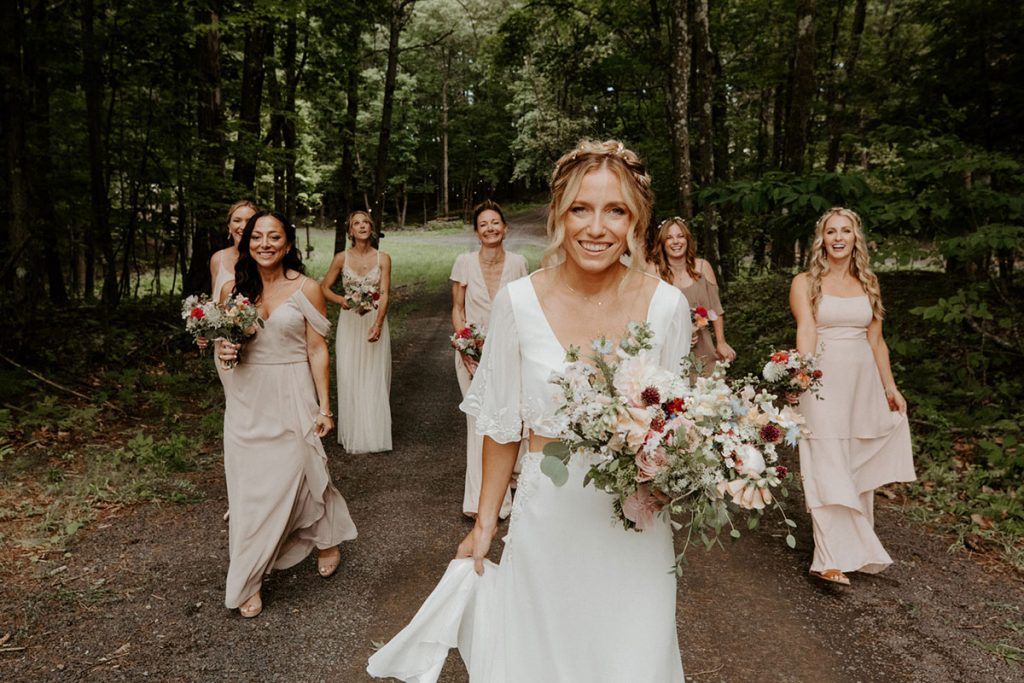 First, hair and makeup artists put on Carly's look for the day in Gather Greene's bridal suite. Her bridesmaids, her mother, and Eric's mom accompanied her. Next, she had a "first look" with her father, which was truly special.
Meanwhile, Eric got dressed. The couple rented golf carts to traverse Gather Greene's vast landscape. He met his bride-to-be down at the scenic rock quarry. Originally, their wedding was scheduled for July 25, 2020. Of course, the pandemic complicated things. However, it was all worth it for moments like this.
"It was really a surreal kind of feeling…two years of build-up leading to this moment," Carly says.
They enjoyed a magical walk through the woods after taking some pictures. After that, they met up with their wedding party and took even more photos. To truly bring the festival experience to life, For the Love of Details scheduled a long period of free time in the schedule. They spent a few hours wandering the grounds, taking in all the details, and listening to music before the rest of the guests arrived. In fact, Eric's bandmates set up their PA system.
"We put a really cool playlist together. And it was loud. So you could hear music wherever you went on the grounds, and it got everybody in that festival spirit," Eric recalls. Of course, another impromptu jam session broke out amid the wedding party. Groomsmen sang and strummed while bridesmaids danced through the fields. Excitement was everywhere.
Finally, it was time to welcome the other guests and begin the ceremony. The first band to take the stage, El Noordzo, was a favorite of Carly and Eric's. They spent many Asbury Park Sundays watching the psychedelic surf-rock band play. Many music festivals start things off with an instrumental group, so El Noordzo was the perfect opener. They performed for the ceremony and cocktail hour.
Eric vividly remembers hearing the band play "China Cat Sunflower" by The Grateful Dead in their own, unique way. This set the tone. They couple officially brought the artistic cultural experience of their home to the Hudson Valley.
"We both cried through the ceremony. We wrote our own vows, and shared a very emotional moment. And we had just beautiful, beautiful weather," Eric says.
After they tied the knot, it was time for the next act. For the reception, seven-piece jam band Waiting on Mongo performed. The funk group also hails from Asbury Park. Guests sipped specialty Moscow mules and jalapeno-pineapple margaritas. Of course, they rarely stopped moving as Waiting on Mongo put their own spin on classic tunes.
The wedding party entered to "(Your Love Keeps Lifting Me) Higher And Higher" by Jackie Wilson. Then, Carly and Eric had their first dance to "Loving You" by Railroad Earth, one of their favorite bluegrass groups. On the other hand, Eric danced with his mom to the tune of New Jersey's own Bruce Springsteen ("When You Need Me"). Other highlights included hearing "Dance to the Music" by Sly and the Family Stone, "The Shape I'm In" by The Band, and "Psycho Killer" by The Talking Heads. Plus, Waiting on Mongo played several original songs, including Eric's favorite "Shark Attack."
Later, they held a big bonfire afterparty down at the quarry area. Eric wrote a new song for Carly to cap off their first day as bride and groom. He and Dark City Strings serenaded her around the fire. After that, everyone enjoyed more food and drinks until late in the night.
Carly and Eric both recall watching the stragglers walk back to their cabins in complete darkness. However, glorious Greene County skies illuminated their path. Shimmering stars reflected off empty bottles of Jack Daniels. Like every music festival the attended before, they ended the night exhausted—but completely in love with each other.
Vendors
Wedding Planner: For the Love of Details 
Venue: Gather Greene
Caterer: Rhinecliff Event Catering
Floral Designer: Flower Scout
Invitations: Katherine Elizabeth Events
Specialties and Favors: Kleen Kanteen
Design/Décor: For the Love of Details
Music + Entertainment: El Noordzo / Waiting on Mongo / Dark City Strings
Photographer: Light in the Dark Photography (Kira Spencer)
Dress: Abagail Bride
 Hair: Boho Hair Salon
Makeup: Christina Delfino Makeup 
Shoes: Badgley Mischka
Jewelry: Marigold 
Bridesmaid Attire: Lulus, Bhldn, and Reformation
Groom and Groomsmen Attire: Tuxedo Den

Tent + Rentals: Events Unlimited
Lighting: Stortz Lighting
Furniture Rentals: North Country Vintage