Andrene Campbell and her husband, Derrick Walker, are hometown beaus. They both grew up in Mount Vernon in Westchester County. They lived within a few miles of each other and even attended the same high school. When Walker served in the military, he even spent time at Campbell's college.
Yet they never crossed paths.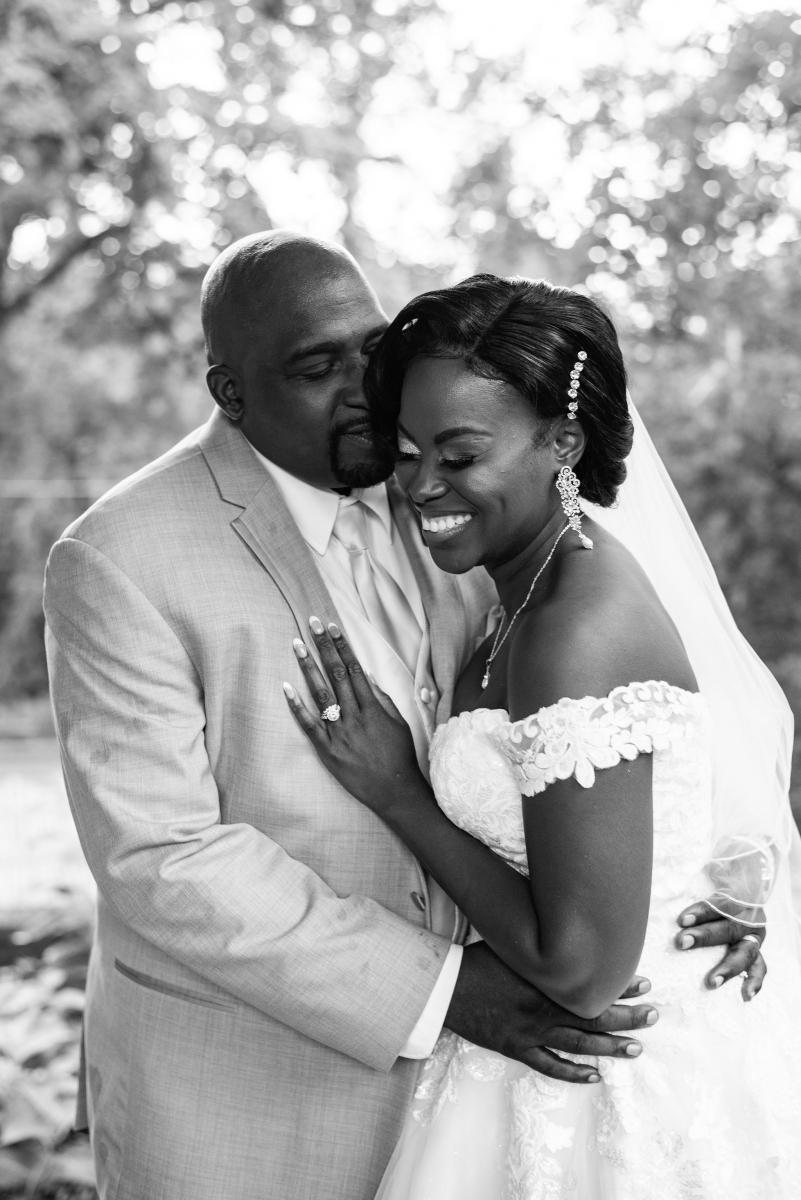 Six years ago, Campbell, a child and adult psychiatrist, spotted Walker's photo on an online dating website. In that moment, she knew he was the one.
"He looked so confident, trustworthy, and strong," she admits. After Walker, who works in sales, reached out to her, the duo quickly hit it off and started talking on the phone. During their very first dinner date, they wound up spending the entire day together and have been inseparable ever since.
On the morning Walker proposed, Campbell was asleep. When she awoke to a gentle nudge from her now-husband, she spotted him kneeling before her with a sparkling ring placed before her eyes.
"Of course I said yes," she says.
Since Campbell and Walker both have large, extended families, they knew they needed a place that could accommodate everyone and still feel intimate. As a historical fiction lover, Campbell also dreamed of saying "I do" in an old mansion with a classic aura. When she and Walker discovered FEAST at Round Hill in Washingtonville, they were sold. Not only did the venue charm them with beautifully landscaped gardens and a welcoming interior, but it also enabled them to have their ceremony and reception in the same place. Since they wanted to make the day as easy for their guests as possible, FEAST's one-and-done setting was the perfect fit.
"Plan your day from the heart," Campbell stresses. "What really matters is what YOU want."
On the day Campbell and Walker tied the knot, it rained. It was early August, so Campbell had planned to hold the wedding outside on the grounds at FEAST. When the drizzle commenced, however, she didn't know what to do. Fortunately, her bridesmaids stepped in to save the day.
"My bridesmaids sprang into action and made the indoor area so beautiful with drapings, candles, and flowers," she notes. "The inside space looked so beautiful and I was so happy and grateful with how everything turned out."
When the time came for Campbell to make her walk down the aisle, she glowed in an Eddy K Italia dress. Styled as a cross between a classic A-line and a ballgown, it added to the fairytale atmosphere of the day. To complement her, her bridesmaids donned baby pink gowns, while the groom and his groomsmen looked sharp in soft gray suits and matching pink ties.
Those moments, when she floated down the aisle to meet Walker, were Campbells's favorites of the day.
"I started crying and couldn't stop," she admits. "It was amazing to see Derrick standing there waiting for me. At that moment it truly hit me how much I love him."
During the moving ceremony officiated by Campbell's father and uncle, the couple recognized not only their union, but the union of their families as well. As Walker's three sons and Campbell's two daughters stood by, the pair celebrated the expansion of their family and their lasting love for one another.
Afterward, the reception commenced in earnest. With romantic floral arrangements and gilded décor at every table, the dining space at FEAST looked like a scene from Sleeping Beauty (after she wakes up, of course). For their wedding cake, the duo opted for a multi-tiered pink confection with flowers and a gilded stripe from The Pastry Garden. After meaningful speeches from family and friends along with a whole lot of dancing, the newlyweds cut into the treat for a sweet ending to an unforgettable day.
Vendors
Florist/Event Design: George Alexander, Elaine Blair, Nadine Carrington, Angela Reid, Yvonne Steele
Bouquets: Flowers by Jo-Ann
Caterer: FEAST at Round Hill
Cake: The Pastry Garden
Dress: Eddy K Italia at Be Unique Boutique
Bridal Hair: Sheron Jackson-Kerr
Bridal Makeup: Kay Alvarez
Photographer: Ray Alvarez, Weddings by Ray
Videographer: Bruce Cullen