It's all in the details: food, location, décor, music, and more. But celebrating shouldn't be stressful. Here, some of the best party and wedding planners in the Hudson Valley share their expertise; click through the slideshow to follow their tips, or select from the topic menu below:
The location sets the mood for the party. A catering hall can create a formal feeling, while a party in your home around the fireplace hints at a cozy event. Arrow Park Lake & Lodge, a private resort featuring a European atmosphere and simple amenities, beckons guests to relax and enjoy nature. With a large pavilion, beach, lake, and pristine wooded areas with nature paths, Arrow Park is available for overnights and weekly retreats, corporate meetings, and banquets and weddings/receptions. Arrow Park is a place for inspiration, relaxation, and celebration! We are your place in the country… a world away.
Arrow Park Lake & Lodge
1061 Orange Turnpike, Monroe
845-783-2044
www.arrowparkny.com
Winter celebrations take their toll on skin and hair. Between parties, replenish depleted moisture due to dry heat and cold air. Buttermilk Spa will nourish your scalp with a tension-relieving massage, warm botanical oils, and hot towel compression. Focus on eye care with Buttermilk's treatment, including rose quartz crystals, which reduce fine lines with an under-eye gel mask to reduce puffiness. Hydrate with our Spa Lunch menu's detoxifying juices to lift your spirits and enhance your body care.
Buttermilk Inn, Spa, and Henry's at the Farm
220 North Rd., Milton
845-795-1310
www.buttermilkfallsinn.com
Choose a caterer who can see your vision. Cosimo's Restaurant Group is the Hudson Valley's premier destination for excellence in service and catering. For more than two decades, Cosimo's Restaurant Group has been a local favorite for hosting celebrations of all kinds at your place or theirs. Cosimo's takes the time to get to know each customer and can tailor any package to suit your event's needs.
Cosimo's Brick Oven
www.cosimosrestaurantgroup.com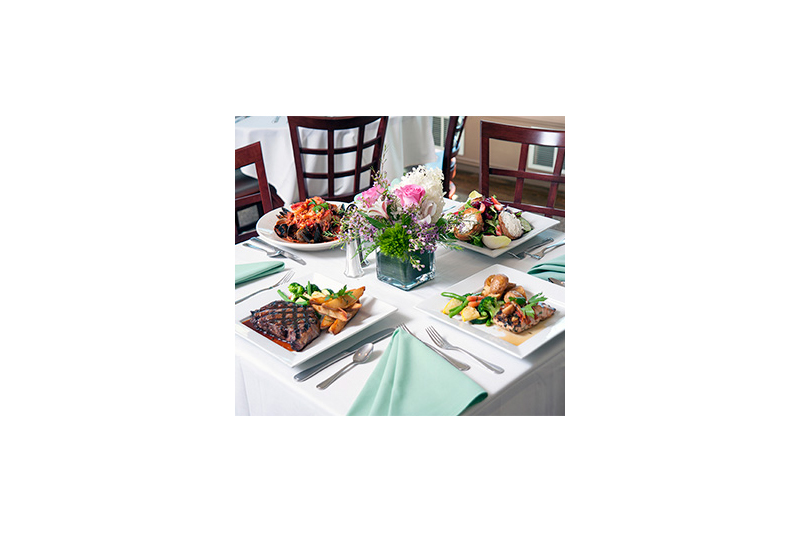 There is a menu to match every party. Buffets give guests more options for mingling and sit-down meals create a more elegant feel. At Delancey's Bar & Restaurant, we have a range of options from cocktail parties to brunches to sit-down dinners for every occasion. Our classic, tastefully decorated room is spacious, has a beautiful high ceiling, lots of windows, gorgeous window treatments, and hardwood floors to match every mood. Add ambiance with a Champagne toast or special collection of appetizers.
Delancey's Bar & Restaurant
40 Park Place, Goshen
845-294-8254
www.delanceysny.com
A great way to enhance a seasonal celebration is to include memorable details as part of the festivities. Winter favorites at Diamond Mills include a self-serve Hot Chocolate Bar, giving guests of all ages an opportunity to be creative and make their own tasty concoctions with marshmallows, peppermint sticks, or whipped cream. For the adults, try an Irish Coffee or Crème de Menthe specialty cocktail.
Diamond Mills Hotel & Tavern
25 S Partition St., Saugerties
845-247-0700
www.diamondmillshotel.com
From start to finish, take charge:
Invitations will make or break the event. The invitation should make a bold statement.
Decorations set the ambiance of any event. Decorate according to the season.
Menu: ask guests if there are any dietary restrictions, so you can build the menu accordingly. Use seasonal products. Be creative from hors d'oeuvres to dinner to dessert.
Photo booth: because of the winter season, activities are limited. A photo booth is a fun and creative add-on to any party.
Cocktails: create specialty cocktails that add a fun element to the party, both non-alcohol and alcohol.
Emerson Spa
5340 Rte. 28, Mount Tremper
845-688-4141
www.emersonresort.com
One of the best ways to add sparkle to a winter celebration is diamonds. With Valentine's Day right around the corner, celebrate the love of your life with jewelry that lasts a lifetime and makes a statement. Our expert team is ready to help you pick the perfect bling. Whether you are planning an engagement or celebrating decades together, you can count on jewelry to make the moment memorable.
Hannoush Jewelers
Poughkeepsie Galleria
2001 South Rd., Poughkeepsie
845-298-8599
www.hannoush.com
Creating a romantic setting brings a special event to the next level. At Le Chambord, guests enjoy the 19th century Georgian estate on 10 acres. With two gazebos and newly renovated banquet halls, the romantic mood is set for a picture-perfect wedding, ball, or private function for up to 300 guests. The mood is only enhanced with the extraordinary food and drink and top-quality service.
Le Chambord
2737 Rte. 52, Hopewell Junction
845-221-1941
www.lechambord.com
Winter entertaining — glittering galas, fireside cocktails, and everything in between. Memorable events reveal the personality of the host while allowing them to relax and enjoy. The best way to do this is to hire the right caterer — one who will take the time to understand your vision and guide you from concept to clean-up. Main Course Catering perfects the details and continuously raises the bar, consistently living up to the honor of being voted the "Best Caterer in the Hudson Valley."
Main Course Catering
175 Main St., New Paltz
845-255-2600
www.maincoursecatering.com
Plan an event to kick off the new year that helps restore energy and create a positive attitude for all your guests. At Marion Salonspa, you can choose from a number of services from massage to facials and pamper all the guests as part of the celebration. Make it as unique as you are to start the year off by remembering to focus on you.
Marion Salonspa
1600 Main St., Pleasant Valley
845-635-1626
www.marionsalonspa.com
You can celebrate without breaking the bank. SOHO's Bar and Grill suggests considering fun alternatives to a formal sit-down dinner. Hosting a brunch gets guests home before dark and provides a varied menu with breakfast and lunch options. Making appetizers the main feature creates a tasty menu without costing a great deal. Think outside the box and your wallet will think it's 1999.
SOHO Bar and Grill
14 Crystal Run Crossing, Middletown
845-692-7577
​www.sohobarandgrillny.com
As you prepare your party calendar for the new year be sure to make plans to have your best accessory at the ready — a confident smile. Smile makeovers are Windsor Dental Center's specialty. Windsor Dental has all dental services in one convenient location in order to care for each person's unique smile. The progressive techniques in cosmetic dentistry include porcelain veneers, teeth whitening, Invisalign®, and All-on-4TM teeth restoration. Flexible, early-morning, late-evening, and Saturday appointments are available to make sure every smile in your family is ready to party in 2016.
Windsor Dental Center
375 Windsor Hwy., New Windsor
845-565-6677
www.windsordental.com
---
What's this?
This content is made possible by our sponsor. It is not written by and does not necessarily reflect the attitude, views, or opinions of the Hudson Valley Magazine editorial staff.