Adobe Stock | Photo by
MNStudio
Raise a glass and celebrate your wedding day at some of the Hudson Valley's most scenic vineyards and wineries.
When it comes to saying "I do" in the Hudson Valley, few venues can quite compare to the region's wineries.
With rolling landscapes and expansive vineyards that are practically made for picture-perfect photo shoots, the local vino hubs are dream destinations for brides and grooms-to-be. After a ceremony that is destined to be #PinterestGoals, newly knotted couples can celebrate over out-of-doors dinners, late-night dancing, and, of course, an abundance of award-winning wine.
Washingtonville, 845.496.3661
Established in 1839, America's oldest winery is something of a destination wedding experience right here in the Hudson Valley. For couples who love to sip vino together, the winery is the place to tie the knot. The Grand Salon is a relic of 19th century stonemasonry, and a gorgeous venue for ceremonies with 220 guests or less. Smaller ceremonies can tuck into the onsite chapel, while larger groups can spread out on the 5000-sq-ft patio. Afterward, bridal parties can retreat to the expansive underground wine cellars for an unforgettable dinner or sip and sample top-rated pours in the tasting room.
Montgomery, 845.424.0222
Nestled on a breathtaking historic property, City Winery Hudson Valley hosts fully customizable wedding ceremonies and receptions. The venue recently converted a 1920s barn into a bridal loft with two guest apartments on the bottom floor. Gorgeous vineyard and waterfall packages set the scene for romantic rehearsal dinners, engagement brunches, and bridal showers. A vast range of ceremony and reception choices creates unforgettable wedding memories. Mini staycations await at The Barn, which features three rustic rooms. Open bar add-ons feature several of City Winery Hudson Valley's tap vinos, which are renowned nationwide.
Clinton Corners, 845.266.5372
Dubbed "the jewel in the crown of the Hudson Valley," Clinton Vineyards is a delight for both intimate and over-the-top weddings. The sprawling 100-acre property in Dutchess County is ideal for brides and grooms who desire multiple settings throughout day. Events include cocktails on a grassy knoll, a quaint ceremony for up to 35 in the barn, or a lively dinner and dance party by the vineyard at night. Contact Clinton Vineyards, and their team can help make it happen.
Ghent, 518.392.9463
For large-scale outdoor weddings, consider Hudson-Chatham Winery in Ghent. Columbia County's first winery offers spectacular views of the Valley during the spring to fall wedding season. Couples can tie the knot near the sprawling vineyard, then retreat under a massive tent to dine and dance into the evening.
View this post on Instagram
Wallkill,845.895.2767
When it comes to time-tested wedding locales in the Hudson Valley, Magnanini Winery is a cut above.  Couples can customize the big day to their preferences and party size, opting to host the ceremony at the winery itself, which accommodates up to 190 guests, or at the Two Hearts Vineyard, which works for weddings of any size. The winery is ideal for an indoor/outdoor experience, since ceremonies have the freedom to begin on the deck or in the garden, then move inward to the restaurant for dinner. The vineyard, meanwhile, is the way to go for stunning views of the nearby lake and rolling Hudson Valley terrain. After the ceremony, guests can retreat to the patio and gazebo for cocktails, dinner, and dancing.
Millbrook, 800.662.9463
Set in the countryside of Dutchess County, Millbrook Winery is a delight for brides who crave options. For smaller, indoor weddings, the 1940s-style barn, which comes complete with an airy ceiling and local art, is a must. Anywhere from 120 to 150 guests can wander through wide-frame doors that evoke an indoor/outdoor feel for an intimate dinner or ceremony. In the warmer months, the winery offers multiple venue locations across its 30-acre estate. Anyone who opts to go the outdoor route can rent a tent to bring the party to the vineyard grounds.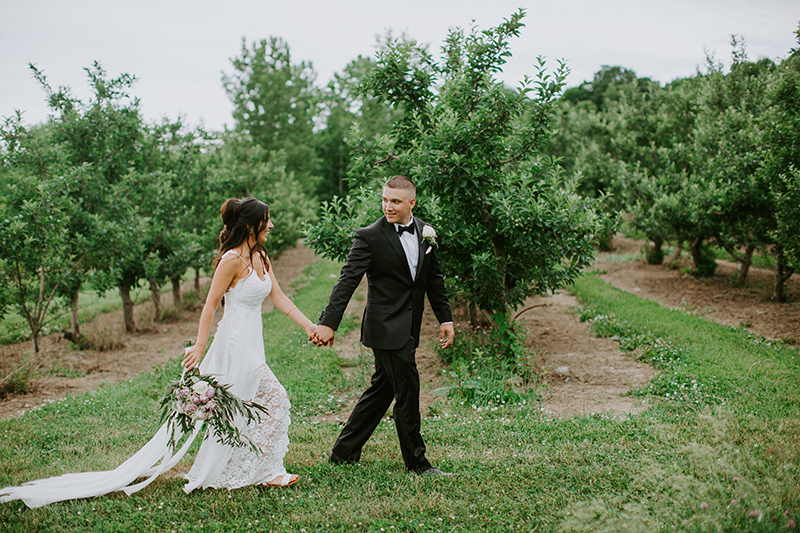 Milton, 845.795.5473
For a quintessential winery wedding, look no further than Nostrano Vineyards. Nestled quietly in Milton, the property channels an almost otherworldly quality that brings to mind local legends like Rip Van Winkle and Sleepy Hollow. Host the ceremony in the vineyard proper, which sits at the foot a sloping Hudson Valley hillside. When it comes time to dine, bring smaller parties to the Pinterest-worthy barn for an evening of twinkle lights, celebratory conversations, and laughter that brightens the wee hours of the evening. Plus, the frosés here are to-die-for.
View this post on Instagram
West Park, 845.384.3057
Red Maple Vineyard takes weddings very, very seriously. With an active vineyard, an onsite barn, and scenic landscapes, the West Park setting is something of a one-stop shop for brides and grooms-to-be in spring, summer, and fall. After couples tie the knot, they can relax and celebrate with top-of-the-line catering from Corner Stone Caterers, chic bar setups, and a fire pit at night. While the entire vineyard stuns as a wedding destination, it really delivers with little details like charming toiletry baskets, live trees at the reception, and even a beer canoe.
---