There's eating local, and then there's eating really local.
In the new rooftop garden at Union Restaurant and Bar Latino in Haverstraw, owners Paulo Feteira and Chef David Martinez are growing vegetables that — immediately upon being plucked — will be whisked downstairs to use in salads and other dishes at the highly regarded Continental/Latino fusion restaurant.
Inspired by a similar project on the nearby campus of the Rockland BOCES in West Nyack, Feteira partnered with the school to grow his own green roof.
"We had the math class come and take measurements. The carpentry class built the beds. The biology class checked the pH levels in the soil on the roof," says Feteira. The classes learned; so did the restaurateurs. The collaborative aspect of the project, as well as its inclusion of some of the many fields of study available at BOCES, appealed to Feteira, a proponent of community involvement. Union occupies two adjoining, red brick row houses on New Main Street, and has an urban feel. The rooftop garden is open to the public, easily accessible by a flight of stairs out back, near the ground-level patio and herb garden. "We encourage them to go upstairs," says Feteira, who also serves as the maître d'hôtel. Regular customers, he says, visit the garden after each meal and have tracked the evolution of what is an ongoing experiment.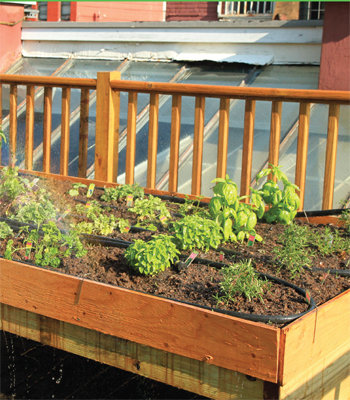 The restaurant's thriving herb garden
"We're growing different things to see what makes sense and what doesn't work," he says. While the vegetables — zucchini, tomatoes, sage pineapple — are not yet ripe, the basil, cilantro, and mint are already being used in the kitchen. "We do a lot of mojitos with the mint," Feteira says. (You can sample a mojito or another cocktail on the restaurant's new patio, where live music is offered every Friday evening.)
Union celebrated the grand opening of the rooftop garden in June. Once the kinks are worked out, and Feteira and Martinez determine which crops are best suited for rooftop growing, plans are underway to share leftover vegetables with BOCES and local food pantries.
The restaurant opened three years ago to much acclaim. Union was voted "Best New Restaurant" by this magazine, and Martinez was listed among the Valley's "Hot New Chefs" in 2008. The partners have already proven their commitment to the community with their "Union Gives Back" program: They open the restaurant for three days in the dead of winter and feed the homeless for free. The roof garden is just another example of Union working with the community for the greater good.
"What we like about it is that there's so many different programs involved," Feteira says, "and they all help each other."