When Karli Molino, née Foss, says that she and her husband, Griffen, are high school sweethearts, she isn't joking. The pair, who have known each other since childhood, began dating after one fateful spring break when their families went on vacation together. They were 15.
"We weren't even old enough to drive when we started dating, and we lived an hour apart," Karli recalls. "Our parents had to coordinate meet-ups so we could see each other!" Admittedly, this wasn't too bad of a deal for their families, who often met up for birthday parties and graduations throughout the year. Were the Foss and Molino tribes rooting for the young love? Perhaps. Either way, Griffen and Karli's romance soon evolved into something much more meaningful than a few youthful dates.
Nearly ten years after their first arranged meet-cute, the pair tied the knot at the Hudson Valley's Blue Hill at Stone Barns. Although they were (and still are) living in Michigan, Karli knew that Blue Hill was the venue for their farm-to-table affair.
"We settled on Blue Hill at Stone Barns because I went there with my aunt and uncle and then told Griff, 'We're getting married at Blue Hill,'" she says. "He had never been, but I went there once and absolutely fell in love with everything about it." Although Griffen, a professional hockey player, had never seen Blue Hill, he trusted Karli's opinion enough to know that if she loved it, he would love it too. Venue decided, their next step was to hire wedding planner Tzo Ai Ang to coordinate with vendors and capture the most magical moments from the day.
"Hire a planner!" Karli enthuses. "If you can't budget a planner, just try not to stress and make one decision at a time." In addition, she also recommends hiring a videographer to record the reactions that are all too easy to miss during the jampacked occasion. "I wasn't going to [hire one], she admits, "but my planner pushed us on it a bit [and] I am so happy she did."
On July 8, 2018, the longtime loves tied the knot in the Hudson Valley. The weather was perfect, the scenery was impeccable, and the personal touches were unforgettable. Before they even made their way to the alter, Karli and Griffen opted to do a first look and private vow exchange with one another.
"Neither of us really felt comfortable reading personal vows in front of a crowd, but we wanted to write something special to each other," she explains. With the help of Ang, they captured breathtaking first-look moments on photo and video. "This was probably my favorite moment," Karli admits.
After they voiced their heartfelt vows, the couple were ready for the ceremony to begin. Karli walked down the aisle in a nature-inspired Mira Zwillinger dress, which she landed upon during a visit to Mark Ingram Atelier in New York City. Her shoes were a special design by Harriet Wilde, a bridal shoe designer based in London. Even her bouquet was one-of-a-kind, thanks to the addition of a large protea in the midst of it. As for Griffen, his sharp blue suit was a custom creation from The Tux Store in Vancouver.
Before the ceremony began, the couple's officiant, Hope Mirlis, made an announcement asking everyone to put their phones away. It was, as Karli readily admits, one of the best decisions the couple made, since it forced every attendee to be present for the service. Karli was still a little nervous, though, and felt the stage-fright flutters before stepping foot on the aisle. Fortunately, Mirlis was there to keep her calm.
"She was so sweet and has such a relaxed nature that when I got to the altar I just fed off her energy," she says, adding, "well, hers and my husband's because he was quite relaxed, too." As a string quartet played "Chasing Cars" by Snow Patrol and "God Only Knows" by The Beach Boys, Karli and her wedding party made their way down the aisle. After exchanging rings, they all walked out to a melodic rendition of The Weeknd's "Can't Feel My Face."
Following the ceremony, the wedding party kicked off their slippers – figuratively, we think – for dinner and dancing into the wee hours of the night. In true Blue Hill fashion, the group celebrated with gourmet treats, a curated cocktail hour, and stunning natural scenery. Karli and Griffen, both of whom are self-declared foodies, created their own signature cocktails: "Peas & Q's" with vodka, pea shoots, mint, lemon, and champagne for the bride and "Blue Hill Derby" with Black Dirty bourbon, honey, clove, grapefruit, and lemon for the groom. As for the menu, it was a multi-course, sit-down affair that featured smoked shrimp, ricotta gnocchi, and pork loin and braised bacon, all with curated wine pairings. As for dessert, the pristine white buttermilk wedding cake paired perfectly with the bounty of white and green floralscapes that dominated the interior design.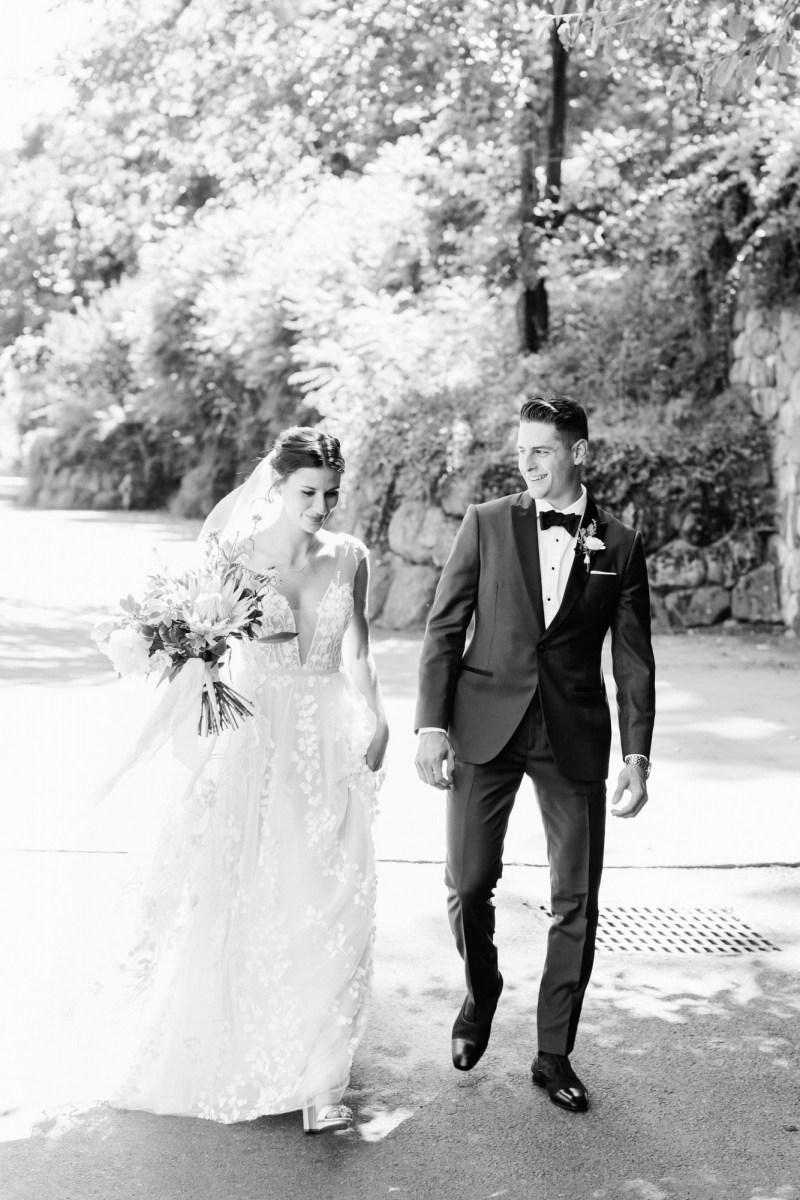 Of course, there was also a whiskey bar.
"I actually lost [Griffen], like actually lost him, for 30 minutes because he was there and I had no idea," Karli says. She found him – eventually – and the two danced the night away as their DJ spun track after track just for them.
---
Vendors
Event Planner: Ang Weddings and Events
Florist: Poppies and Posies
Caterer and Cake: Blue Hill at Stone Barns
Dress: Mira Zwillinger via Mark Ingram Atelier
Hair and Makeup: FaceTime Beauty
Tux: Harvey Charlie, The Tux Store
Video: McKenzie Miller Films
Photographer: Mademoiselle Fiona
Officiant: Hope Mirlis
---