Sure, you've read the classic tales, from The Lottery to The Tell-Tale Heart — but those are nothing compared to what the Internet can come up with. Here are some of the best Halloween round-ups on the Web.
BuzzFeed's "13 Amazing Cakes Made With Leftover Halloween Candy"
I mean, I'm content with just chowing down on the candy as-is, but these people are obviously way more creative than I am. 
Flavorwire's "Kids' Halloween Costumes That They're Too Young to Understand"
I'm not sure how these parents convinced their offspring to go as Don Draper over Spider-Man, but I'm glad they did. See kids dressed as Walt and Jesse from Breaking Bad, Ron Burgundy from Anchorman, and — my favorite — Wilson, the volleyball from Castaway.
The Cut's "Forty-five Dogs in Cute Costumes"
The only thing that could possibly rival the cuteness of kids in pop-culture costumes is dogs in pop-culture costumes. Here, Halloween hounds are dressed as E.T., Mr. T, Miss Piggy, and our own Bedford neighbor Donald Trump.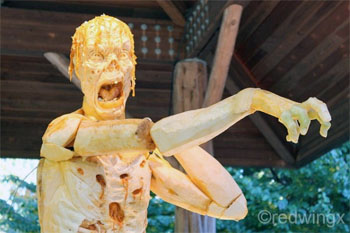 Scariest pumpkin ever?
Photograph courtesy of redwingx
Extreme Pumpkin's "2012 Pumpkin Carving Contest Winners"
Every year, this site finds people who, unlike me, do more than carve triangle eyes and a mouth into their Jack O'Lanterns. My personal favorite of the 2012 crop is the pumpkin that looks like Richard Pryor. (When lit, it looks like his hair is on fire.) There's also a pretty great Death Star pumpkin in there. (And, if you're looking for more pumpkin inspiration, the Zombie Pumpkin at the New York Botanical Garden is pretty terrifying.)
Condé Nast Traveler's "Best, Biggest, and Scariest Corn Mazes"
Though I've yet to actually enter a corn maze myself, when I do, I want it to be in the shape of a working QR code, or in the shape of Bon Jovi's face. Actually, I'm fine just looking at these pictures.
Nerdist's "13 Required Songs For Your Halloween Party Playlist (and Their Refreshingly Spooky Alternatives)"
I love the "Monster Mash," so I won't apologize for playing it at a Halloween party. This Nerdist list is unique in that it includes all the cheesy favorites, like "Monster Mash" and "Time Warp," but also suggests more modern alternatives, like the Black Keys's "Howlin' For You" or Kanye West's "Monster."
Flavorwire's "10 Classic Halloween Cartoons You Can Watch Right Now"
Flavorwire's round-up of Halloween cartoons has entries dating back to 1929 (Disney's "Skeleton Dance"), but, of course, our favorite is a later Disney entry: 1949's Legend of Sleepy Hollow adaptation, with Bing Crosby narrating. For those of you who scoff at the old stuff, there's a Jem cartoon in there for you, too.