Three Hudson Valley planners share colorful table settings perfect for any palette.
Cool and Calm
Who
Bethany Pickard, Modern Kicks
The Palette
A mix of blushes, peach, and ivory with gold and pink metallics and smoky gray accents
Inspiration
1970s soft and sexy neutrals
The Starting Point
"[The table] was built from the concept of mixing neutrals and smoked glass and then got a little extra with the faceted glass vases and bold golds," says Pickard. "The table linen took us to another level and we built from there."
The Style
"This design is for a client who wants a balance of softness and edge and who isn't afraid to make an impression. Someone who has a thoughtfully eclectic style," says Pickard.
The Elements
"The vases are Louise Roe and bounced light in a really beautiful way," says Pickard. "We also incorporated some vintage touches in the hammered napkin rings and gold cranes. My favorite addition was Kelli's [florist from Hops Petunia] idea to bring in green grapes on mirrors to add another layer and pop of color to the table."
Favorite Part
"The table has so many subtle layers and little surprises tucked in," says Pickard.
The Details
Florals: Hops Petunia
Rentals: Party Rental Ltd.
---
Bright and Cheerful
Who
Claudia Hanlin, The Wedding Library
The Palette
Midrange navy blues layered with mustardy yellows, poppy reds, and peachy pinks with touches of white for highlights and bronzy candlesticks providing the anchor
Inspiration
"I've been loving the resurgence in popularity of block prints, French Provençal design, floral patterns in fashion, and hand-painted pottery," says Hanlin. "I am also very inspired by interior design for my weddings, and this design feels like it could come from a very chic personal collection."
The Starting Point
"The colorful, happy centerpiece determined the rest of the story," says Hanlin. "I brought along a variety of linen and candle colors to the shoot but landed on these that highlighted the centerpiece best."
The Style
This style is for a confident bride. She's not afraid to bring color, texture, pattern, and whimsy to her wedding.  She's fashion-forward and relaxed. "I can picture this design at a country house tent or a private estate," says Hanlin. "Abundantly chic, the design would be at home at an English manor house or at a vineyard in Provence."
The Elements
"The boldly patterned tablecloth immediately made the table come to life," says Hanlin. "The bold floral design by a favorite English interior designer is just so happy that I couldn't resist. My other favorite element are the beautifully hued taper candles that I sourced from Missouri. I had four subtle shades to choose from and the maize yellow both enhanced the flowers and created interest on the tabletop."
Favorite Part
"The one piece that I'd like to own is the cotton tulip tablecloth with the navy border," says Hanlin. "I would use it for a luncheon in my old greenhouse, a lawn party, or just every day. I think it elevates even the simplest table!"
The Details
Floral Centerpiece: Designs by Ahn
China, Napkins, and Linen: Land of Belle
China and Linen: Penny Morrison
Glassware: Zafferano
Pewter Flatware: Match
Napkins: Sferra
Taper Candles: Creative Candles
Votive Candles and Napkin Rings: Roost
Candlesticks: Eva Zeisel
Chairs: Valley Rock Inn & Mountain Club
---
Lovely Jewels
Who
Jennifer Andaur and Kristen Estela, Lovely Event Planning
The Palette
Jewel tones, turquoise, amethyst, pops of raspberry and magenta with gold brassware
Inspiration
"Our first thought was it must be magnificent and stand out. It is meant to be a step off from the mainstream and acknowledges a desire to be unique — however it remains somewhat whimsical. With weddings, we always want to incorporate romance into the equation," say Andaur and Estela.
The Starting Point
"We used some of my family's vintage china to layer the place settings and as an accent to soften the vibe and bring in a personal element," says Estela. "Definitely a little unique, but we loved the way these subtle details came together with the rest of the table."
The Style
This table is made for a couple who wants a bold but romantic take on their wedding. It is not a traditional table, but rather lets the bright, colorful tones speak to the joy of the big day, while the delicate beauty of the floral details adds romance.
The Elements
"The turquoise velvet linen really stands out. Its dynamic texture and vibrant color give life to the table. The floral arrangement is intentionally oversized and abundant, bringing opulence to the installation," say Estela and Andaur.
Favorite Part
"The florals! I love [floral designer] Cristina [Lozito]'s style and how she always brings my vision to life," says Estela. "We hand-selected each flower, using atypical blooms so the piece stands out. We got lucky with the very last of the spring lilac to make the arrangement feel luxurious but soft. I also fell in love with the peonies and touches of clematis."
"I love the paper and the custom napkins. Bespoke Designs always knocks it out of the park for us," says Andaur. "The color of the napkin really brightened up the table and created a focal point, which draws your attention into the hand-painted details on each menu."
The Details
Floral Design: Cristina Lozito
Hand-Painted Paper and Napkins: Bespoke Designs
Rentals: Please B Seated, BBJ Linen
Linen: Nüage Designs
Pastry: La Tulipe Desserts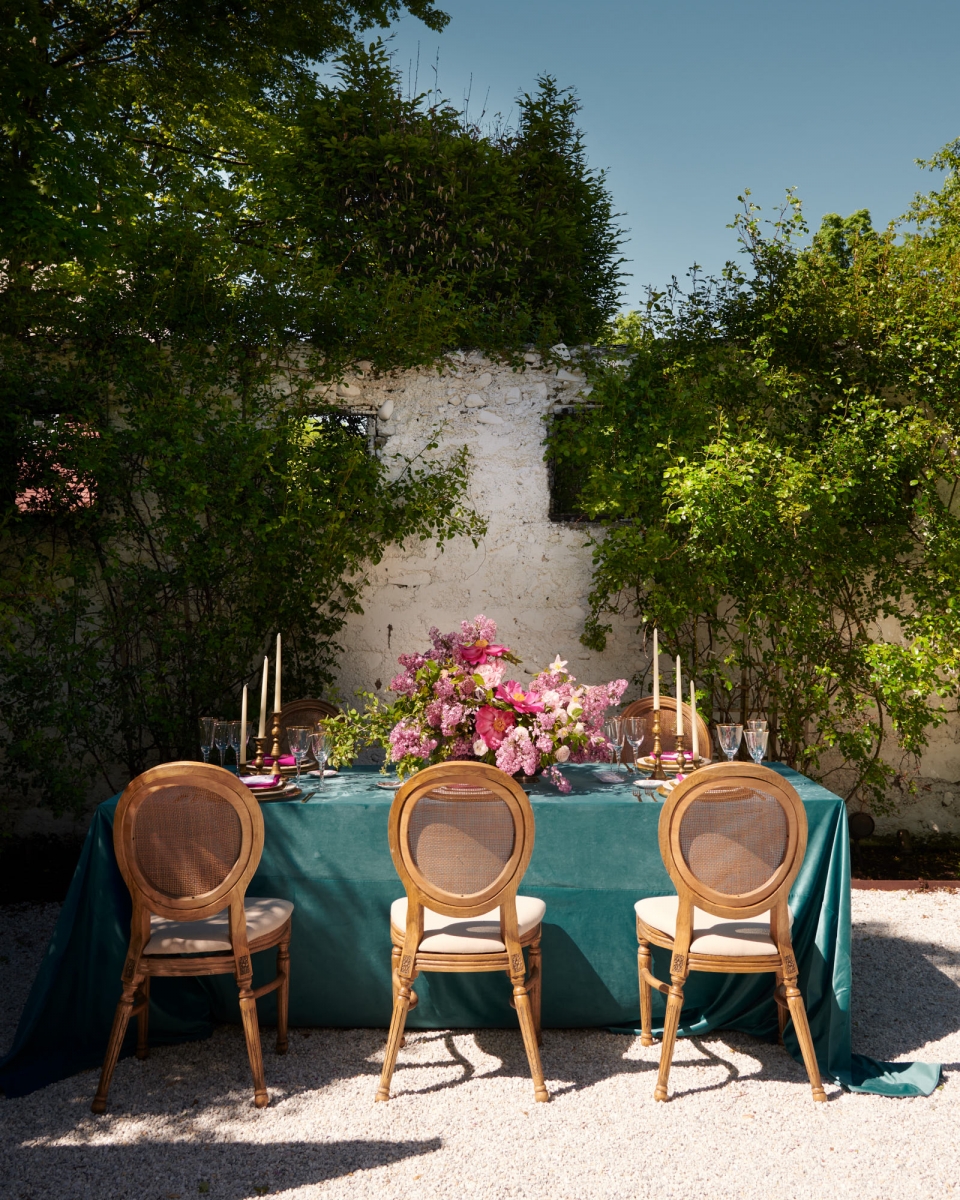 ---