Until someone makes a sizeable enough gift to name it, Marist College's new North Campus Dining Center resides in what is simply named "Building D," but we'll bet you a nine-inch vodka chicken parm on fresh-baked focaccia that students are calling "Rossi's" by the end of the week.
"About a year and a half ago when we were planning, it was suggested that [Marist dining service provider] Sodexo approach Rossi's," said Marist Executive Vice President Geoff Brackett,
Rosticceria Rossi & Sons, founded in 1979 by patriarch Giovanni Rossi, is a town staple in Poughkeepsie, almost as much of an institution as Marist itself. Several Rossi family members can by counted amongst the school's alumni, while thousands of alumni can count themselves among Rossi's unofficial fan club.
The shop's top five sandwiches comprise the station's initial menu: the aforementioned Vodka Chicken Parm; and Italian Mix featuring ham, salami, pepperoni, and provolone; an Imports Mix made with prosciutto, sopressata, coppa, mozzarella, arugula, and roasted peppers; a classic Chicken Cutlet with mozzarella and roasted peppers, and the veggie-friendly Mazarella, Tomato & Basil. All are available with a plethor of optional toppings and condiments.
Photo courtesy Marist College
Frankie, sly fox, seems to be eyeing a chicken parm pretty hard.

A ribbon cutting ceremony was held at 4:30 p.m. Monday night to open the Center, which was followed by an hour of samples from each station before they opened to regular business. Students flocked from across campus, while notable attendees included Brackett, North Campus lead architect Kevin Smith, Marist College President David Yellen, Frankie the Fox, the Marist Jazz Band, and multiple generations of Rossis, including Giovanni and his son Fabio, current co-owner of the deli.
Photo courtesy Marist College
(Left to right): Frankie the Fox, founder Giovanni Rossi, College President David Yellen, and Executive VP Geoff Brackett.

"I come here in 1965," Giovanni Rossi said as we marveled at the lines to sample Rossi & Sons sandwiches. "Was one building on the road. All glass. The rest? …Geese!"
The Italian immigrant arrived in the U.S. without even speaking English. After getting out of the army at age 21, he saw the number of college kids living ant eating in town and decided to open up a shop that could cater to them.
"We know how much Rossi's means to generations of Marist students," said Brackett, speaking of the new dining and fitness center. "We wanted to make it home."
For the approximately 800 students living in the new North Campus community, having nearby access to the Center's wellness amenities was important to Kevin Smith, lead architect on the North Campus project with firm Robert A.M. Stern Architects.
"It builds community to have both food and fitness options where you live," Smith said.
In addition to the fitness center and Rossi & Sons sandwich station, the dining hall also boasts revamped menus from campus food provider Sodexo, including separate stations for pasta, salad, dogs and burgers (including grilled Portobello), eggs, smoothies, personal pizzettas and flatbreads, and drinks from Café Bustelo.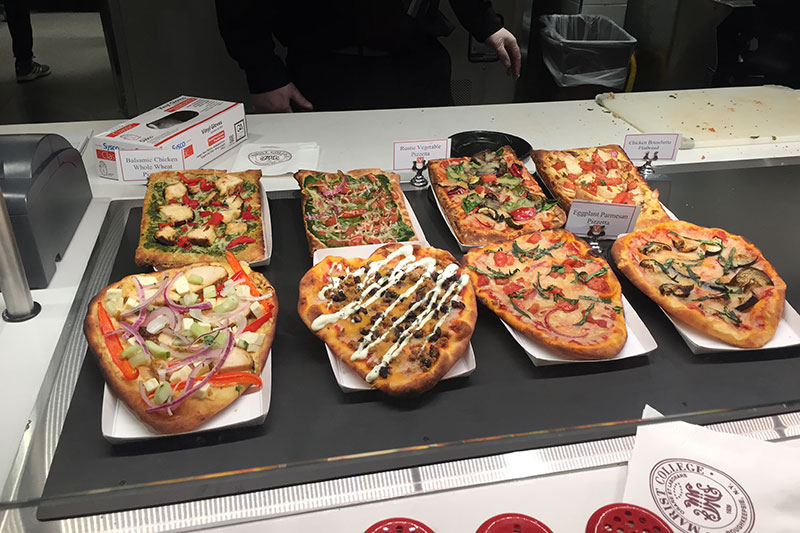 Photo by Dave Zucker
A wide variety of personal pizzas and flatbreads.

Crucially, all this can be ordered with the swipe of a dining card. Students on 30, 40, 60, or 90 meal plans can pick up any entrée — including a seven-inch Rossi & Sons sandwich, a small side of chips or fruit, and a beverage all for the same cost as any other dining hall meal. (Seven-inch sandwiches cost $8.99-$9.99 à la carte, while nine-inch sandwiches run $10.99-$12.99.)
Photo courtesy Marist College
Huge lines moved quickly enough, but a steady influx of students (and faculty) maintained them throughout the whole sampling hour.

Students Jenna Woulfe and Nick Carpenter were visibly enthusiastic to score free slices of Rossi sandwiches, extra helpings quietly slipped to them by Mr. Rossi himself. When asked if they were excited, Carpenter said, "It's the best sandwich in town."
Woulfe was even more direct in her joy. "I mean, we got two plates!"
The highest praise however, was a piece we overheard from an anonymous undergrad passing by as we waited for samples:
"I can honestly say this is the first time I feel like I'm eating real food [on campus]."