Photos by John Curry Photography, courtesy of Station Inn Pawling
The memory of a former train station restaurant gets a new lease on life through a charming, small-town hotel known as Station Inn Pawling.
The Daniels family has history in Pawling.
It all begins with great-great-great-grandfather Daniels, Richard Chapman, who came to town in the early 1800s as a railroad station agent. In 1850, he opened a restaurant at the train station. Aptly dubbed The Station Restaurant, the eatery served notable visitors like General Ulysses S. Grant and Commodore Vanderbilt. Thanks to its convenient location on the Harlem line, trains would schedule stops at the eatery around mealtimes for passenger-diners to pick up a quick bite.
The eatery continued operations in Pawling, first under the helm of the Chapman family, then under various managers, and finally under Edward Joseph McGrath, up to the mid 20th century, when a decline in visitors led to its eventual closing.
Fast forward to 2011, when Daniels ancestor and McGrath grandson David Daniels and his wife Susan, an English teacher at Trinity-Pawling School, purchased a building two doors down from The Station Restaurant, which was destroyed by a fire in 1984. After partnering with local developer Bill McGuiness, the trio took on intensive renovations to turn the former living space into an inn.
"We renovated the building extensively — basically stripping it down to the studs in order to accommodate 10 guest rooms and private baths. We then made additional changes including adding new windows, building a new back patio for two of our deluxe rooms, adding individually controlled HVAC systems to each room, and more," explains Daniels, who is also a lawyer at Daniels, Porco, & Lusardi, LLP, a law firm located two doors away from the inn. The entire process took nine months, beginning in 2017. Prior to that, the Daniels' had already renovated the house into two apartments.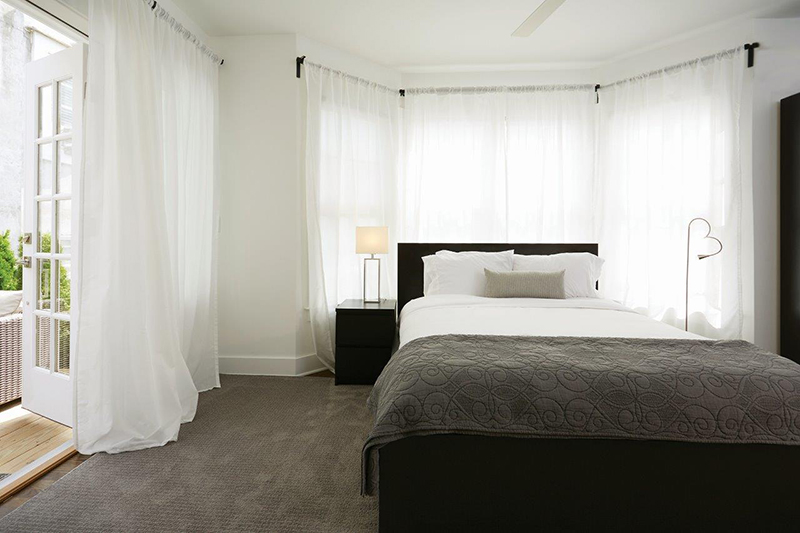 In September 2018, Station Inn Pawling celebrated its grand opening. The new, boutique hotel boasts 10 guest rooms and can hold a maximum of 25 people. Inside, the inn's design is elegant and modern, creating a fresh, yet cozy space for visitors. Outside, meanwhile, the building melds Victorian charm with a welcoming, small-town atmosphere.
"For visitors coming from the city, we offer the best of both worlds," Daniels says, noting that while the inn is just a just down the road from the Pawling Metro-North train station, its location within the Hudson Valley means visitors will "be immersed in a slower pace of life and just a short jaunt away from some of the most beautiful hiking trails our state has to offer."
As far as rooms go, Station Inn Pawling offers three options to accommodate a variety of price points. The standard rooms, which cost $149/night, feature a queen-sized bed, while the deluxe rooms with queen or king-sized beds run $179/night and the junior suites with king-sized beds and love seats go for $199/night. Regardless of which room guests choose, all come with free WiFi, a flat-screen Smart TV, cable, and Netflix. While the inn is not a bed and breakfast, it does offer complimentary coffee and tea.
Conveniently, the inn rests at a center point to the attractions in and around Pawling. Keeping in mind its close proximity to Daryl's House, the inn offers transportation to and from the music venue. Also nearby, McKinney and Doyle Fine Foods Cafe and Bakery is ready to feed hungry overnighters, while the Pawling Farmers' Market is perfect for weekend shopping before a hike on the Appalachian Trail or a jaunt to the Thunder Ridge Ski Area.
Daniels has hope that the inn will be a supporting force for the region's development.
"Historically, Pawling was a huge destination for tourists, and today our town really seems to be undergoing a renaissance," he notes. "We're so excited to help others discover Pawling via the inn."