Crave is dead.
Yes, you read that right. The beloved Poughkeepsie restaurant nestled just below the Walkway Over the Hudson has closed its doors for good.
Don't grieve just yet. There's silver lining so good it's practically gold.
Crave may be gone, but Lolita's is here to supply Valley residents with pizza unlike anything they've ever had before.
When Hudson Valley chef and restaurateur Ed Kowalski quietly closed Crave this spring, he didn't announce it to the world. Instead, he blacked out the windows and quietly got to work. He had big plans, you see. They were so big that he had to knock down an entire wall in the back of his Washington Street restaurant to accommodate them. If he hadn't demolished the wall, he never would have been able to fit the mammoth wood-fired pizza oven that now sits comfortably in the back corner. With a cherry red gloss on the exterior and glowing flames inside, the oven quietly hints at the treasures that hide within.
Kowalski's oven, customized by Fiero, the Italian wood and gas-fired oven producer that supplied the likes of Roberta's in Brooklyn, is only one of many new additions to 129 Washington Street. The locale also welcomes a new pasta maker, a renovated interior, and a redesigned menu. Of course, there's also the name. Situated right next to Lola's, Kowalski's casual eatery with locations in both Poughkeepsie and New Paltz, Lolita's is a world away from what Crave used to be. Where Crave was formal and upscale, Lolita's is accommodating and open. Walkway visitors, Marist students, out-of-towners, and local families can all happily congregate in the eatery for a delectable lunch or dinner.
As for what to eat, don't expect a diner-size list of options. The menu is streamlined to highlight the pizza and pasta that power the restaurant concept. The offerings may seem simple, but don't let appearances deceive you. Kowalski and his team have labored over each and every detail of the eatery to ensure everything is just so. Take the dough, for instance. It's made from a sourdough starter and left to ferment naturally for three days. The restaurant makes about 100 dough balls each day, which equates to 100 pizzas. Once they sell out, that's it. The next batch of dough won't be ready until the following day.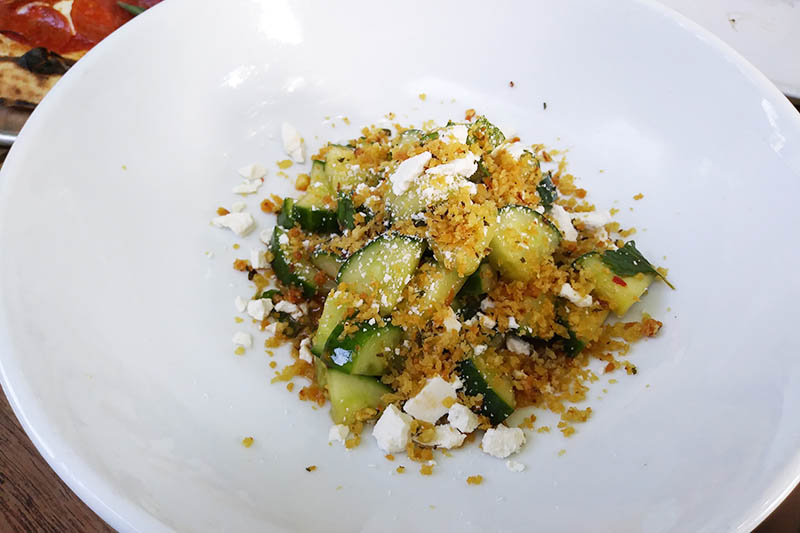 Then there's the sauce. Kowalski and his restaurant partner, Craig Capano, blind tested 45 to 60 different types of tomatoes to create their signature sauce. It tops many of their pizzas, including the simple Margherita and the savory Italian Sausage. Once prepared, the doughy confections slide into the 900-degree oven for only a few minutes before they are ready for consumption.
If 900 degrees seems unreasonably high, don't fret. The temperature is what defines Neapolitan pizza, or pizza that is naturally leavened and cooked in an extremely hot, wood-fired oven. The result of such a process is a pie with dough that is light as air and beautifully spotted, or leoparded, with char spots across the crust. The toppings are simple and flavorful, exactly as a true Neapolitan pizza should be.
Along with pizza, pasta also features prominently on the menu. Lolita's makes its own pasta, in shapes like gemelli, gnocchi, and agnolotti, with the help of its Italian pasta maker. The artful bites are tossed with delectable ingredients like broccoli rabe pesto or pork and pancetta to power dishes that will leave you longing for more.
Lolita's may still be something of a secret – it officially opened its doors on June 15 – but don't expect it to stay that way for long. With a convenient location between Lola's and the Walkway and a covetable status as the only Neapolitan pizza joint in town, Lolita's is ready to take the Hudson Valley by storm.
Lolita's Pizza, 129 Washington St, Poughkeepsie, 845.452.8100