Photos by Pete DiBiasi, David McIntyre, and Matt Moment
The painter Huê Thi Hoffmaster has lived and worked all around the world. After stints in New York City and coastal Mexico, he finds himself painting on a farm in Hudson.
Huê Thi Hoffmaster's early career followed the usual formula: attend art school (in his case, The Pennsylvania Academy of the Fine Arts), move to the city, and establish a studio. He churned out figurative drawings and, as any young creative might, shopped for an artistic persona that felt genuine to him.
His arrival in the Hudson Valley—much like his arrival at his visual vocabulary—is the result of a lifetime of trial and error. In his early career, he favored an achromatic canvas; now, his work celebrates color. Rarely in his recent paintings will you discern a figure or object, and when you do, it is rendered abstractly, almost in the manner of a child. Unsurprisingly, this trajectory toward vivacity tracks with Hoffmaster's migration to a locale which serves his creativity: Hudson.
Ahead of his showing at the Carrie Haddad Gallery on Warren Street in Hudson, we had the chance to sit down with Hoffmaster to chat about his life and artwork.
In Conversation with Huê Thi Hoffmaster
What is your relationship to genre?
I have a funny relationship with that. I grew up really enjoying classical painting, figurative, landscape, which even brought me to study in Philadelphia [at the] Academy of the Fine Arts, which is an atelier program. You basically study the figure, landscape, color palettes. In college, I really excelled at figurative drawing.
Painting, then, was almost scary to me. There was such a right and a wrong. I went toward working in monotones. Throughout college, it brought me to—I don't know what genre it was—but I was kind of blending Eastern and Western visual philosophies. I felt that it's almost what I had to do because of my identity [Hoffmaster is Vietnamese-American]. Then after so long, I felt, like so many artists do, trapped into a genre.
It wasn't until into my 30s, where I was like, "I don't want to do this anymore. I'm getting bored with it. I don't feel like it's moving." As a creative, it's so important to not have boundaries, especially if you're setting them up for yourself and they're not working.
It's so easy, in the creative process, to forget which barriers are self-imposed versus which are real.
Totally. And pretty much all of them are self-imposed. At a certain point, I was like, "What do I want to paint?" I've definitely changed two or three times over the course of my career, and I'm at a point where I don't care about [genre]. I'm happy to make five different bodies of work that are totally different.
On the other hand, I love to practice this language of abstract expressionism, non-objective painting, however you want to classify it. And I love to do it in many different ways. Every moment we're different, we're thinking differently—I like to embrace that in my studio. I'm not always the same. I don't want to make any [working style] the "right way" or the "wrong way."
We're curious where you look for inspiration.
I used to look at a lot of the classic abstract expressionists…[Anselm] Kiefer, Clyfford Still. These guys really are so ingrained in me that I don't even have to look anymore. It's like a part of my leg, so much a part of my visual language. I pull from my own paintings.
I'm not really creating a linear narrative—it's my being, how I'm moving, how I'm involved in what I'm doing that makes it cohesive in my entire body of work. That's what's inspiring to me, focusing on that presence of me and my experience of the moment during the painting process. I like to think it creates an image that shows up to the viewer as an event which can be viewed.
So, the painting itself is the product of presence.
Exactly. Sometimes I see shapes or patterns in nature. I'm not trying to have a linear approach in representing that, but it definitely gives me ideas in composition. But I love to just play.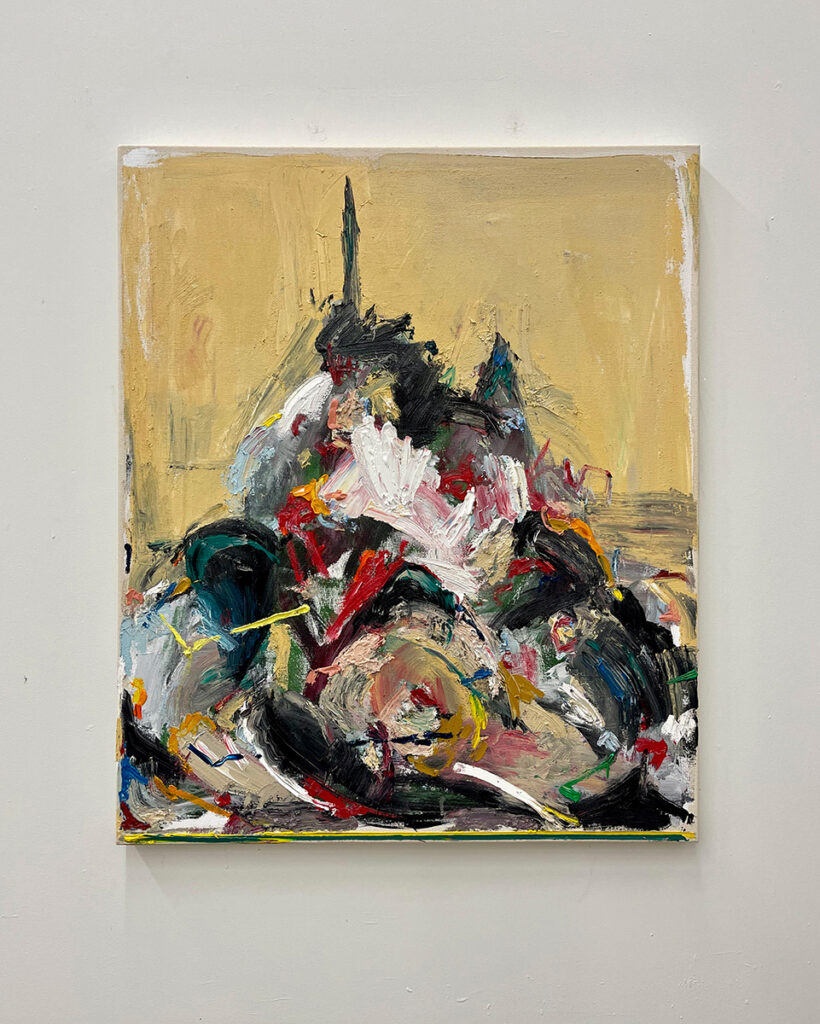 One of the biggest tipping points for me was having a son, seeing him and the way he interacts with the world. How brilliant it is! He's constantly learning through just being playful.
And there's no pretense.
There's no pretense, nothing's contrived, nothing's trying to be something. It's just, boom, exactly what it is in the moment. And that's where we learn everything. It's not by reading. It's just by playing and discovering.
That was one thing that struck us in your artist bio—the role of play in your work. There, you also mention environment. How does your locale affect how you approach this work?
I lived in Brooklyn—I lived in the city for 10 years—and before that I was in Philadelphia. After New York, I was in Mexico, and Quintana Roo, and the Caribbean. In the cities, I really felt this kind of superficial need to represent this identity that I wanted to portray.
Of "the artist?"
Of the artist. The paintings had to be a certain way; they had to be edgy. They were black and white, there was some dark quality about them. And I kept up with that and it was a costume. I got older and I was like, "I don't need to do this shit anymore." That's when I moved to Mexico. I was basically living on the beach, and I was like, "What have I been doing?" I'd been living this very rigid way just to uphold some image in my artwork, in my life.
When we moved to the Hudson Valley, I was even more so, like, "I can do whatever I want." I want to paint with colors and show different sensibilities about myself that aren't so guarded. It does make a difference where I am. My subject matter is my experience. In the city I felt closed-off; out here, I feel way more free.
You still employ black quite frequently, but the [newer] paintings feel jovial.
I still love to use black. There's this subject in my work—a byproduct of my process—this way of using black in high contrast without it changing the mood to be dark or gloomy. That's a constant game I'm playing while I'm painting. Some of them are very, very black. This comes from that idea, you know, "Day is only bright because of the night." Light comes out of the darkness.
It goes even back to my schooling, playing around with the idea of chiaroscuro, which is a painting method of pulling light out of the dark. It was like magic to me when I learned how to do that. Something really philosophical clicks when you're working like that.
On the topic of philosophies, another interesting part of your artist bio is your suggestion that ignorance, and the pursuit of the "potentially useless" is important to your life and—by extension—your art as well. Can you speak a little about that?
It's hard to not be aware that we live in a world that so values how you spend your time. We have to be busy, we have to be productive, everything we do has to earn. In order to [paint], I can't think of that.
It's like reading a book just to pass time—we don't even do that anymore. I want to be able to not think of how I spend my time and just experience it. [I want] to get involved in my own leisure, how I pass the short time that I'm here, and not think about how much money [my work] is going to make. When I'm working, it has to be released completely or else it becomes contrived, and I can't create freely.
Some nights I come out to my studio and literally sit in front of my canvases and look at them—and that's valuable. But I don't want to think about it being valuable or not.
View this post on Instagram
Have you connected with any other artists in the Hudson Valley?
Man, I wish more! I've really had great interactions with all artists and makers I've come across in the area and feed off their energies. I really connected with the owners at The Hudson Milliner Art Saloon and the community they've created. [Also] Carrie Haddad and everyone involved there. Thankfully, I get to show at Carrie Haddad Gallery.
The majority of the time I've been [in Hudson] has been during the pandemic. I'm also a father, and that all happened at the same time. It was great to show at the Hudson Eye.
View this post on Instagram
Everyone in that show was great, but in particular I got to collaborate with Kris Perry and his sculptures, and it was amazing how our work really stood well together.
What's next for you?
I have a few shows coming up. I'll be showing at Carrie Haddad Gallery August 3 through September 25. And then, as far as my goals, I want to be able to live this life that I'm living. I would love to expand my viewership into larger galleries, maybe international. But, I just want to be doing what I'm doing. And I want to grow at a pace that I'm comfortable [with]. Not too comfortable, but within a world that I want to be in.
I don't want to do anything I don't want to do. I want to spend time with my family [and] be with my kid as much as possible. Maybe even have another! I really want to find my place to do it the way I want to do it with the people I want to do it with.
At the end of our conversation, we discussed the self-portrait in Western and Eastern art respectively. "Say there's a self-portrait of an artist in a field," Hoffmaster primes. "In Western art, they would probably take up two-thirds of the frame. In Eastern philosophy, it would be a field, and the artist would be somewhere in there," he said, gesturing with his index fingers to indicate a diminutive figure in relation to the landscape.
Hoffmaster's work is rarely—if ever—self-referential in a literal sense. However, it is important to note that his paintings derive from his practice of presence. They erupt from this presence and, subsequently, represent whoever he is at his arrival afront the canvas. Could it not be said that these paintings are self-portraits of the most illustrative variety?
When observed through this lens, the painting becomes inseparable from the internal event that inspired its creation. In other words, these are paintings of Hoffmaster. His aesthetic inconsistencies do not confuse the viewer, but rather underscore his intention: to record his emotional life, which can also be rife with inconsistency. The canvases include unexplored space, large blocks of blackness, and the mark of an inner child—such is life. Rather than subvert these aspects of his experience, he appropriates them as color and form in his image. Like in chiaroscuro, from nothing, Hoffmaster extracts Hoffmaster.
View this post on Instagram
To view more of Huê's Thi Hoffmaster's work, head over to his website, follow him on Instagram, or see his paintings in person at Carrie Haddad Gallery, August 3 – September 25.
Related: Meet Nina Endrst: A Spiritual Multi-Hyphenate Living in Hudson