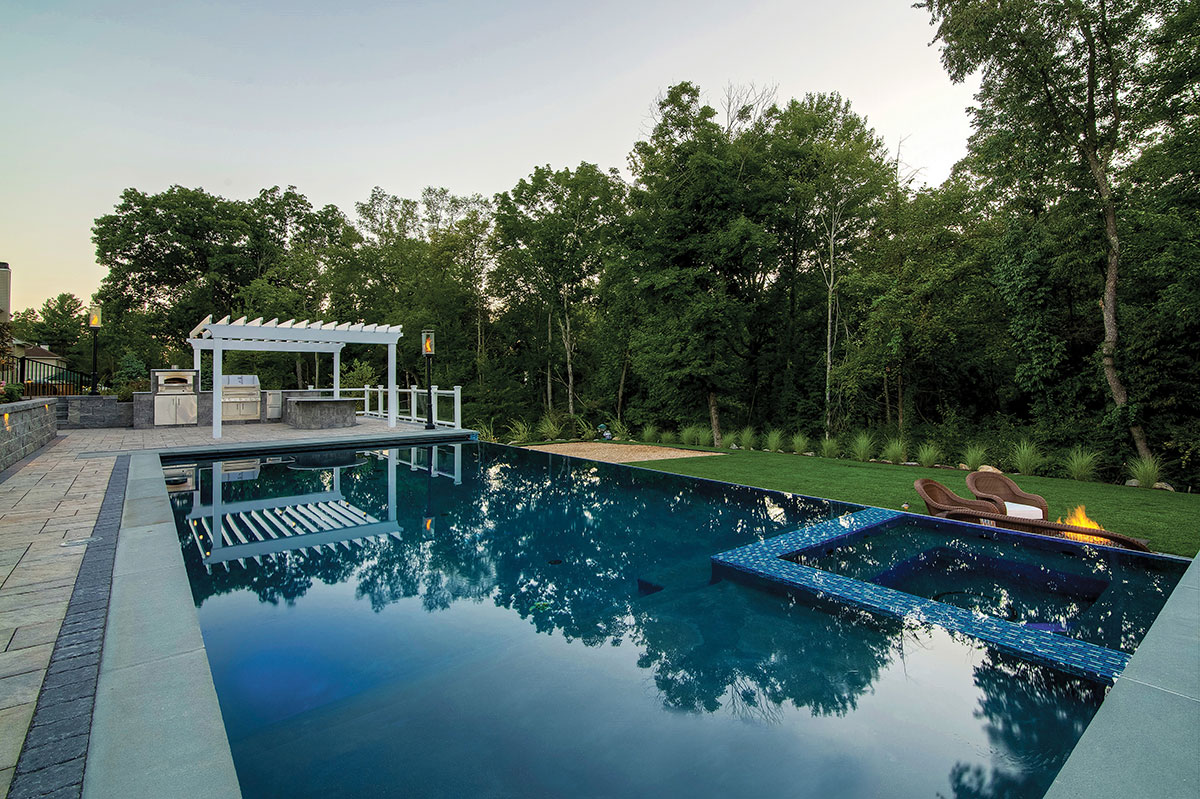 As with so many other home-design trends today, there's no definitive look for a swimming pool. Some mimic ponds with clusters of boulders and cascading waterfalls; others have modern, straight edges that make swimming laps easy. Choices also vary greatly when it comes to size; materials for the interior surface, outside top edge, and adjacent coping; the water and filtration system; and even bells and whistles that give the luxurious appeal of a posh resort pool.
But all these options pose a challenge. Where—and how—do you start? We think the best way is to find a recommended pool construction and design company. And many exist throughout the Hudson Valley, some into a second generation. We spoke to four area leaders whose examples here are functional, attractive additions for their landscape and show some of the latest trends of combining natural materials, vanishing (or infinity) edges that spill water over and back again, water arcs that rise high, and "sheer descents" that whoosh down.
Classic Simplicity With A Bit Of Water Drama
When the new owners of a large stone house set on 15 acres in Armonk asked Chris NeJame, president of NeJame Pool Specialists in Verbank, to design a pool that would allow their extended family to gather and swim, NeJame knew the best place was within view of the house, about 60 feet away, and centered on an existing lower-level patio and rear doors. That placement could also take advantage of an existing flight of stone steps.
The pool follows NeJame's philosophy that it should be just one part of a landscape. While large—25 by 50 feet—the pool nestles into its bucolic setting with a quiet palette of gray ceramic tiles for the interior edge, coping of uniform bluestone for a pool border, and more variegated bluestone in larger rectangles on the patio for pops of color. A "tree doctor" was brought in to isolate existing trees to avoid harming any. In keeping with the site's beauty, pool extras were minimized—a large sun shelf for lounging in water, a few laminars on one side for graceful arcs of water that can be illuminated at night, and a few sheer descents that spill water over a stone facing of a raised portion of the patio. Each water feature can be programmed independently, including the volume of the descents so they swoosh down softly or with loud gusto.
NeJame followed another of his favorite design guidelines with this project: to keep a spa separate from a pool and close to the house, so that the homeowners can use it year round, even when they can't swim in the pool. A similar design was used for a koi pond with a fountain. And because of the abundance of existing plant material, minimal new ones were needed, except for ground coverage in a mitigation area.
Melding Contemporary And Industrial Aesthetics
How a pool will be used—for cooling off, playing games, or swimming laps—should be a major consideration in planning its size and shape. But so should the building site and its slope and plantings, the house, and any other buildings on the property, says Bill Drakeley, principal of Drakeley Pool Company in Bethlehem, Connecticut.
In the case of a Clinton Corners pool, the firm was inspired by several factors: the house, which had been a factory and was given a contemporary streamlining when remodeled into a home, and the sloping wooded site that dropped 50 feet from the top by the house to the bottom. "We wanted the pool to fit into its environment rather than stick out," Drakeley says. He and company Vice President Lily Samuels constructed the pool on a flat lawn panel near a guesthouse and made it the connecting link between the house at the top and a garden "ruin" at the bottom, a small building that had had its roof removed to open it to the outdoors.
Because the homeowners wanted to use the pool for recreational purposes, the designers built it in a large 17-by-37-foot rectangular shape that would function well for laps. Within that shape, they included a spa. To relate the pool to the buildings and add some textural interest, they lined the interior with a mix of white plaster and blue aggregate stone so the color appears as a picture-perfect blue sky, used smooth bluestone for the coping, and 5/8-inch Italian glass tiles for accents at the top of the spa wall, on built-in benches, on the tops of steps, and on vanishing-edge walls.
Collaborations with Dirk and Sam Sabin, father-and-son landscape architects whose eponymous firm is based in New Milford, Connecticut, led to the decision to use narrow (3-inch) modular gray precast stones that mimic the home's factory brick on the main pool patio, but in a linear pattern for a contemporary touch. "These stones also add a lively gray hue that worked well with the pool design and the board-formed concrete we used on the open-sided fireplace, bench, retaining walls, and stairs that are interspersed with grass," says Dirk Sabin. New ornamental grasses, perennials, and shrubs provide a low-maintenance, naturalistic complement.
One of the plusses of this sloping site was that it allows water to spill down almost naturally in a vanishing- or infinity-edge design along two sides. The water is recirculated back up to the pool. To meet New York State building codes, the Sabins designed a 48-inch-high fence from tempered glass. "The homeowners can sit in the front room of their house, look across the pool, and down the hill," says Drakeley.
The water within the pool represented another mindful decision. Rather than go with chlorine or salt water, the designers prefer an organic ozone sanitation system, which uses the cleansing power of oxygen in the air. "This technology represents the top of the line sanitation for drinking water, wine barrels, and even has been employed for some Olympic pools because of its unparalleled clarity. It's as close to chemical-free swimming as you can get," Samuels says.
Transforming An Unusable Yard Into A Family Retreat
When clients who lived in a high-end development in LaGrange came to Neave Pools in Wappingers Falls, the request wasn't just for a swimming pool, but for a series of outdoor rooms where they could cook, eat, entertain, gather by a fire pit, have their children play, and, yes, swim. Because of the site's slope, which dropped 3 feet from the home at the top to the lawn below—which some thought made the yard unusable—project manager Kris Schmitt and senior pool designer Lee Kind developed a program that isolated functions by levels.
At the top, a deck built from a composite stretches across the rear of the home, mimicking its horizontal line. Down several steps, the designers built a classic rectangular pool with spa measuring 18 by 36 feet, also to imitate the home's horizontal line and be large enough for swimming and play. To make the water appear deep blue, they chose an aggregate plaster and
played up the blue palette with glass tiles that frame the spa. A coping of bluestone, edged with a band of concrete pavers, and a larger expanse of lighter-colored concrete paving stones surround the pool on three sides, leaving the fourth side for a vanishing-edge design with water spilling into a catch basin below and recirculating back up.
The same concrete paving stones were laid for the floor of an adjacent cooking-eating area, which includes high-end equipment—a pizza oven, grill, two refrigerators, and storage drawers-—-for the family's frequent entertaining. A pergola provides shade. The third and lowest level features a sitting area with a gas fire pit that was raised 6 feet above the lawn to separate it from the children's play areas—the large lawn and a separate mulched area that will be outfitted with a playground set.
The simple pool shape allowed an automatic cover to be installed, which reduces heat loss at night and conserves energy. For the clients to enjoy their reconfigured outdoor areas at night, the designers installed colored LED lights in the pool, standing gas torches, and uplights in trees. Grasses were planted to mark the far end of their site, and hydrangea and phlox add color in a new stone planter by the pool, which also functions as a retaining wall.
Creating Intimate "Rooms" In A Large Pool
David Katz considers himself a problem-solver when a new client hires his firm, ELITE Landscaping in Poughkeepsie. How can a site's grade changes become a design asset, what trees should remain, what pool style will look best and where should it be built to take advantage of sun and shade, what existing rock formations present a challenge, and how close or far from the house should the pool be built? And these are just a few of the questions Katz asks himself before the first mounds of earth are dug.
For clients whose gray farmhouse-style home in Warwick sat amid six wooded acres, he decided that the pool should have a slightly rustic feeling to match and be within view from the home's main patio. "I wanted them to be able to sit, look across, and see water," he says. He also wanted to construct a large enough pool since the owners have four children and anticipated a sizable number of people using it. As he always does, Katz walks a site and marked off with spray paint how possible designs may look. "It allows me to adjust the design and communicate the spatial relationships to clients, who may not be able to visualize it in the same way," he says.
In this case, the finished design represents an organic take on a classic rectilinear pool with multiple bump-outs that provide a feeling of intimacy for different water functions—wide steps to enter and sit, an in-water patio for sitting in chairs the way people bring seating right up to an ocean's edge, a jetted sitting alcove, and a water-level table and underwater stool. Katz repeated the bump-out idea with oversized, integrated planting beds where he mixed grasses and bushes for some lushness and height. A series of bluestone patios extend into the lawn but in freeform ways for a more naturalistic touch.
Because of the ground's slight slope, Katz could construct a drop-off for the vanishing-edge feature he now likes to incorporate in all of his pools. Water spills over in a waterfall effect on two sides into a small lower-level pool. To make this area fit his natural theme, he faced the pool's exposed sides in light-colored indigenous rocks, many of which were found during the excavation stage that produced about 40 tons. A small patio and pergola offer a shaded respite. Other nice touches: A natural slate tile was used to differentiate the shallow and deep ends in the pool, and LED lights illuminate a path to the pool and around the site as well as uplight trees. Both the white oak used for the pergola and the cedar used for the fencing will weather to a similar Cape Cod gray.
Katz asks all clients to humor him when a project is completed. "On the day a pool is filled, I have them jump into the water. Everybody loves it," he says.
Do your homework:
Before you dip your toes into this home-improvement project, know that a pool is an expensive undertaking to construct and maintain. Some of these pools cost upwards of several hundred thousand dollars, from site excavation to filling with water, laying stonework, and planting greenery to soften the hardscape. I
n addition, you need to know your municipality's rules regarding where a pool can be built—how close to perimeter borders and how high a fence needs to be to protect others from wandering dangerously close.
Then, you have more design and functional questions to answer:
Where will you place it? This will affect existing trees and shrubbery, any rock groupings, and how much sun or shade it may get.
How do you plan to use it—mostly to cool off, swim laps, or set up a volleyball net to play?
Do you want both deep and shallow ends?
Would you like steps or ledges for wading in, also sitting, and even maybe lying on a chair to submerge yourself in water up to your neck?
Do you plan to use it mostly for day- or night-time use? If night, this may mean a greater need for lights.
What type of hardscape will surround the pool? Or do you (and your bare feet) prefer grass right up to the edge?
How do you plan to maintain it—on your own or with a regular pool-service contract?
Down the road, resale of a home with a pool can be tricky, especially in a Northeast climate. Generally, there's no guarantee that it will add value since some buyers may not want the pool and associated maintenance while others put it high on their wish list. In the meantime, adding a pool is likely to give you years of enjoyment and transform your house into an outdoor gathering hub.