Featured photo courtesy Beacon Historical Society
James V. Forrestal was the country's first Secretary of Defense. Here's the story of the Dutchess County man's amazing life and legacy.
James V. Forrestal was "Beacon's favorite son," according to the late Robert Murphy, president of the Beacon Historical Society (from 1998–2018). A local elementary school is even named after Forrestal, but most locals probably have little idea why. Forrestal led an amazing life as a civilian leader of the U.S. military during World War II and as the nation's first secretary of defense—only to suffer a devastating political (and personal) downfall.
James Vincent Forrestal was born on February 15, 1892, in what was then known as Matteawan (now Beacon). An excellent student who was interested in journalism, Forrestal worked for two local newspapers, including the Matteawan Journal. At age 19, he was hired as the city editor of the Poughkeepsie News Press, a predecessor of the Poughkeepsie Journal. But he left the paper to attend Dartmouth College, and then transferred to Princeton, where he edited the Daily Princetonian.
Voted "Most Likely to Succeed" his senior year, Forrestal left Princeton in 1915 without a degree, "apparently due to academic and financial difficulties," according to the U.S. Navy. The following year, he traded journalism for finance, joining the investment banking firm of William A. Read and Co. When the U.S. entered World War I in 1917, he enlisted in the Navy. After the war, he returned to banking and made his fortune. Forrestal also worked for the Dutchess County Democratic party, helping locals gain state and national office. One of those locals was his neighbor, Franklin D. Roosevelt, who asked him to come to Washington as his special assistant in June 1940.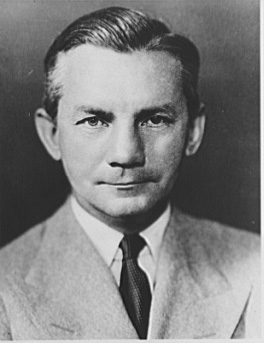 Later that year, Forrestal was appointed undersecretary of the Navy. In 1943, he returned to Beacon for a rare visit, and presented an award to a rubber factory. He gave a speech extolling the town and county as "representative of the amalgam of peoples which has given this nation extraordinary growth."
When Secretary of the Navy Frank Knox died in 1944, Forrestal was promoted to the then-Cabinet level position. Three years later, when President Harry Truman created the Department of Defense, he named Forrestal, then 55, as its first secretary.
Forrestal's political views vacillated from progressive to conservative. He was an advocate for racial integration of the military, and he was also deeply fearful of Russian communism. Forrestal argued against the partition of Palestine to create the state of Israel, fearing backlash from the Arab nations that supplied oil to the United States. These views made him a target of the Washington press, especially the influential columnist Drew Pearson, who labeled him "the most dangerous man in America."
Further scandal erupted after the election of 1948, when it was revealed that Forrestal had privately agreed to serve with New York Republican Thomas Dewey when Dewey, as was expected, won the presidency. Dewey, however, famously did not defeat Truman—and when Pearson published the story, Forrestal was fired. Deeply depressed, Forrestal was admitted to the National Naval Medical Center in Bethesda in April 1949. Almost two months later, he committed suicide.
James V. Forrestal Elementary School opened in 1953 on land that his brother Henry and his wife donated in Forrestal's memory. On the national level, the first navy supercarrier, the USS Forrestal, was commissioned in 1954. And in 1970, the James V. Forrestal Building opened in Washington, D.C., as a military office building. It is now the home to the US Department of Energy.