Photos courtesy of Hudson Valley Food Hall
Yes, the rumors are true. A food hall is set to open in Beacon (as if we needed more of a reason to prove that Beacon is the Brooklyn of the Hudson Valley).
Coming soon to Dutchess County, Hudson Valley Food Hall promises to rival Dekalb Market Hall or Manhattan's Chelsea Market right here in our own backyard. Unlike those Big Apple foodie paradises, however, this one spotlights Hudson Valley makers, history, and culture all in one place.
It all happened rather accidentally, admits owner and developer Marko Guzijan. After growing up in Beacon, Guzijan left to work at an investment bank in New York City and later in imports and exports overseas. When he finally moved back to Beacon with his wife in 2010, he recalls that it was "not something I thought I would ever do."
At that point, however, Beacon was no longer the town he remembered.
"It had a great vibe," he says. Thanks to his family's background in local real estate, Guzijan purchased and his wife designed the property that now houses All You Knead bakery in town. Yet even as the landlord of a thriving food business, Guzijan never thought he'd jump headfirst into a food-related project of his own.
Yet when a group of developers approached him about converting the former Royalty Carpet building, which Guzijan's father purchased in the 1980s, into a food hall, Guzijan saw the potential for such a concept in town. That's why he opted to continue with the project even after that group stepped away from it to open another food hall in Williamsburg.
"At that point I was up to my neck in the food hall business," he jokes. He roped in high school friends David Guy Levy and Morgan Conrad to help him get the ball rolling and, together, they worked to turn the dream into a reality.
Currently, the food hall is "hardcore under construction," Guzijan says. The space, which dates to the 1920s and was a former movie theater, grocery store, and warehouse in town, required significant updates to bring it to where it is today. Renovations included leveling the sloped theater floor, adding significant plumbing and electrical work, and installing a 1500-square-foot mezzanine.
As it stands now, Hudson Valley Food Hall has the potential to house 12 vendors, although official capacity depends on the spatial requirements of the vendors themselves. Guzijan is currently accepting applications from interested Hudson Valley businesses to complement the two brands he already confirmed to fill part of the space.
First up is the bar, which acts like a magnet to the back of the hall. That spot has been claimed by Milos Zica, the bartender who honed his mixology skills at New York City's Employees Only, which received an award for Best Bar in the World during his tenure there in 2011. Putting a local twist on it is none other than Jason Schuler of Drink More Good in Beacon. The local entrepreneur will collaborate with Zika to craft Drink More Good cocktails to pair with the Hudson Valley beer and spirits that are slated to be served at the bar. The eye-catching space, which boasts 35-foot ceilings and was designed by Jelena Kos of Beacon, will be named The Roosevelt after the movie theater that originally inhabited the building.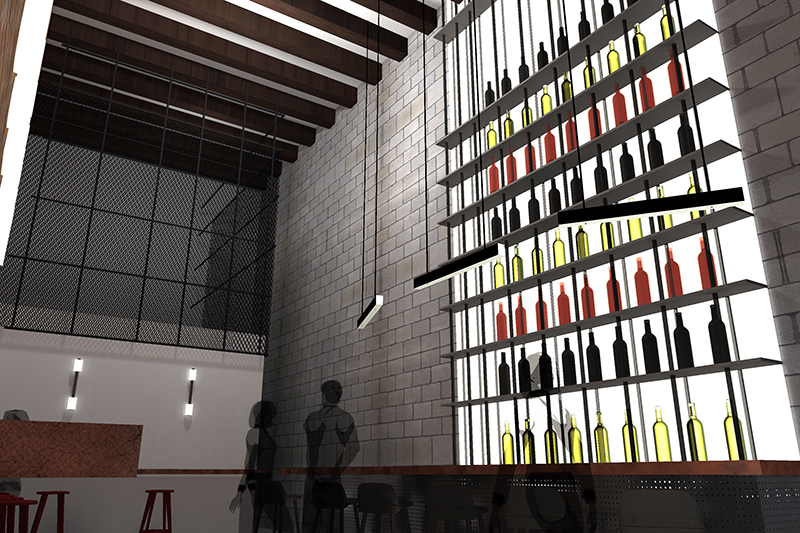 In the heart of the hall, meanwhile, a local couple will bring a Hudson Valley take on the Sweetgreen salad concept. Dubbed Green House Salads, the farm-to-table micro-eatery will cater to the "think local" mindset Guzijan hopes to channel in the remaining vendor spaces as well.
In addition to food, Guzijan, Guy Levy, and Conrad plan to incorporate regional artistry and entertainment into the hall. They already designated locations to display artwork, which will rotate throughout the year to showcase a medley of the area's talents.
As for the open date, keep an eye out for the official ribbon cutting in December, Guzijan hints.
"Christmastime is what we're shooting for," he says. Of course, as with all construction, unexpected delays have the potential to bump it to spring 2019.
Either way, Hudson Valley Food Hall will bring local eats and a communal feel to the heart of Beacon. As the friends intend it, the hall will be a space for locals to drop in for lunch or for creatives to camp out with their laptops for the day. It will be a place that families can visit for an afternoon treat or out-of-town visitors can swing by for holiday pop-up shops in the winter.
"It's a matter of 'let's build this thing correctly,'" Guzijan declares of the final stages of development. When the hall is finally complete, it will have "a big coffee shop vibe" that is "really communal."
Until then, keep your eyes peeled and your stomachs ready. Let the countdown begin!