The founder of Hudson Botanica traces her journey as a floral designer in the Hudson River region.
Being a florist is not what it once was. In an era of Instagram-perfect blooms and bodega bouquets at every corner shop, the challenge of thriving — or even surviving — as an independent florist is very real. After all, who wants to go to a standalone shop to pick up a 12-pack of roses for a last-minute birthday gift when perfectly acceptable blooms are just as easily accessible at the grocery store or, dare we say it, online?
That's the rub of being a florist nowadays. It's also why the landscape of flower-powered careers is redefining itself to adapt to the desires and needs of the contemporary consumer population.
Instead of sticking to the same old bouquets and blooms, the florists of the present day incorporate cutting edge artistry into their compositions. Operating more or less as floral designers, the natural artists thrive as creators of experiences, defining spaces where flowers set the mood for weddings and dinner parties just as much as they do for Sunday afternoons at home.
The question then follows: How exactly does one become a florist? To learn more about the behind-the-scenes road to success, we touched base with Hannah Sharkey, the founder of Hudson Botanica, a floral design studio based out of her home on the border of Cortlandt Manor and Croton-on-Hudson. After finding her way to the Hudson Valley after a childhood out west, Sharkey embraced floristry as a way to cope with loss and channel a longstanding passion. Here's how she made her dream a reality:
Step One: Find a home that sings to you
As is the case with many a Hudson Valleyite, Sharkey did not grow up locally. Instead, she spent her formative years in northern Ohio, on a small island on Lake Erie called Put-in-Bay. Her bildungsroman journey led her to New York City, where she clocked in 11 years before finally packing up shop with her husband to venture northward to Croton-on-Hudson.
Her new home has "about an acre of land where we have an awesome garden where we grow all sorts of fruits, veggies, and flowers," she enthuses. "It's also where I have my flower studio just below our home." True to her water-loving roots, Sharkey lives next to a lake and has easy access to the Hudson River. She loves her proximity to the water, just as much as she appreciates her nearness to commercial centers in the Hudson Valley, the Catskills, and Connecticut.
Step Two: Cultivate your passion
Instead of diving headfirst into a career in floristry, Sharkey fed her curiosity about the industry over a number of years.
"Gardening, designing, exploring and foraging plants and arranging with flowers has been a part of my day-to-day life since I was little with my mom," she notes. "It's like second nature, almost like a sixth sense to me."
Yet as much as she loved the opportunity to unwind in the garden, she never realized how much the hobby spoke to her until much later, when she needed a way to cope with tough losses in her family. Unexpectedly, the challenging period gave her the push she needed to rediscover the passion that had unknowingly guided her throughout life.
"I think, as with most things in life, it came to me when I needed it to," she observes. "It honestly became my saving grace and silver lining. Being with and among nature and flowers is quite literally my therapy and helps me feel connected to those that I continue to miss dearly."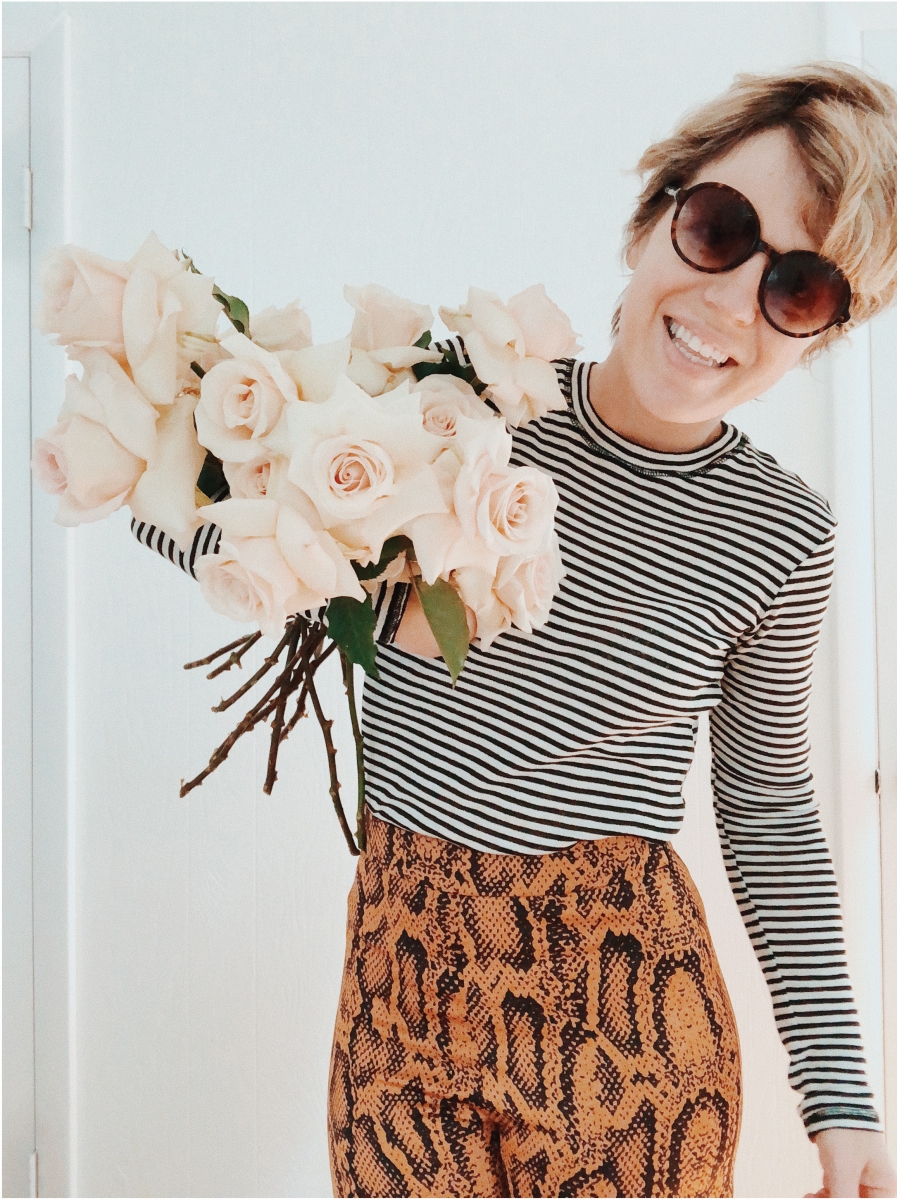 Step Three: Sow the seeds of business
As much as Sharkey's interest in flowers lingered with her during her years in NYC, it never had the opportunity to thrive until she stepped outside the metropolis. On weekend trips upstate to escape the stress of the city, she and her then-fiancé took exploratory jaunts to go hiking, fishing, sailing, cooking, you name it. Along the way, they discovered that the best, truest versions of themselves — the versions they enjoyed the most — were not rooted in New York City at all.
Recognizing this, they made the commitment to do whatever it took to build a life outside the hustle and bustle of Manhattan. It was around this time, in 2015, that the roots for Hudson Botanica first began to take hold in Sharkey's mind.
"The idea for [Hudson Botanica] originally came to me back when my husband and I got engaged in Stonington Harbor, CT in 2015," she reminisces. "Both [of us] being extremely passionate, driven entrepreneurial spirits at heart (Sharkey's husband was a chef and restaurant owner in NYC), we wanted to design and D.I.Y. everything for our big day, and do it upstate in the Hudson Valley."
Step Four: Dive into the dirt of the industry
Once Sharkey realized that floral design was her passion, she jumped straight into the world of flowers.
"Like anything I'm attracted to, I started diving headfirst into flowers, going to the city market and getting hands-on immediately, taking classes and workshops from established floral designers," she says. "But in all honestly I was just cold-emailing and reaching out to designers in Manhattan and Brooklyn whose style I admired and practices I respected, and at first asking simply if I could shadow and observe them work."
Sharkey's determination to find an "in" to the floral design industry is impressive, especially when one considers the fact that she balanced her increased workload with her day job as a realtor in New York City. It wasn't an easy line to walk, but she managed, eventually finding a way to apprentice with her mentors for free to absorb as much business and design information as possible. At one point, she hopped from selling houses to spending evenings and weekends working and learning from up to seven different designers.
"I learned so much during that time," she enthuses, adding that such work, which often involves harsh conditions and low pay, is not for everyone. "Even when I was sweating, hauling up five-gallon buckets sloshing away on tired and brush-cut-up arms, I would think to myself, 'I would rather be doing this any day of the week rather than standing around in a three-million-dollar condo holding open houses, trying to convince buyers why the time is now."
Her hard work paid off, and she began taking on projects for friends and marketing her work on Instagram. Before she knew it, Hudson Botanica was up and rolling.
Step Five: Rise and grind. Every. Single. Day.
As a committed entrepreneur, Sharkey makes a point to log the hours on her projects each and every week. Of course, floral designs aren't the only tasks that demand her attention. The solo business owner also oversees special collaborations, marketing, networking, and researching ways to improve her brand. Because of this, no two days are ever the same.
"I have to be a Jill of all trades, essentially," she says. "If it's a non-week event, I'm nurturing my social strategy on social platforms, I'm on client consultation calls getting to know new couples or chatting with a brand about a pop-up or art installation. I spend time sourcing new, local farms upstate…I spend time on recipe creation and pre-planning my events later in the year, reaching out to my team of freelancers, and connecting and networking with other awesome, like-minded event professionals upstate and in the city."
If it sounds like a lot, that's because it is. The to-do list never ends, but, then again, that's probably part of the reason why Sharkey loves it so much. Nevertheless, she always remembers to pause for downtime and reflection.
"I love meditating, reading, and listening to business-related podcasts, and I spend a lot of time reflecting on past work I've done and trying to see where I could have improved or what I learned and try to apply it to the future," she explains.
Step Six: Never stop dreaming about the next big thing
If all goes according to plan, 2019 will be the biggest year yet for Hudson Botanica. Sharkey has a packed roster of couples getting married who requested her floral designs, plus a handful of creative projects with design and fashion brands in New York City. It makes for a full plate, and Sharkey couldn't be more excited for it.
Step Seven: Share your experiences with the budding generation of florists
Sharkey is well-aware that she would not be where she is with Hudson Botanica today without the help of those generous florists who took her under their wing. If it was not for their guidance, she never would have known how much of a challenge the profession can be.
"It is not as glamorous or fun as it sounds or seems," she stresses. "It's extremely physical, laborious, and will require you to sacrifice many, if not all of your weekends away from your family and friends."
In addition to the time commitment, Sharkey notes that dedicated floristry often requires a serious financial sacrifice that can be just as draining for the individual as it is for those around them.
"If you think you can tackle all of the above," she says, "start by offering to observe or work for free. Don't spend and invest hundreds or thousands of dollars on a class or schooling before you've even tried it on for fit first."