Vanessa and Ray Vargas

 

quit their NYC jobs to manage Hudson Valley properties.
Photo by Tamara Maz
Airbnb hosts Vanessa and Ray Vargas went from renting out a portion of their Rosendale home to managing more than two dozen properties.
Something that Hudson Valley lovers have felt deep inside, something we've always known to be true, is finally on the horizon: the Hudson Valley is a hotly demanded travel destination. In fact, 2019 saw our region among the top 19 trending destinations in the world for Airbnb users (the only other U.S. location to rank is the Great Smoky Mountain Range, America's most-visited national park).
The growth of Airbnb itself opened a door for local homeowners. It allows for secondary properties to be rented out to visitors, largely from New York City, looking for a place to crash after day tripping, as an overnight headquarters while skiing or snowboarding, or currently as a place to retreat from the COVID-19 crisis.
"We are most definitely seeing an influx of week-long and month-long inquires as folks in NYC look to relocate to less densely populated areas to self-isolate," explains Vanessa Vargas, co-owner (with her husband, Ray) of Home Sweet Hudson, a full-service property management company with more than 30 properties in the Hudson Valley. "Families with school-age children are looking for space to home school and entertain their children — as you can imagine, the small quarters of an apartment start to close in pretty quickly in times like this."
While maintaining a short-term rental property can often be a full-time commitment, Vanessa and Ray put in the work for their clients, and they do it so well that 15 of their Hudson Valley Airbnbs have the coveted status of Airbnb Superhost.
Home Sweet Hudson provides all of the services needed to manage short-term rentals so that the homeowners can sit back and reap the benefits. That includes housekeeping, 24/7 guest support, maintenance, and concierge serves to drive guests to local businesses.
"We have and will continue to educate our housekeepers on how to properly disinfect all of our homes, based on best practices from the CDC and NYS Department of Health," says Vanessa. For the time being, "We have instituted a 14 day or more policy for new bookings, with most bookings of 30+ days."
Vanessa and Ray— who worked in public relations and digital advertising, respectively  — started hosting just about three and a half years ago after buying a house in Rosendale. It was booked within 45 minutes of listing the property, helping Ray, who grew up in Highland and New Paltz, realize how much more in-demand Hudson Valley Airbnb locations are now than ever before.
"Coming back, I've seen such a dramatic difference in the development," says Ray. "Growing up you never even thought about coming up here."
There is currently a long list of properties looking to join Home Sweet Hudson, but for good reason. Once a property joins their ranks, Ray and Vanessa do a full walkthrough, making notes on all utilities and potential amenities, doing an initial clean, and setting up decorations, and organizing things like the linen closet to make things easy for housekeeping. They do an overnight themselves to get a real feel for the property as if they were new guests. Owners of course have access to the Hudson Valley Airbnb whenever they want to, but otherwise everything is entirely hands off. On Airbnb, Vanessa or Ray are listed as the hosts/Superhosts.
"Our vision was to create a professional and elevated experience from hotel-quality standards of cleanliness to curated itineraries for our guests," the couple continues. "We want them to experience the best of the Hudson Valley."
Hot Hudson Valley Airbnb
Destinations
A look at four of Home Sweet Hudson's Superhosted properties
Saugerties/Woodstock/Hunter Mountain
Blue Mountain Cabin
Airbnb Description
Entire home: 7 guests, 4 bedrooms, 4 beds, 2 baths
Price: $189 per night, at press time
Link: Search "pet friendly with hot tub" on airbnb.com
Blue Mountain Cabin offers everything you need for a luxurious weekend getaway or holiday in the country. From the cozy wood-burning stove and open concept layout to a chef's kitchen with modern amenities, master bedroom with ensuite bath and outdoor hot tub, the Hudson Valley Airbnb property — which is dog-friendly — is ideal for your stay.  Located 12 minutes from Saugerties, 15 minutes from Woodstock and 25 mins from Kingston, it's wonderfully situated for exploration. Skiing: 30 minutes to Hunter and 40 minutes to Windham.
Our impression
Practically designed for family weekends, girlfriend getaways, and other group gatherings, this spacious four-bedroom Hudson Valley Airbnb is cozy and cool. It features an open floor plan with a wood stove for cooler nights, as well as alluring accents like a claw-foot soaking tub and a trunk-turned-fully stocked minibar. The cherry on top is the backyard space, which includes a large deck, outdoor dining and lounge space, and a hot tub. Located in Saugerties, you'll be just a short drive from plenty of activities. Tour the Saugerties Lighthouse, then peruse the shops and cafes along walkable Partition Street, or take a trip to nearby Hunter Mountain, a popular winter ski resort known for its year-round music, food, and cultural festivals.
Kingston/Rail Trail
Rail Trail Country Cottage
Airbnb Description
Entire home: 8 guests, 3 bedrooms, 4 beds, 1.5 baths
Price: $114 per night, at press time
Link: Search "access rail trail" on airbnb.com
Adventure awaits at a serene cottage, located between the towns of New Paltz and Kingston, and ideally situated along the Hudson Valley Rail Trail! Enjoy a newly renovated cottage with exposed beams, original character, wood-burning fireplace, and chic décor when renting this Hudson Valley Airbnb. It's dog-friendly and includes a modern kitchen and bathroom, deck with propane grill and three-seasons screened porch overlooking a babbling brook and view of Rail Trail. Location close to local farms, restaurants, antique shopping, wineries, and more.
Our impression
A quaint hideaway on a quiet street, this is the perfect spot when you want to get away from it all without going very far. Indeed, that's exactly why Brooklynites Aaron and Gillian Hans purchased the property in January 2019. The house is gorgeous, retaining all of its original charm with modern updates like skylights, a smart thermostat, and an immaculate bathroom with tile and double vanity. You could easily relax inside all day with a book, but this stay is ideal for active families who like to spend afternoons grilling on the deck and evenings playing board games on the enclosed patio. For those interested in a bike ride on the Wallkill Valley Rail Trail, it's only 30 minutes to Midtown Kingston, and equally far from Rondout Landing if you're itching for a waterfront stroll.
Catskill Mountains/Ashokan Reservoir/Mohonk Preserve
Birch Hollow
Airbnb Description
Entire home: 8 guests, 4 bedrooms, 5 beds, 2 baths
Price: $439 per night, at press time
Link: Search "Catskills private getaway with hot tub" on airbnb.com
Birch Hollow is the perfect Hudson Valley Airbnb for those looking for a completely secluded experience in the Catskill Mountains. The Scandinavian/Boho-chic cottage features four bedrooms and two bathrooms, a well-appointed kitchen with all of the appliances you might need, a wood burning stove and outdoor hot tub, large deck as well as access to hiking paths directly from the property. Near Ashokan Reservoir, Mohonk Preserve, and quaint towns like High Falls and Stone Ridge.
Our impression
Come to Birch Hollow either with a large group of friends, your family, or as a romantic getaway with your significant other and you'll be sure to leave relaxed and reinvigorated. There are no neighbors visible from the property, making this a perfect hideaway.
A large backyard complete with a hammock, hot tub, and hikable trails are perfect for summer days, but a cozy cottage-like interior and fireplace make winter nights a snug and intimate dream. With limited Wi-Fi and data access, the property calls out to those looking to unplug and detox, and a jaw-dropping library of board games, books, and DVDs makes up for that fact.
Nearby, you can take a walk along the Ashokan Reservoir Promenade, a paved 2.8 mile, ADA-accessible path providing breathtaking views of the Catskill Mountains and wildlife, like deer and bald eagles. This Hudson Valley Airbnb provides the perfect amount of access to nature.

Red Hook/Rhinebeck
Red Hook A-Frame
Airbnb Description
Entire home: 8 guests;, 4 bedrooms, 5 beds, 2 baths
Price: $353 per night, at press time
Link: Search "Red Hook A-Frame" on airbnb.com
Red Hook A-Frame is a secluded getaway with a chic aesthetic, straight from the pages of the trendiest home decor slideshow. The newly renovated house features Insta-worthy, high-end details in the open kitchen and spa-like bathrooms. The main living area in the Hudson Valley Airbnb features high ceilings and newly installed custom windows to take advantage of the expansive A-Frame structure. Near to Rhinebeck, Red Hook, Kingston, Germantown, Tivoli, and Hudson.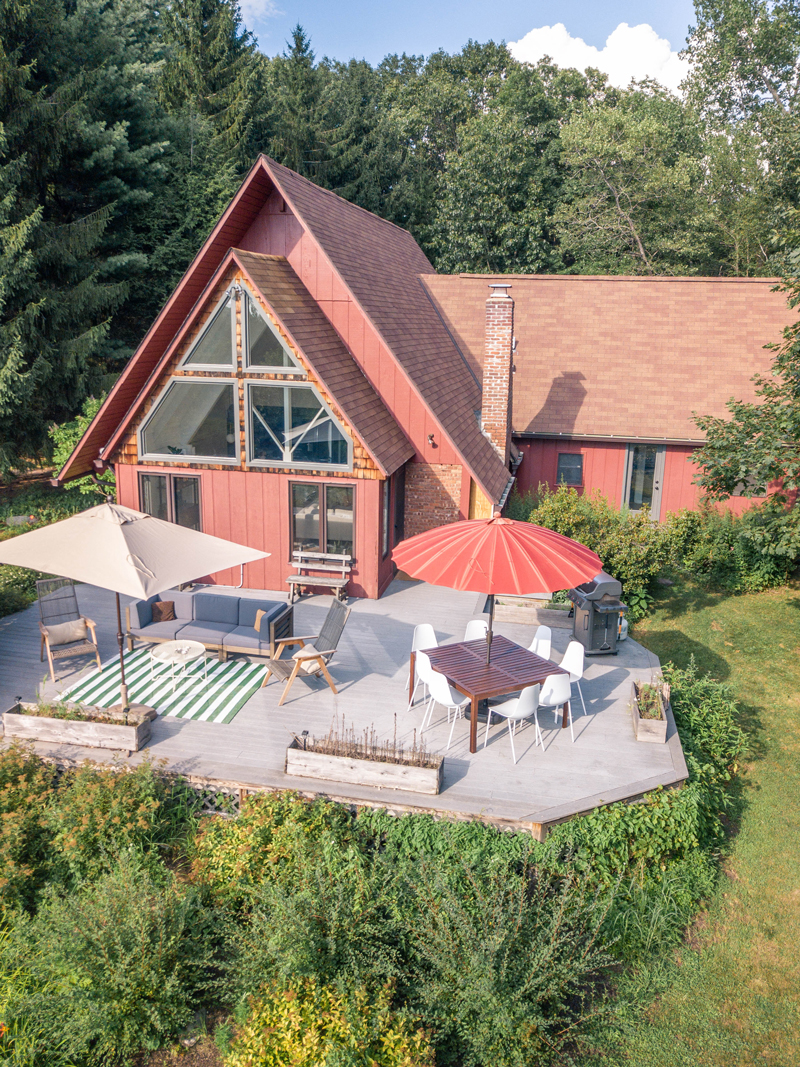 Our impression
The unique architectural elements of the Red Hook A-Frame are made even more stunning by its interior. From the open-concept kitchen to the luxurious bathrooms, the house is a mix of on-trend design with approachable, family-friendly luxury. A master suite, three guest rooms, a children's play area, and living room with a fireplace set the stage for making cozy family memories; this Hudson Valley Airbnb is practically a vacation in itself. But if you do decide to venture out, there are plenty of shops and eateries in Red Hook and even more in Rhinebeck. Itching to get outside and explore some nature trails? Venture to Poet's Walk in Annandale-on-Hudson or Ferncliff Forest in Rhinebeck. Insider's tip: The Ferncliff fire tower provides stunning views of the Hudson River and Catskills.
All properties can be also be found at www.homesweethudson.com; book there to avoid Airbnb service fees. Please consider county and state travel advisories before booking a trip during the COVID-19 pandemic.