John Bard was a product of what we'd now call "over-achievers." His ancestors were renowned physicians and businessmen, founders of (among other things) New York Hospital (now New York-Presbyterian Hospital). His grandfather operated on George Washington during the president's first term in office. John, who came into the world in Hyde Park in 1819, was born into money and prestige. But he took a different path, one that led to the founding, 150 years ago, of the Annandale-on-Hudson college that now bears his name.
Bard, the 11th of 14 children, "almost certainly did not have the hard-driving power" of his forebears, wrote Reamer Kline, former Bard president, in his book Education for the Common Good: A History of Bard College the First 100 Years (1860-1960). But he was devoutly religious and felt, as a proper 19th-century country gentleman should, that he had a responsibility to improve his community. For Bard, that meant building Episcopal churches.
In 1849, Bard married Margaret Taylor Johnston, a member of another prominent and wealthy family. Her father was a founder of New York University. "He married very well," says Michèle Dominy, vice president and dean of the college, and she means more than just the money. "They both had in their genealogy a commitment to education and health."
The couple bought an estate called Blithewood, which they renamed Annandale, and commenced building churches and schools on their property and in nearby Tivoli. At the time, there was a shortage of Episcopal ministers. Two prominent members of the church — Bishop Horatio Potter and John McVickar, a clergyman who taught at Columbia University and was superintendent of the Society for the Promotion of Religion and Learning (and Bard's uncle-in-law) — joined with Bard to fix that shortage by creating a preparatory college for the seminary. The church (represented by Potter) would recognize the college and help support it, as would McVickar and his society. Bard would provide the land and buildings, including one called St. Stephen's Hall. Thus was St. Stephen's College born in 1860. Six students entered that year.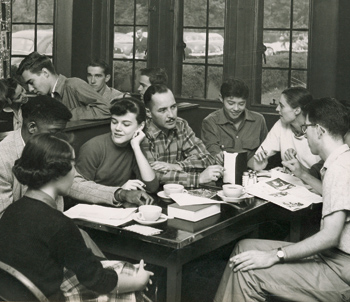 Students chat with a professor at Hegeman coffee shop, circa 1949
The college struggled in the early years. "It was never well-supported by the church," Dominy says. But Bard put his money where his beliefs were to keep it going. He had paid $60,000 for the Annandale property and spent $80,000 on the college. College instructors that first year — there were two — were paid $1,000 a year, which was good money. "He does not seem to have been shrewd or particularly astute in money matters," Kline writes, and his fortune rapidly declined.
Worse, in 1868 his only son, Willie, died at age 12. Distraught, the family moved to England, where Bard lived the remaining 30 years of his life. He returned to Annandale only occasionally. His wife died in 1875; Bard remarried and moved to Washington, D.C. in 1895. His fortune had deteriorated so that by 1897, his 130-acre estate was in foreclosure. It was sold to the college for about $38,000. Bard died on February 12, 1899. His nephew called him "a gentleman to his fingertips. Hospitable, kind, gentle, sweet in thought to all, and a lovely refined personality."
For its first 60 years, St. Stephen's College offered men a classical curriculum and prepared more than 600 ministers. But in 1919, the college hired Dr. Bernard Iddings (B.I.) Bell, a well-known educator, writer and churchman, as president and — later — warden (that's what they called the dean back then). St. Stephen's began to adopt a broader, more secular curriculum that included the social and natural sciences. In 1928 the college took a radical new step when it became an undergraduate school of Columbia University; it remained affiliated with the university until 1944. Donald G. Tewksbury of Columbia was appointed dean in 1933 and instituted his "program" or curriculum for the college.
"Dean Tewksbury formed the curriculum that still stands, in many ways, today," says Dominy. "His charge was to make the change, but his goals were similar to those when it was a church school in the 1860s, and those goals still stand in the 21st century. At our 100th anniversary, in 1960, the college's mission statement was 'liberal education in action.' It still is today."
But it is no longer St. Stephen's College. In 1934, Tewksbury put John Bard's name on the front door.
Literature faculty, 1953
Flaming Liberals?
In 2005, the Princeton Review ranked Bard College as the second-most liberal college in the United States (after Mills College in California), declaring that Bard "puts the 'liberal' in 'liberal arts.' "
But Dean Michèle Dominy much prefers the term "progressive" to "liberal." "We are represented as being to the left politically, but that's really a conflation of progressive education being liberal," she says. "For us, progressive education is very much about a breadth and depth of intellectual training and an expectation of engagement in the world. But many parts of our curriculum would belie our being called left.
We have worked with West Point for a number of years, and our faculty is not universally liberal."
The college does foster a culture of risk-taking, she says. "That elasticity and willingness to experiment makes us seem liberal in that sense."
Bard College: A Timeline
1819 John Bard born at his family estate in Hyde Park
1853 John and Margaret Johnston Bard buy Blithewood, which they rename Annandale
1860 St. Stephen's College is chartered by the legislature of the State of New York. Six students begin their classical training in preparation for the seminaries of the Episcopal Church
1866 The college begins granting degrees in the liberal arts and sciences, in addition to the pre-seminarian program
1868 Twelve-year-old Willie Bard dies, and John Bard moves his family to England
1899 John Bard dies
1928 St. Stephen's becomes an undergraduate college of Columbia University
1929 Franklin Delano Roosevelt becomes a trustee and serves until 1933
Well-known philosopher (and faculty member) Hannah Arendt
1933-1944 A number of distinguished European emigres join the Bard faculty, including Felix Hirsch, the political editor; Emil Hauser, the violinist; Adolf Sturmthal, the economist; and Werner Wolff, the psychologist
1934 The college's name is changed to Bard College
1944 Bard withdraws from affiliation with Columbia in order to become coeducational. The first female students arrive in September
Writer Mary McCarthy
1946 Mary McCarthy joins Bard faculty, the first of a long list of writers to teach at Bard during the late 1940s and 1950s. Others included A. J. Ayer, F. W. Dupee, Ralph Ellison, Franco Modigliani, William Humphrey, Theodore Weiss, Anthony Hecht (Bard class of '44), Saul Bellow and Dwight Macdonald
1973 Former Bard students Donald Fagen and Walter Becker (better known as the rock duo Steely Dan), release the song "My Old School," vowing "I'm never going back to my old school" because of a drug bust on campus in 1969
President Leon Botstein
1975 Leon Botstein becomes president of Bard College. Still in the same position, he is the longest serving college president in U.S. history
1985 Donald Fagen receives an honorary doctorate. '"Well, you know. I'm not one to hold a grudge," he tells Entertainment Weekly
1990 The Bard Music Festival has its inaugural season
1991 Undergraduate enrollment reaches 1,000
2002 Human Rights program established, the first full academic concentration in human rights at a U.S. college
The entrance to the Fisher Center
2003 The Richard B. Fisher Center for the Performing Arts, designed by Frank Gehry, opens
2005 Bard College Conservatory of Music opens
2006 Hessel Museum of Art opens