It's official — not only has yoga gone mainstream, it's gone beyond mainstream. What used to elicit a raised eyebrow is now seen as part of the establishment, even passé. Such cultural turnabouts aren't unprecedented, of course. Take the Rolling Stones. First, they were the sexy underground rockers from the U.K., shocking mothers everywhere with their subversive lyrics and suggestive hip gyrations. Then they scored a few chart-topping hits, and before you knew it, Microsoft was using "Start Me Up" to sell computer products. Yoga has followed a similar trajectory: In the beginning, only your earthy, hippie-ish friends did it. Then celebrities (including, coincidentally, Mick Jagger) began extolling its virtues. Now companies practice "corporate yoga," bringing in yoga instructors to de-stress their workforce.
That's not to say that yoga has sold out on its most important values, however. The reason for its booming popularity is simple: It works. Even short-term classes improve flexibility and strength, and studies suggest that yoga alleviates symptoms of cancer, hypertension, and chronic low-back pain. The 5,000-year-old practice, which originated in India, also helps ease the toll of anxiety, depression, and everyday stress.
Of course, there are now so many different styles of yoga that you could get stressed out just trying to choose the right one. It's impossible to sum them all up right here, but (very) basically, Hatha yoga refers to any yoga that uses asanas, or poses, and encompasses what most Americans commonly understand to be yoga. Ashtanga yoga is a special type of hatha yoga that emphasizes movement; it has been adapted into various present-day subsets — the "power yoga" you may have heard about is one form of Ashtanga yoga.
The five classes listed here are just a small sampling of the styles and venues available to Valleyites. So take a look, find the type that's right for you, and see if you can achieve some physical and mental satisfaction of your own.
"Easy Pose" or Sukhasana
Basics Yoga
Liberation Yoga, Mahopac
This class level is appropriate for both long-inactive yogis in need of a refresher and rookies who don't know a downward-facing dog from a disco dance step. Instructor David Robles slowly guides the class through yoga's less formidable poses, paying careful attention to alignment and, if necessary, modifying a pose to meet a student's ability level. "One of the principal goals of basics is to build body awareness," Robles says. "There's less emphasis on philosophy, and a little more emphasis on the physical." Robles suggests students move to a higher-paced, more challenging class once they've incorporated the postures into their muscle memory.
845-803-8389; www.liberationny.com

"Eight-Limbed Crooked Pose" or Astavakrasana
Vinyasa Yoga
Sadhana Center for Yoga and Meditation, Hudson
The one constant in Vinyasa yoga is movement. Participants hold themselves in a pose for five to eight breaths, perform vinyasa flow, a bridging sequence of movements repeated after every posture, and then continue on to the next pose. "It's vigorous, it's rigorous, and it heats the body," says Sondra Loring, who owns Sadhana. Vinyasa's most advanced practitioners can execute awe-inspiring postures like the forearm stand, the backbend, and "one foot to head," in which yogis wrap a leg around their neck from a sitting position.
518-828-1034; www.sadhanayogahudson.com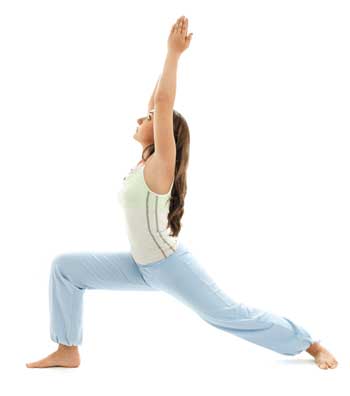 "Warrior I Pose" or Virabhadrasana
Anusara Yoga
Satya Yoga Center, Rhinebeck
Anusara Yoga follows a format similar to that used in Vinyasa: Each posture is held for six to eight breaths, but in Anusara there is no vinyasa flow between poses — students simply exit the pose standing. What most differentiates the two forms, however, is Anusara's emphasis on the spiritual. At Satya Yoga, each week's poses reflect a certain "heart theme," says teacher Marie Lumholtz. If the theme is enthusiasm, for example, students will concentrate on outward-facing backbends. "When you integrate the heart theme into the physical," Lumholtz says, "you feel more connected to yourself, more grounded and open at the same time."
845-876-2528; www.satyayogacenter.us

"Camel Pose" or Ustrasana
Hot Yoga (Bikram Yoga)
Tadasana Yoga, Wappingers Falls
There's nothing metaphorical about the name: Hot yoga classes take place in a room heated to 100 degrees. "The heat allows the body to move more freely and deeply into postures," says Roberta McGinley, who teaches the classes at Tadasana. "It's like putting fire on a glass — the glass becomes much more malleable." Over 90 minutes, participants sweat their way through two sets of 26 poses, flushing the toxins out of their bodies and burning through a workout McGinley equates to running five miles. "It's a very Type-A style of yoga," McGinley says. "It's not like you're om-ing and sitting and relaxing. You're relaxing by working hard."
845-297-2774; www.tadasanany.com

"Legs Up The Wall Pose" or Viparita Karani
Gentle/Restorative Yoga
The Living Seed Yoga and Holistic Health Center, New Paltz
If you have a bad back or an old knee injury, chances are you look at yoga like an indoor rock climber might look at Mount Everest — very wearily. Students practicing gentle and restorative yoga, however, use props such as cushions or bolster pillows to ease themselves into postures that stretch their muscles gently. You won't find any hard-core human pretzels here, says Melissa Nedza, the gentle yoga instructor at the Living Seed. "There's an emphasis on being accepting of yourself," she says. Gentle yoga is also popular with the elderly, especially those with arthritis — the mild stretching works well when it comes to lubricating joints.
845-255-8212; www.thelivingseed.com

For more information about yoga in the Hudson Valley (kundalini anyone?), breathe deeply and visit our "Serenity Now" Web feature. And don't forget to scope out Liz Stein's Valley Vogue fitness post, "Is Your New Year's Resolution What I Think It Is?" for some thoughts on fitness fashion!