It's one thing to dream about buying a fixer-upper. There's an idealistic charm that comes with the notion of restoring a barebones Victorian abode or a rickety upstate barn. Buying such a property, however, is another matter entirely. If the down payment doesn't scare you off, there are the hefty renovation costs and the long, grueling hours of restoration work to consider. Add in an unexpected building roadblock and a pause for a frigid Hudson Valley winter and, all of the sudden, you're face to face with more work than you ever imagined.
Of course, there's always a light at the end of the tunnel. Just ask Colan McGeehan and Cristy Lee, the owners of Bruyn Estate at Red Mills Farm in Shawangunk. In 2013, the Manhattan couple fell in love with the Ulster County estate, which dates back to 1835 and is on the National Register of Historic Places. They purchased it, and have since devoted their days to restoring their country farmhouse. We caught up with the couple, who share their renovation adventures with the DIY Network on Barnwood Builders, to learn what it's like to restore a property and how they got to share their adventures on the big screen in the first place.
Congrats on the property! When did you begin the renovation?
We purchased the farm in December 2013 and began work almost immediately.
How has it gone so far?
Cristy Lee is a designer with a degree in fashion. Under her firm, Red Mills Studios, she has designed and physically completed the majority of the work on the farmhouse. It's been both a blast and a challenge as we balance living in a historic home and honoring it while updating it to make it fit our needs in the modern world. For example, we liken living in the house to swimming through a lake – pockets of warmth and cold, ever changing, and there's zero insulation and it's incredibly drafty. We didn't want to change out the original leaded glass, pulley system windows or tear up the lath and plaster walls, so we've had to experiment with heating and cooling options. Our solutions aren't always ideal, but it's the price we're willing to pay for living here.
Why did you decide to purchase the property?
We are lovers of history and the outdoors. We would often leave our apartment in Soho to go hiking/camping in the Hudson Valley or parts of the Appalachians. Colan found the property online after a year of house hunting and we fell in love with it after only one visit. It was absolutely love at first sight and we just knew it was our house.
Why did you choose the Hudson Valley?
When we finally decided it was time to leave Soho we narrowed our search to Nashville, TN; Bucks County, PA; and the Hudson Valley. Living in the Hudson Valley gave us the best of both worlds. NYC feels like it's our backyard and we get to live in our vacation home. The Hudson Valley is stunningly beautiful and our friends and family "vacation" with us year-round, over 100 nights a year, so we never run out of things to do.
What stage are you currently at on the renovation?
The farmhouse is 99 percent done. The guesthouse is another story…we are about to start chinking the logs of the structure. The way we look at it though, renovating is never done. Our home is always evolving.
How did you get involved with the DIY Network?
We like to think the universe brought us to Barnwood Builders. We were upstate for a concert, getting ready in our hotel, and Cristy Lee turned on the TV (she never does that). The channel happened to be DIY (which we didn't receive in our own home) and Barnwood Builders was playing (which we never heard of). The episode was specifically about a little known style of log cabin that we had already been starting to design on our own! Colan found the name of the company online and sent over a simple email before we went to the concert, mostly on a lark, never imagining it would lead to anything. Several days later we received a call from West Virginia and Mark Bowe (the show's host and executive producer) was on the other end. Evidentially an 1830s summer kitchen turned karaoke speakeasy and lounge with a Moroccan disco theme sparked some interest. Mark's first words were, "how could I not work with people who have a disco ball in their house?"
What is Barnwood Builders all about?
Mark Bowe and his team are West Virginia-based craftsmen who salvage everything they can from antique barns and cabins while preserving the pioneer art of building. They find clients (like us) to either rebuild or, in our case, reinvent antique structures. Our guesthouse is built from two barns from Pennsylvania, a cabin from Tennessee, a cabin from Kentucky, and even a few logs from Mark's personal stash. We had a very specific design in mind and Barnwood Builders was able to make it a reality by completely customizing salvaged wood from so many structures, a first for them in seven seasons. And we couldn't have done it without our cabin whisperer, Karen Tillery, of Restoration Log Cabin Rentals.
When can viewers watch your episodes?
Our first teaser episode where we meet the owners of the Pennsylvania double-pen barn in PA aired on April 22, 2018. Season seven aired on July 15. We believe our next episode will air sometime in August or September. The crew is coming back in fall when we have the guesthouse completed to film another episode.
What are your plans for the property?
Our home is about the gathering of friends. Cristy Lee figured out that last year alone, we had people stay in our home 135 nights. We plan to continue this tradition with more and more guests coming and staying for weeks at a time if they want! We also continue to expand our animals at the farm (the couple currently has chickens, goats, and dogs). Our goal is that this is a place our nieces and nephews beg to come to for years to come.
Why do you love this project?
Preserving our home's unique features is important to us, but so is living somewhere that feels like a home and feels absolutely us. For example, the original summer kitchen from 1835 is still totally intact. However, we had no need for it so it is now a karaoke lounge and speakeasy, complete with a disco ball, sequined windows and curtains, and custom lighting. It's a favorite hangout for everyone young and old, and it celebrates a space that we might not otherwise use. It all just works.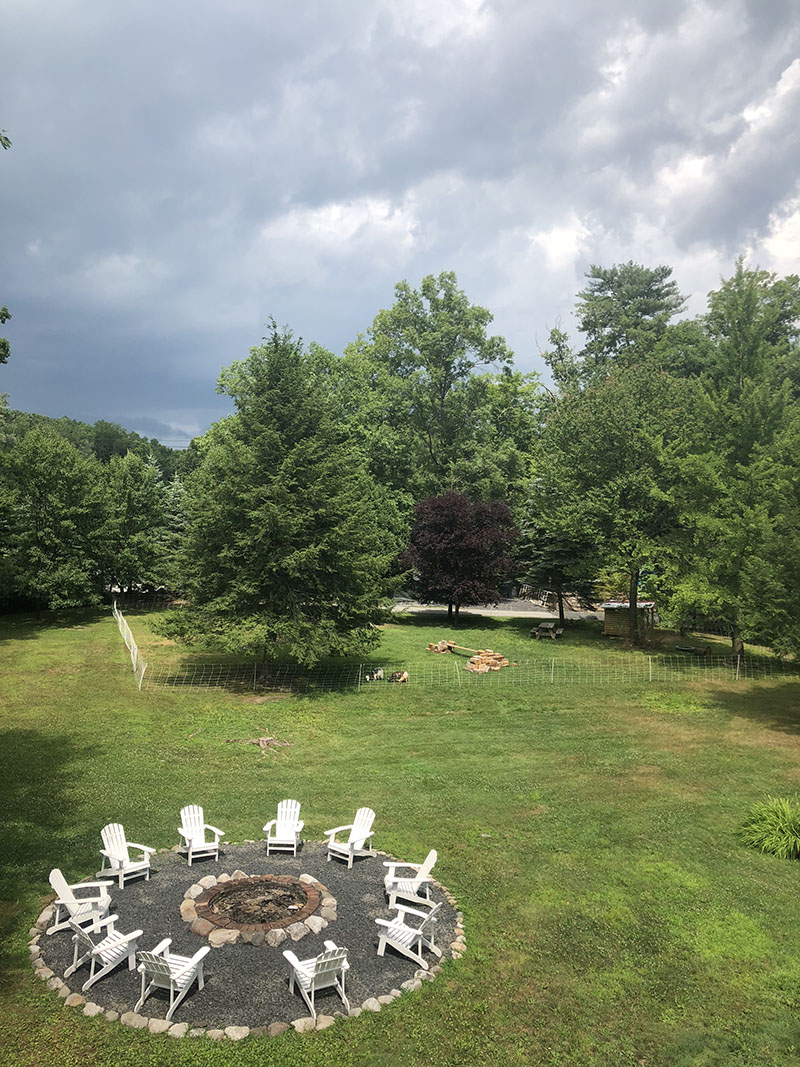 Related: Score Two Historic Homes for the Price of One in Mahopac