Autumn is often the best time to take a road trip. The crowds are gone, the air is crisp, and in the Northeast we have that world-famous fall foliage to appreciate. And — an added bonus — the cultural season is also now in full swing. So we've chosen four special getaways — all within three hours of Poughkeepsie — that center around visiting top-notch museums. You can relive Woodstock, tap into Native American or mountain culture, or get up close and personal with Norman Rockwell. And we've given you dozens of other things to do (and places to eat) along the way. So pack your bags, plug in the GPS, and get moving! Bethel Woods Relive the 1960s at this brand-new museum
By Polly Sparling
Technically, I'm too young to be considered a flower child — I was in elementary school throughout the 1960s. But thanks to my older sister Meg, a teenager at the time, I got to experience some of the cultural nuances associated with being a hippie (at least as they were practiced by kids in Westchester County). I remember using a steam iron to press my sister's waist-length hair before her dates with Steve (her bearded, motorcycle-riding boyfriend); I think we both suffered permanent hearing loss from screaming at the Beatles when they appeared on the Ed Sullivan Show. And I vividly recall the pang of jealousy I felt when Meg and her friends piled in a car and headed for the 1969 Woodstock Festival (although I'm still unsure if they ever made it off the New York State Thruway).
So it was with some hesitation that I approached my visit to the Museum at Bethel Woods, the brand-new facility located on Yasgur's farm, the site of the Woodstock festival in Sullivan County. A whole museum, dedicated to a rock concert? I envisioned a room full of video footage of performers; tired audio clips of Richie Havens, Janis Joplin, Jimi Hendrix et. al.; and photos of kids rolling around in the mud — but not much more. What else is there to say about Woodstock — or the '60s, for that matter?
As it turns out — plenty.
I'm happy to report that these reservations were completely unfounded. Exploring the Museum at Bethel Woods was one of the most stimulating, thought-provoking, educational, and — yes — groovy experiences I've had in many a moon. And even more telling: Hilary, my 18-year-old daughter — whose only knowledge of this time period comes from textbooks and her mom's old LPs — was just as enthralled as I was.
Although the concert itself is the museum's focal point, the site's creators have taken great care (and used much of their exhibition space) to place the "three days of peace and love" in the proper historical context. Before the word "Woodstock" is even mentioned, visitors get a detailed look at all aspects of American life during the '60s — from Vietnam, racial tensions, and moon shots to bell bottoms, TV sitcoms, and transistor radios.

Groovy, man: An exterior view of the Museum at Bethel Woods
Photographs courtesy of Bethel Woods Center for the Arts
The newly constructed building, which opened last July, sits on a hillside above the site's outdoor concert theater. The entrance area — all glass, gleaming wood, and slate floors — feels deliberately muted and sedate. It's a perfect foil to the exhibit hall — a giant room awash in color, light, and sound. At the entrance, you immediately catch sight of an illuminated peace sign projected on the floor, while clips of '60s hits play in the background. In an interesting architectural touch, curvilinear walls (their forms called to mind the psychedelic lettering used on old "flower power" posters) separate different subject areas throughout the hall; each wall features a collage of relevant photos, newspaper headlines, quotations, and other bits of historical ephemera.
The museum bills itself as being hands-on, but that description doesn't really do it justice; one feels immersed in the sights, sounds, and — significantly — politics of the era. Small kiosks, outfitted with benches and a video screen, offer a menu of short films on a particular topic, all of which use period footage and are both entertaining and informative. At other stations, you can grab a pair of headphones and hear tunes — pop, rock, country, gospel, and R&B — from a particular year in the 1960s; the console provides a written anecdote about the artist to savor while you listen.
Once you're properly imbued with '60s culture, the exhibit sets out to tell the complete story of Woodstock (or the "Aquarian Festival," as it was originally called). Again, the museum's creative team has done a masterful job of combining what most people already know about the event (the massive crowd, the groundbreaking musical performances, the thunderstorms, Wavy Gravy in the acid tent, etc.) with the nuts-and-bolts facts of how the concert was conceived, publicized, and carried out. From a video look at the Hog Farm Commune's cross-county bus trip (which is screened inside a psychedelically painted bus) to a memo outlining the event's security plan, it's all here. And lest you get the impression that the exhibit gives short shrift to music, rest assured: Not one, but two longer films showcase actual performances from the festival interspersed with first-person accounts by concertgoers, critics, and the artists themselves.
In the museum's final display, a variety of notable people — from Oprah Winfrey to Edwin Meese — comment on whether or not Woodstock has had a lasting effect on the nation. Doors guitarist Ray Manzarek sums it up neatly: Woodstock was "the defining moment for an entire generation of people." If you consider yourself part of that generation, you'll enjoy a trip to Bethel (whether it's for the first, or the second, time).

Rocker Cyndi Lauper performed at the site last year
Other Activities: While the Museum at Bethel Woods is the newest (and splashiest) sight to see in Sullivan County, there are plenty of other activities to keep weekend visitors happily occupied. Besides the museum, the Bethel Woods Center for the Arts hosts concerts by top-flight musicians (David Bromberg and Richie Havens are two) into the early fall. And the region's popular Harvest Festival — a local tradition for the past eight years — is held at the center every Sunday through Columbus Day weekend. Located a stone's throw east of Bethel, the Monticello Raceway has harness racing year-round, as well as 1,500 video gaming machines (for a little touch of Vegas in the Catskills). There's live entertainment on weekends, too. Through September, outdoor enthusiasts can swim, fish, and take a boat ride at Lake Superior State Park, located just south of Bethel.
Accommodations: Less than three miles from the Bethel Woods complex, the Bradstan Country Hotel in White Lake is a former rooming house converted into a Victorian-style B&B by owners Edward Dudek and Scott Samuelson. The five spacious guest areas — two large rooms and three suites — each have a private bath and a mixture of "vintage, antique, and contemporary furnishings," says Dudek. The expanded Continental breakfast includes homemade baked goods and one or two hot dishes — "very European," according to Dudek. On Sunday evenings through October, cabaret performances by well-known Manhattan chanteuses like Jeanne MacDonald and KT Sullivan are held in their living room. Room rates range from $135-$200. 1561 Rte. 17B, White Lake. 845-583-4114 or www.bradstancountryhotel.com
Where to eat: There are several nearby eateries worth checking out. Dine on brick-oven pizza at Benji & Jake's (845-583-4031), or on rainbow trout at the Fat Lady Café (845-583-7133), both of which overlook Kauneonga Lake. The Front Porch Café (Rte. 17B, White Lake; 845-583-4838) offers contemporary fusion cuisine and a special Sunday brunch with homemade baked goodies.
The Museum at Bethel Woods
Bethel. Closed early January-March. $13, $11 seniors, $9 youth 8-17, $4 children. Advanced tickets required. 845-454-3388 or www.bethelwoodscenter.org
FALL FOLIAGE ALERT
To get a truly spectacular look at the foliage, drive north into the Catskill Park. A combination of private and publicly owned property, the 700,000-acre park includes a number of exceptional hiking trails around Big Indian, as well as the Beaverkill and Willowemac, two of the world's most famous trout fishing streams.
Photograph courtesy of Foxwoods MGM Center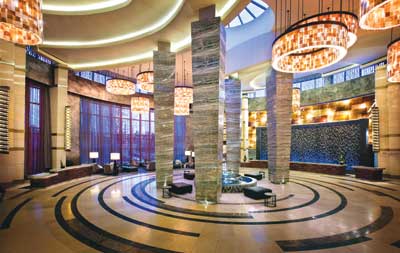 The eye-catching lobby of the new MGM Grand at Foxwoods
Foxwoods
High-class casinos and a whole lot of culture await in the southeast corner of Connecticut
By Jennifer Leba
Let me come clean with one fact right up front: Casinos aren't really my thing. The problem is, my husband just loves them. He loves the clinging and the clanging; the pulsating lights; and he even seems to love methodically throwing his hard-earned dough into one of those pretty machines, which rarely seems to cooperate (please don't ask him to explain his triple down theory of how to beat the slots). No, for me to seek out a casino, there usually needs to be another draw — the storied history and boardwalk of Atlantic City, or a spectacularly cool show in Vegas. So I didn't know what to expect when we set out for Foxwoods, the largest casino in North America, nestled away in its own little empire in Connecticut's southeastern corner. Little did I know that a surprise state-of-the art museum — the Mashantucket Museum and Research Center — and a host of other unexpected treats would elevate what could have been a simple gambling getaway into a one-of-a-kind escape.
We started the journey on Interstate 84, which, as usual, was crammed with trucks. An hour and a half later we were relieved to finally pull onto Connecticut Route 2: a pleasant, mostly two-lane highway that meanders through a series of small Connecticut villages, all dotted with the requisite church steeples. As the sun set, we were just starting to relax into the weekend, and suddenly we saw it: Foxwoods lights up the dark Connecticut night like the kingdom of Oz. We were immediately silent. "Is that it?" My husband finally asked in a hushed tone. It positively glowed.
Foxwoods is one big place — and it just got a whole lot bigger. The original Foxwoods already had six casinos with more than 7,000 slot machines and 1,400-plus guest rooms. But last May, the MGM Grand at Foxwoods opened, adding — among other things — 825 luxurious guest rooms, a 4,000-seat theater, and an oversized spa. But take note: the MGM's new casino is relatively small. That's because management is focusing less on gambling and more on providing an entire upscale casino experience. And by most accounts, there is a serious Vegas vibe happening here. The star-studded opening celebration included performances by John Mayer and Josh Groban, and casino queen Celine Dion is on board for September.
Of course, top-notch dining is part of the package. Foxwoods' elegant Paragon Restaurant (one of only seven four-star restaurants in the state), perched atop a 24-floor tower, has long been serving up designer dishes. But the arrival of Craftsteak at the MGM property has taken dining to a whole new level. Foodies everywhere know that Craftsteak, with outposts in Manhattan and at the MGM in Vegas, is celebrity chef Tom Colicchio's much-hyped high-end steak house. Here, the master instructs his underlings to sear the steaks in copper pots, then roast them in 500 degree ovens; the meat is then served with either a char rub, au poivre, or with garlic confit. You can choose from corn-fed or grass-fed beef, or opt for a beautifully marbled Waygu cut. But be prepared: A prime ribeye for two will set you back $130. On a slightly lower budget, we dined one evening at the delightfully low-key Grill at Two Trees. Snuggled up near the fireplace, we enjoyed savory French onion soup, and were impressed that my husband's perfectly prepared hangar steak (with delectable goat cheese mashed potatoes) would have easily been enough for two.
All the figures in the museum's Pequot Indian Village were cast from Native American models


Photograph courtesy of Mashantucket Pequot Museum & Research Center
The folks footing the bill (and reaping the profits) for all the high rolling hijinks are the Pequot tribe of Mashantucket. I had never heard of this tiny tribe before I visited Foxwoods, but apparently the Pequot, once 8,000 strong, ruled supreme over the coastal area of southeastern Connecticut in centuries past. A smallpox epidemic in 1633 wiped out much of their brood, and four years later the British colonists killed most of the remaining natives during the Pequot War. Those who survived the massacre at Mystic were mostly enslaved. Eventually, a few Pequot returned to their homeland, but in 1910 there were only about a dozen Pequot living on the reservation. In 1983, after years of behind-the-scenes work, the Mashantucket Pequot became the eighth American tribe to gain federal recognition.
But let the airy 85,000-square-foot museum, which opened in August 1998, tell their story. You'll be hooked from the moment you step onto the escalator that takes you to a chilled room — complete with sound effects of a creaking glacier — that simulates life during the Ice Age. Over the next few hours (and do plan to spend a few hours), all your senses will be entertained as you travel through time, experiencing such things as the arrival of the Europeans, the Pequot War, and even life as a modern-day Pequot. The museum relies heavily on dioramas and immediately made me think of the animal displays at New York City's Museum of Natural History. But these life-size displays are cleaner, brighter, and much more accessible. You can walk all around the scene of a 50-foot caribou hunt, viewing the life-size hunters and animals from different angles. The museum also makes liberal use of text panels, interactive computer programs, and films. And if you didn't realize it when you first saw the mastodon and giant beaver (don't worry, this strange-looking beast is now extinct), the museum is a no-brainer for children of all ages.
The highlight of the museum is a 22,000-square foot, walk-through village that recreates everyday Pequot life in the 16th century. The intoxicating scent of campfires first drew me in, and as we wandered around full-size oak and maple trees from the sweat lodge to a dozen different wigwams, we were able to truly appreciate this amazing civilization. "I want to live in a wigwam," I remarked to my husband, only half joking, after we viewed one particularly cozy scene with a split-log bed covered in fuzzy deer and bear furs. (I wasn't so sure about the porcupine-quilled moccasins.)
The level of detail here — all painstakingly researched — is truly astonishing. From the life-sized native plants, to hundreds of natural sounds, you feel as though you've been magically transported. An informative audio tour accompanies you through the village; but throughout the entire museum, you can always stop and learn a little more if something strikes your fancy. How did they make the dugout canoes? Let a short video show you. Being a word person, I was particularly intrigued by the exhibit on native languages. My favorite part was a map indicating which native words are used to describe locations in the area. For example, Misquamicut, a beach area in Rhode Island, is actually an Indian word meaning "at the red sand."
Also to be appreciated is the simple elegance of the building — starting with the soaring glass and steel lobby. Designed to interact with the environment, the museum embraces the tree line, with two of the floors below ground. For the best fall foliage, I recommend a trip to the top of the 185-foot stone and glass tower.
Overnight: If you want to escape the bustle of modern-day Foxwoods, stay at the House of 1833, a five-suite B&B in a historic Greek Revival mansion in Mystic. Eat your heart out at the gourmet breakfast via candlelight each morning, play tennis on the clay court, or hunker down in front of the Belgian marble fireplace. Whatever you do, you'll channel the elegance of days gone by while your helpful hosts keep you pampered in the present. Fall rates start at $149 a night. 860-536-6325 or www.houseof1833.com
FALL FOLIAGE ALERT
This scenic half-hour drive should give you a good dose of the colorful New England autumn. Start in downtown Mystic on the Groton side of the drawbridge by turning onto Pearl Street. After a few blocks of charming homes you will see the Mystic River on the right. Stay close to the river and you will be brought onto River Road. Shortly after passing a cemetery on the right, you will come to a traffic light — you are now in Old Mystic. Turn right at the light and again at the stop sign onto Route 27 South. Just past the view of the river on the right, and the refurbished brick mill, turn left onto Route 234-Pequot Trail. The road climbs quickly and sharply, and then gently twists and turns through Stonington. Follow the Route 234 signs. Turn onto Route 1 South at the traffic light. Follow Route 1 back to Mystic.Foxwoods Resort & Casino
www.foxwoods.com or mgmatfoxwoods.com
SIDE TRIP
Mystic Seaport: The summer crowds are gone, making fall the perfect time to visit the nation's biggest maritime museum, which is a mere 15 minutes down the road from Foxwoods. Here you'll find a recreated 19th-century seafaring village, historic tall ships and boats, galleries, and a unique planetarium that teaches visitors about celestial navigation using the stars. But we're most excited about the weekend of Oct. 11-13, when the annual Chowderfest shindig allows seafood lovers to stuff themselves silly. www.mysticseaport.com
Upcoming Events:
Alicia Keys Sept. 12 at the MGM Grand. Tickets $90-$120; www.mgmatfoxwoods.com/entertain
3rd Annual Foxwoods Food & Wine Festival
Sept. 26-28
Tastings, dinners, parties, and celebrity chef demonstrations; www.foxwoodsfoodandwine.com
Mashantucket Pequot Museum and Research Center $15, $13 seniors, $10 children (6-15), under 6 free; 800-411-9671; www.pequotmuseum.com
Life on the lake: At the Adirondack Museum, large-scale objects are part of many of the exhibits

Photograph courtesy of the Adirondack Museum
The Adirondacks
Experience mountain life at an interactive museum and a "great camp"
By Polly Sparling
If the hustle and bustle of life in suburbia (or exurbia, as some call it) has left you in need of a little R and R, a trip to the Adirondacks might be just what you need to restore your inner mountaineer. The Adirondack Museum, Sagamore Great Camp, and the cruise vessel W.W. Durant each offer a unique look at the history of life in New York State's famed Adirondack Park.
Devoted to 200 years' worth of regional history, the Adirondack Museum in Blue Mountain Lake features 22 exhibits that illustrate all aspects of life, work, and play in rural New York. The development of Adirondack logging, recreation, transportation, and other important activities is explored in detail. Adults will enjoy perusing a large and varied collection of Adirondack rustic furniture; viewing examples of fine art and photography culled from the museum's extensive holdings; and admiring the Oriental, a Pullman railroad car used during the Gilded Age to transport well-heeled city folk to the mountains.
But the museum is also an ideal place to take the kids. Many of the exhibits feature large-scale objects — boats, a locomotive, a one-room schoolhouse — that should hold the interest of even the youngest museum-goer. The family friendly "Great Outdoors" exhibit is designed for hands-on exploration, and the newly opened Whimsy and Play Rustic Tot Lot has wooden rockers, bridges, and timbers to climb and scamper upon.
During the fall, weekend visitors can take advantage of a number of special events held at the museum, including a Rustic Fair (Sept. 6-7), an Antiques Show (Sept. 20-21), and a Harvest Festival (Oct. 4-5).
Photograph by Dave Scranton

The boathouse at Sagamore is one of 27 buildings on the property built by Alfred Vanderbilt
Not far from the Adirondack Museum is Sagamore, a wonderful example of an early 20th-century "great camp." During those heady years, even robber barons and railroad tycoons occasionally needed to get away to their simple country cabins in the woods. Constructed by W.W. Durant (a Union Pacific Railroad heir) in the late 1890s, Sagamore was later sold to Alfred G. Vanderbilt (grandson of the infamous "Commodore" Cornelius Vanderbilt). Alfred expanded the rustic "camp" to include 27 well-appointed buildings and such outdoor necessities as a bowling alley, tennis court, croquet lawn, and its own hydro-electric plant. After suffering through a period of neglect, the National Historic Landmark site is now owned by a nonprofit organization, which is working to bring it back to its former glory.
Two-hour tours of the property take place throughout the fall. Or — if you care to rough it the way the swells used to — book a room at the camp itself: Special three-day educational and cultural programs are offered regularly.
To put the finishing touch on your rejuvenating weekend, try viewing the incomparable fall foliage from the deck of a 60-foot boat. The cruiser W.W. Durant (yes, it's named for the same Durant who built Sagamore) offers autumn weekend sails around 6,000-acre Raquette Lake. Besides the trees, you'll get a glimpse of the elaborate wilderness compounds built by the likes of Andrew Carnegie and other industrialists. Along with a dose of local history, you can enjoy lunch, brunch, or dinner while communing with nature. If that doesn't relieve your workaday stress, nothing will.
Photograph by Dick Bower

All aboard: The 60-foot W.W. Durant offers sails — and meals — on beautiful Raquette Lake
Where to stay: Open year-round, the Adirondack Country Inn, in the nearby hamlet of Indian Lake, offers both single rooms and cottages in the rustic style. Catering mainly to couples, the secluded lodging provides a beautiful view of Indian Lake as well as the possibility of a moose sighting. The inn is equipped with a full-menu dining room — which specializes in Southern-style barbecue favorites — and visitors can enjoy a breakfast of assorted muffins, scones, coffee cake, and other homemade baked goodies. Rates range from $135-$275 per night, breakfast included. Rte. 30, Indian Lake. 518-648-5995, 800-488-4383, or www.adkinn.com
The Adirondack Museum
Blue Mountain Lake. Daily through Oct. 19. $16, $8 children 6-12, under 6 free; admission is good for two consecutive days. 518-352-7311; www.adirondackmuseum.org
Sagamore Great Camp
Raquette Lake. $12, $6 children. Tours 1:30 p.m. daily from Sept. 1-Oct. 12. 315-354-5311; www.sagamore.org
Raquette Lake Navigation Company
Sails on the W.W. Durant run from Sept. 1-Oct. 25. Rates range from $9 for a one-hour excursion to $50 for a three-hour dinner cruise. 315-354-5532; www.raquettelakenavigation.com
Go to www.adirondackgildedage.com for information on discounted rates when you visit all three of the above attractions.
Photograph by Brownie Harris, courtesy of Norman Rockwell Museum

Norman Rockwell's studio is a popular stop at the museum
Stockbridge
The Norman Rockwell Museum sets the old-fashioned tone in this Massachusetts village
By Jennifer Leba
Whether or not you consider yourself a fan of Norman Rockwell's "aw, shucks," nostalgia-style work, there is no denying the profound influence the artist has had on American art and culture. For this reason alone, a visit to the Norman Rockwell Museum in Stockbridge, Mass., is well worth a tank of gas (yes, even with today's oil prices). Once you start wandering through the spacious rooms and viewing his prolific work — including 323 Saturday Evening Post covers — it's easy to appreciate why Rockwell's utopian vision of small-town life captivated a generation of Americans.
The museum, which has been in its current location since 1993, now houses the largest, and most significant, collection of original Rockwells in the world. Highlights include the famous Four Freedoms, four now-iconic paintings based on a 1941 speech by President Roosevelt; and Stockbridge Main Street at Christmas. In addition, a lively series of lectures — as well as films, letters, and personal mementos — illuminate the life of this shy artist, who moved to Stockbridge in 1953 and lived there until his death in 1978. The artist's studio — which was transported to the museum's grounds — is open to the public from May through October. Left exactly the way it was during the artist's latter days, it includes an extensive art library. Fall is also an ideal time to stroll or picnic on the pretty 36-acre grounds, where you can see several sculptures created by Rockwell's son, Peter. To help remain relevant to a new generation of illustrators, the museum continually mounts exhibits of work by other artists.
Chesterwood Estate is furnished with American and European decorative arts

Photograph courtesy of Berkshire Visitors Bureau
But this museum is not the only game in town. Just five minutes down the road lies Chesterwood Estate, the 1920s summer home of sculptor Daniel Chester French. French is best known for the statue of the seated Abraham Lincoln in the Washington Memorial, as well as the Minute Man in Concord, Mass. At this little-known gem, you can take a guided tour of both the artist's residence and the studio, where you can see many of his original models. Contemporary sculpture exhibits are also shown here regularly. A gentleman's garden and a woodland walk designed by the sculptor enhance the gorgeous 122-acre estate. Throw in the panoramic views of Monument Mountain (see sidebar) and you may be so inspired, you'll start sculpting, too.
When you're done with the museums, head into the village — which, you'll be surprised to note, isn't really all that different from Rockwell's painting (which was completed in the 1950s, but not published until 1967). Check out all the charming shops and, if you want to keep that old-fashioned vibe going, have lunch — a big, fat steak and cheese sandwich — at the retro lunch counter at the Elm Street Market. Later, head to the center of town, where you can take to a rocking chair on the famous front porch of the historic Red Lion Inn, and wish that TV had never been invented. Here, locals and tourists alike congregate throughout the day to catch up and chatter about things that matter — and sometimes to stop for a pint at the rustic Widow Bingham's Tavern. Once a stagecoach stop on the route from Boston to Albany, the inn has more than 100 unique guest rooms. But try to book early — over-the-top nostalgia like this is in season all year round.
FALL FOLIAGE ALERT
Monument Mountain: In 1850, Herman Melville — joined by fellow author Nathaniel Hawthorne — hiked up this 1,735-foot mountain, where he apparently conceived the idea for Moby Dick. On a clear day you can be similarly inspired by viewing five states and lots of interesting rock formations. Route 7, Great Barrington. www.thetrustees.org/pages/325_monument_mountain.cfm
Bartholomew's Cobble: This magical 329-acre nature preserve has one of the greatest concentrations of diverse fern species on the continent. It also boasts abundant wildflowers, fields, and forests, as well as five miles of moderate hiking trails. Sheffield, Mass. www.thetrustees.org/pages/277_bartholomew_s_cobble.cfm