Adobe Stock / Laszlo
From eye-catching cakes to popping embellishments, you'll love these unique wedding touches in the Hudson Valley.
By Samantha Garbarini and Sabrina Sucato
Color is everything at a wedding. Sure, there are the classic white and black hues of dresses and suits, but there's also so much more than that. Depending upon when you tie the knot, you could lean into the auburns and oranges of autumn or the rosy pinks and pale greens of spring. Without further ado, here are the colorful inspirations to embrace when you tie the knot.
A card table gets an unexpected pop in the form of colorful origami hangings above it.
Skip the standard white wedding cake and go for something that makes a statement. This bold blue cake from Nine Cakes in Hudson is a stunner.
Sure, you could opt for a white dress. But when pretty pink gowns like this exist, why wouldn't you go for color?
Bridesmaids dresses are the perfect way to add a colorful pop into your wedding. For a winter ceremony, cranberry and oxblood tones are a sure fit.
The groom (and the groomsmen) will look extra spiffy in colorful suits and fun accents. Plus, who doesn't love a chic bowtie?
Instead of opting for matching bridesmaid gowns, let your posse pick from a range of colors. The shades will look stunning in your wedding photos, too.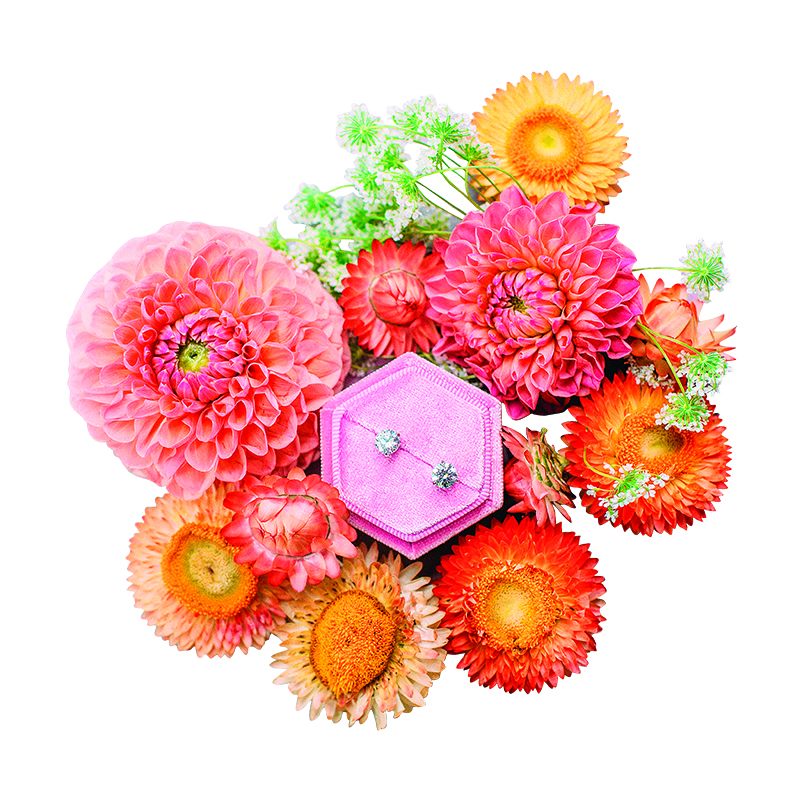 We love a colorful bouquet for the walk down the aisle. For even more flower power, go for bright and festive centerpieces at your reception.
A white cake gets a multi-colored upgrade in the form of sweet fruit accents.
Emerald hues are a treat all year in the Hudson Valley. Pair them with gold bowties for a winning look.
Color starts with the invitations! Set the tone for your big day with invites that stand out in the mailbox.
Who doesn't adore a chic tablescape? If you're hosting a reception, go for tasteful additions of color in the form of candles and flowers.
Planning a garden wedding? Pair the groom's suit with the surrounding flora for a sweet scene.
If your wedding falls around the holidays, lean into the color scheme with rich red and green tones. Plus, your invites will look extra festive.
Even black and white can be bold! Stick with the theme, then pair the hues with mixed metals for an effortlessly elegant occasion.
Related: Add These Rainbow-Hued Shoes to Your Wedding Wardrobe