Photos courtesy of Camphill Village, USA
The upstate New York farm is the first of its kind in America and offers a live-work-play lifestyle of fulfillment and dignity for those with special needs.
It's more than just the rolling hills and fertile fields that make the Hudson Valley feel like home.
In every aspect of life within the region, there are burgeoning communities of people coming together. From Albany to Westchester, there exist diverse art hubs, coalitions of brewers and distillers, hiking groups that tackle tall trails together, and local farms and CSA networks that unite creatives. At Camphill Village Copake, people of all abilities and backgrounds can live, work, and enjoy the Hudson Valley's natural offerings side by side.
Built on 615 acres of bucolic Columbia County farmland, this unique village community has been flourishing for nearly 60 years. Dr. Karl König started the first Camphill communities in Scotland after drawing inspiration from the teachings of Dr. Rudolf Steiner. The central concept: focus on a person's abilities, not disabilities, and allow each member of the village to contribute their own gifts and talents. A life of work filled with creativity and productivity builds dignity and fulfillment.
"I think the word disabilities is totally limiting and not accurate to my experiences here. I'm totally amazed by what I'm learning from working with people here that have special needs," says Hanna Sterner, a volunteer at Camphill Village Copake." It's not that I'm here to serve or exclusively care for people who can't help me or care for me; it's a real back and forth. The kind of mutual care that I've found is really incredible."
The Camphill Village at Copake was the first of its kind in America. Founded in 1961, this agricultural community sees volunteers living and working with full-time residents who have special needs. "Village" is not a symbolic label; over 100 villagers and 95 volunteers staff a self-sustaining community. A walk along the rural estate reveals thriving workplaces, including a bakery, a stained glass studio, a candle shop, a bookbindery, and much more.
Above all, the role of volunteers is to support residents through daily tasks. They take direction from residents and fill in where needed. For instance, while working in the bakery, a resident may have issues scooping firm cookie dough. Volunteers guide them through that challenge, but never take over. As equals, everyone at Camphill reaches goals and produce things they can be proud of.
According to Elvira Neal, Director for Co-Worker Development at Camphill Village Copake, people with "so-called developmental disabilities" have traditionally been reduced to the consumer, the patient, and the client. Life in a community where people have regular work, responsibilities, and the opportunities to create (rather than just consume) is more fulfilling. Residents who milk cows by hand support creamery workers who make cheese and dairy. In turn, dairy products like butter can be used in the bakery to make delicious pastries.
Neal lived in similar communities in Germany before coming to the Hudson Valley. Like Sterner, she was amazed at what Camphill's philosophy can achieve.
"Living together without viewing others through the lens of a diagnosis is eye-opening. We create an environment for everyone to make a contribution that serves the world, and [one where] we learn and grow together," Neal says. She has lived and worked at Camphill Village Copake for 23 years.
Camphill's bakery produces sourdough, biscotti, and granola that reach businesses as far as New York City. Artisanal beeswax candles made by hand onsite please at local markets. At the woodshop, residents turn reclaimed materials into serving platters for their gift shop shelves or wooden building blocks in a child's playroom.
Of course, one of the main exhibits at Camphill Village Copake is its fully-functioning biodynamic farm. Biodynamic farmers and gardeners use a holistic approach and "listen" to the land. Volunteers and residents at Camphill view every element of the farm as part of a living organism. Steiner's approach integrates scientific understanding with a recognition of spirit in nature.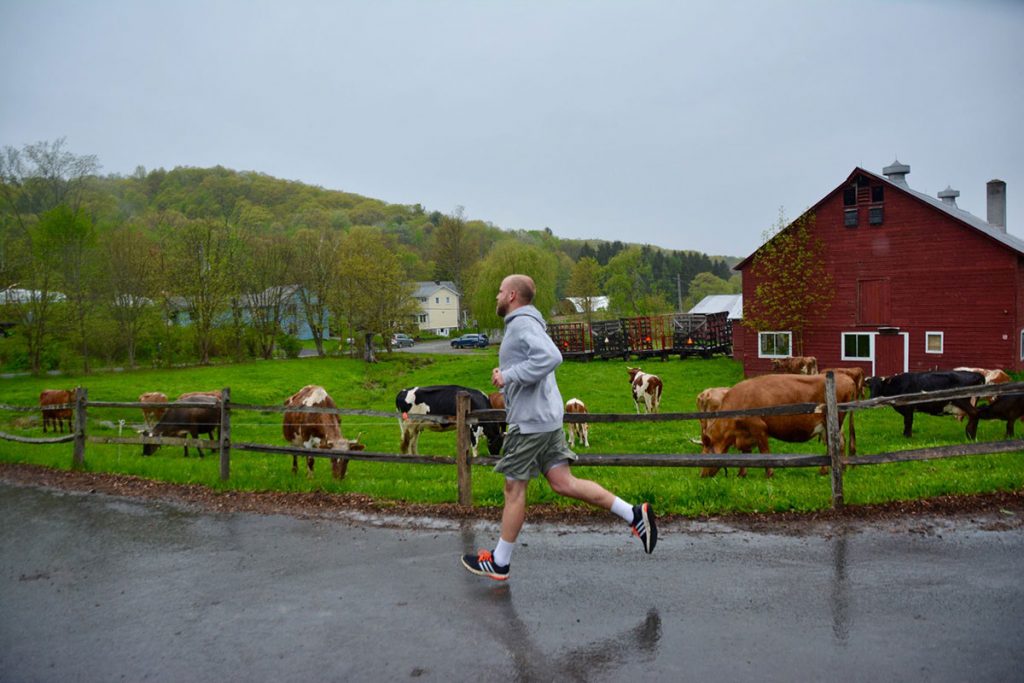 Thus, the vocational work at Camphill Village Copake not only feeds its inhabitants, but fosters a healthier world. For example, almost all of the ingredients used in the kitchen come from the vegetable gardens, while dairy products come from milking the cows that live onsite.
"Every day, four times a day, we walk the cows to and from the pasture. In the mornings that's really lovely, because we're walking with the cows as the sun is rising. We tend to the land, build fences, and, in peak harvesting season, everyone helps out in the garden," Sterner says. "It's amazing what comes out of the garden, 80- to 90-percent of the food we eat comes from the village itself."
In fact, there are many kinds of gardening that makes Camphill Village Copake a beautiful and colorful place. In the healing plant garden, lavender, mallow, and tons of herbs bloom. Those who tend to these areas make creamy lavender lotions, culinary herb mixes, aromatic room sprays, and the teas that villagers drink. Estate crews keep roads and foot paths tidy, and tap maple trees for fresh sap in the spring. At Turtle Tree Seed, residents package seeds from vegetables harvested onsite. Afterward, they are able to educate the public on how to save open-pollinated seeds for additional use.
"They value the land that gives them the food that they eat. Biodynamic practices is a way to be a steward of this place. Honoring the land, recycling, composting, all [that they do here] is great for the earth," Haley Moffat, an account executive for Camphill, says. "They actually have a program called Camphill Academy. Volunteers, if they want to be a student, can learn more about this and get a certificate in biodynamic agriculture."
Volunteers typically live at Camphill Village Copake for at least a year, and many residents stay their entire lifetimes. For those volunteers aspiring to further their studies, three inclusive social development programs are available through Camphill Academy. The Community Fellowship position enables volunteers to work toward a bachelor's degree without incurring financial debt. In fact, a five-year tenue at the village earns a full degree. A career in social work can start with this position, and will be deeply enriched by the experience of village life.
Plus, Camphill communities around the world generate a large network of professionals and spark relationships that last a lifetime. The village is a social place, and a tight-knit community at that. According to Moffat, in the past year Camphill Village Copake hosted four weddings between people who met volunteering right here in the Hudson Valley.
Camphill Village Copake accepts volunteers on a rolling basis, with applications on its website. With each class of recruits, the community is further transformed. Everyone brings their own skills and perspectives to the table. Even after two decades of life in the village, the learning never ceases for Neal.
"Incredible transformation happens with each person that comes here. The maturity and the confidence that grows, along with the skillsets that people can develop are inspiring. Walking away from [the volunteering] experience with a sense of purpose, and taking what you have gathered in this community out into the world is invaluable," Neal says.
"What every person can add to this world is wonderful and brings joy to my heart."
Due to COVID-19, tours of Camphill Village Copake are on pause. Check the website for updates on when visiting the village is possible. Applications for volunteers are on the site.